Related Features
Contribute
Your support helps us cover dance in New York City and beyond! Donate now.
The Dance Enthusiast Hits the Streets for Laurel Atwell and Jessica Cook's Open Studio of "Tundra Body Baby" at MoMA PS1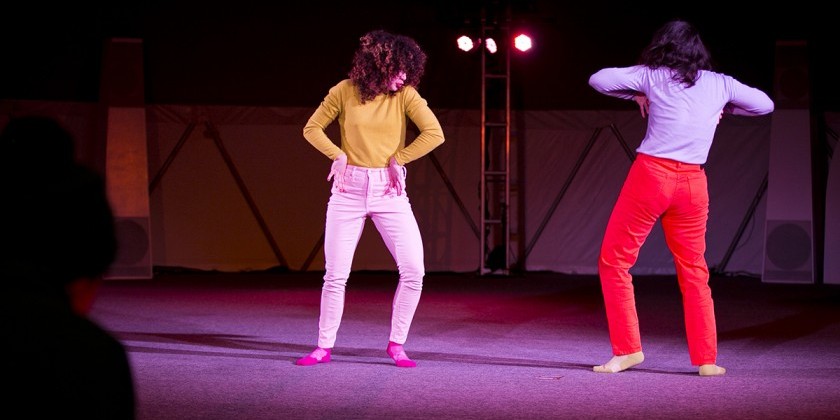 January 13, 2019
Creators, directors, choreographers, and performers: Laurel Atwell and Jessica Cook
As Part of MoMA PS1's VW Dome Artistic Residency
---
A partnership is no easy feat. Whether a union in romance, business, or art, it's a constant negotiation of disparate brains and bodies. Unlike the modern age of dating — and even friendship — where many individuals meet via the Internet, some still are introduced the good old-fashioned way: through friends.
This was true for interdisciplinary collaborators Jessica Cook and Laurel Atwell, who met while dancing for Anneke Hansen in 2011. But, it was during a residency with Milka Djordjevich in Los Angeles that the two reconnected and recognized a kinship when it came to art and performance. They quickly embarked on a partnership.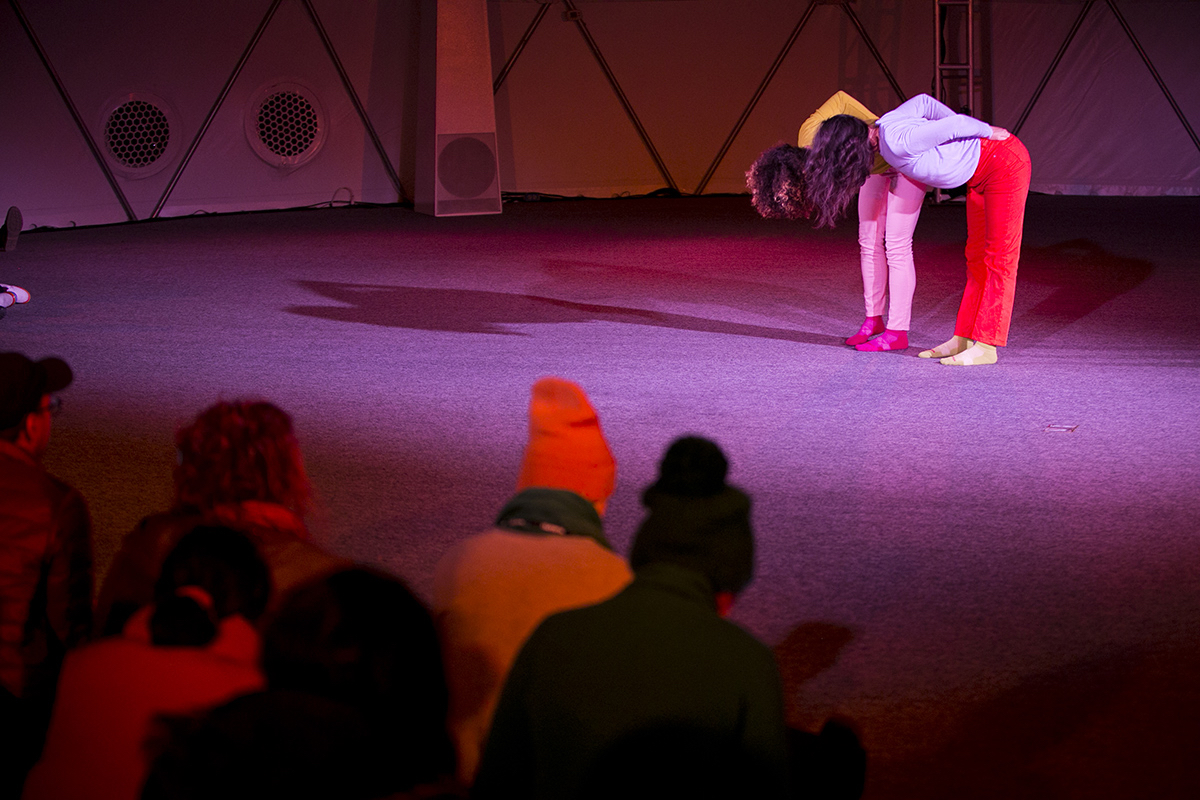 Laurel Atwell and Jessica Cook in Tundra Body Baby at MoMA PS1; Photo by Whitney Browne
Their first forays into collaboration were quirky performances in bars and at event spaces. Friends from other mediums welcomed them to share their work, which lives at the edge of visual art, dance, and sonic design. In one case, the two wore painted-on mustaches and cavorted like drunken sailors. In another, they literally danced on the bar — but not in the way you'd assume. "We covered the bar in fabric," says Cook. "Then we cut two holes for our heads, and laid down across it," creating the illusion they were body-less.
The artists caught the eye of Alex Sloane, Assistant Curator at MoMA PS1, who invited them to be artists-in-residence in the museum's VW Dome. "I have been following both Laurel and Jessica's independent projects for the past few years. "Both have spent time in the VW Dome performing in the work of other artists, and I was excited to discover how they would use the time and space to explore and meld their combined practices," says Sloane.
Beginning in December, the artists worked diligently in the Dome, which is situated in the museum's courtyard. They culled from previous DIY residencies in Los Angeles and from their bar and party experiments. "It's a nice challenge," says Atwell. "We're used to working in untraditional spaces and are intrigued by constraints like carpet, loud vents, or round spaces. We're constantly trying to challenge what the parameters really are for us."
Laurel Atwell and Jessica Cook in Tundra Body Baby at MoMA PS1; Photo by Whitney Browne
During the Open Studio performance of the residency project, Tundra Body Baby, it's evident that the spherical space and the current blustery weather, which one experiences walking from the museum to the dome, directly informed this phase of the work. Dressed in candy-colored turtlenecks, pants, and socks, their intertwined bodies shift with slow, imperceptible movements like melting icecaps. As hair obscures their faces, they gradually stand with a robotic staccato. An audio score of snow crunching underfoot and crashing waves gently wafts.
Witnessing Tundra Body Baby is akin to watching beads of water on a windowpane. As soon as the artists' bodies connect to form one shape, they coalesce into something new. "It's never about homogenizing our bodies," says Atwell when describing their rehearsal process. "It's more about seeing what's alive in Jessica's body, for example, and articulating that verbally or compositionally. And then, understanding what I can do differently to support what's she is doing."
Laurel Atwell and Jessica Cook in Tundra Body Baby at MoMA PS1; Photo by Whitney Browne
The artists don't have a firm plan of what's next, but they do want Tundra Body Baby to come full circle. They hope to merge their earlier experiments in tiny spaces with what they discovered while working in the Dome. "We're constantly trying to deconstruct while constructing," says Atwell. "While taking away the comforts of walls, lights, and sounds [that are traditional in dance]," adds Cook.
To learn more about the VW Dome Residency Program, click here.
---
The Dance Enthusiast Covers The Stories Behind Dance Performance and Creates Conversation
For more Behind-the-Scenes Stories of the NYC Dance World Click on our Day In The Life of Dance Section.