Mark Dendy's "Labryinth" : A Day in the Life of Dance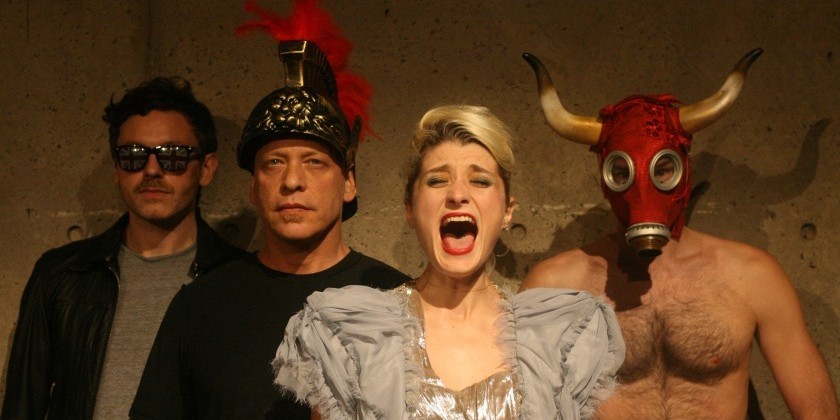 Stirring A New Generation Towards Activism Through Dance
Mark Dendy
Labyrinth: a full-length dance play
The Abrons Arts Center
October 9-11, 15-18, 22-25 at 8 p.m.
October 12, 19, 26 at 5 p.m.
Photo (above): Featured: (left to right) Stephen Donovan, Mark Dendy, Heather Christian, Matthew
Hardy; Photo: Marisa @RockPaper
---
Some artists settle into a niche, think Rothko with his cool Buddhist squares or Pollock and his poetic drip paintings, while others, like Duchamp and his transition from "Nude Descending a Staircase" to his readymades, reinvent themselves every few years. Mark Dendy, a fixture in the New York dance world for over thirty years, is one of the latter. His varied career has spanned the downtown dance scene to Broadway and then back again. In the 80s, he worked with Pooh Kaye and Jane Comfort before making the transition to The Great White Way, where he received a Best Choreography Obie for "The Wild Party." He shifted back downtown because he wanted to address issues in the world and make work that traded glamour and gloss for truth and engagement. "I wanted my creative autonomy back," he states.
Dendy advocates that dance can operate as a catalyst for social change. An activist at heart, he has, in his fifties, become a passionate campaigner for environmentalism and social justice. He feels an affinity for canvassing in purple states, trying to turn them blue, so that everybody, regardless of race, gender, or sexuality, can get a fair shake. He believes it's important to leave a mark on the world, a public and personal one: "I want to leave a legacy through my activism and art-making."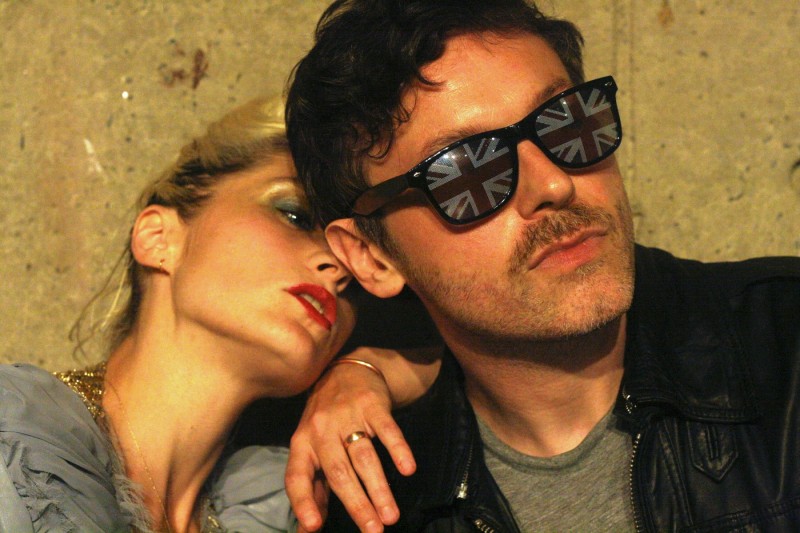 Featured: Heather Christian and Stephen Donovan; Photo: Marisa @RockPaper
Fixations, in the form myth and archetypes, have preoccupied Dendy for the last few years. He has embarked upon rigorous Jungian analysis to understand his past and present selves better in addition to reading through the canon of renowned mythologist Joseph Campbell. He carved out time to for personal reflection, using journaling and contemplation to go deep into his own personal labyrinth to appreciate his story and its resonation with other narrative traditions. Dendy says, "I wanted to root myself in myth."
The result is Labyrinth, which will have its premiere at Abrons Arts Center in October. In the making for three years, the piece melds text, movement, original sound, and video. Dendy has taken the myth of Theseus, the Greek hero who smote the Minotaur, and given it a modern-day update. Set in New York as Hurricane Sandy is about to ravage the city, Theseus is in the grip of a midlife crisis. Accompanied by a transgender Ariadne and on his way to choreograph a flashy number for The Rockettes, Theseus's voyage is one of redemption. Dendy hopes that Theseus' journey will inspire the audience to examine their relationships to consumerist culture and the pleasure principle. He elaborates, "I want to open the door to create a contemplative space. I want to encourage people to go read and think."
Featured: Matthew Hardy; Photo: Marisa @RockPaper
Labyrinth consists of approximately two-thirds text and one-third movement; Dendy writes first and then adds dance where he thinks it will have the most impact. The work features three other multi-talented cast members — Heather Christian, Stephen Donovan, and Matthew Hardy. In addition to acting and dancing their way through the production, these individuals have, and will continue, to play vital roles in the construction of Labyrinth: Donovan created the sets, costumes, and projections; Christian wrote the original music; and Hardy manages many of the acting and dancing roles. Each plays a variety of parts, including Theseus, whom Dendy has split into Jungian archetypes to reveal the complexity of the hero.
While devoted to exploring what Dendy calls the "the grand hero quest," pops of humor and novelty enliven Labyrinth. Ariadne spins the titular labyrinth from a thread in her tube top.  Contemporary monsters in the form of corporations taunt the protagonists, and there is a rap about Theseus. Weaving together all these disparate influences has taken time, but Dendy, stimulated by movements like Occupy Wall Street, hopes to stir a new generation towards activism.