Dance Up Close: Megan Kendzior's WITNESS at Danspace Project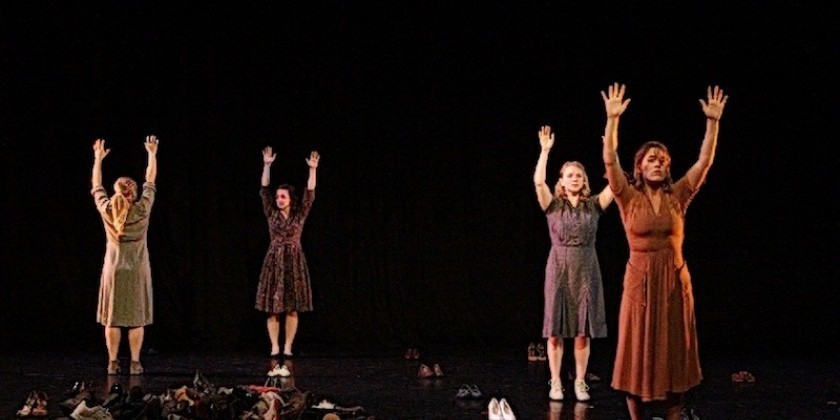 December 19-21, 2013 at 8PM
Danspace Project
131 E 10th St, New York, NY 10003
Tickets: $20 General/$15 Danspace Members
---
Choreography: Megan Kendzior
Performers: KK Apple, Courtney Baron, Lily Bo Shapiro, Ana Fiore, Lindsay Head, Dylan Kammerer, Sarah Konner, Colette Krogol, Stephanie Mas, Tess Montoya, Matt Reeves, Ariane Reinhart, Austin Selden, Josh Stansbury and Brandon Washington.
Live Accordion by Terrence Karn
Lighting designer Kathy Kaufmann
---
"I approach Witness from a place of open investigation that is not specific to a theme or heritage," says Witness choreographer Megan Kendzior after a long day of rehearsing at Danspace Project . "It has many entry points... and the performers whom I've worked with over the years on Witness all bring their own personal experiences to the work."
Megan Kendzior: A Need To Speak
---
While observing the twenty-something dancemaker with her performers, it is apparent that each collaborator is deeply invested in the project. Discussions frequently occur between runs of the piece, and everyone is encouraged to offer insights on their character and their relationship to the group. As much as the work depicts a fictionalized world, it is also largely based on Kendzior's historical research around the Holocaust.
Megan Kendzior: Symbolism in WITNESS
---
Kendzior writes, "Witness is an investigative offering of embodied historical fiction....The journey exists in the past and speaks to the present, citing detailed research of the Holocaust and asking observers to reflect on the power of choice." Witness explores the "thin line between humane and inhumane."
The Sounds of WITNESS
---
"We unfortunately have seen several moments in history and in the present where similar repugnant acts occur. "It's our responsibility to speak for those who can't tell us what it was [and is] like," says Kendzior. "We have to believe in the power of human beings treating one other with respect and dignity."
Kendzior has been working on Witness for four years, and the choreographer believes it to be a life long project with the intention of creating future installments, Honor and Challenge.
The Journey of WITNESS