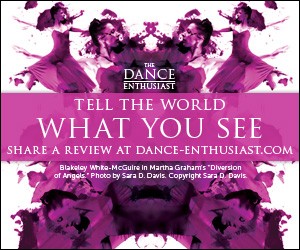 Related Features
Dance: Broadway Stage and Screen: From Ballet to Broadway: Michelle Loucadoux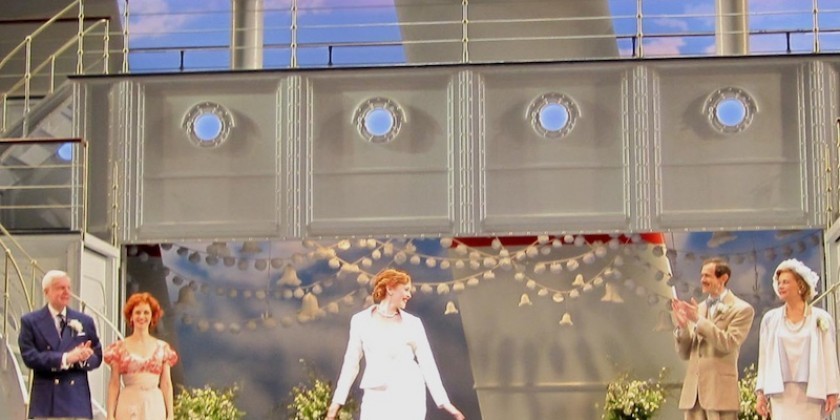 It was not the most auspicious of beginnings. At age three, Michelle Loucadoux made her stage debut as a dancing poodle. But beginnings are not endings, and as Loucadoux's fellow dancing poodles bounded off to chase other dreams, she kept at it: tap, jazz, dance competitions, the occasional pageant. She says, "I was a physically active kid. My parents wanted to get some of my energy out."
Loucadoux came to ballet late. A production of Phantom of the Opera captured her imagination, and she enrolled in classes at Southwest Virginia Ballet, a school with a pre-professional company in Roanoke, Virginia. "It wasn't until I was I was fourteen that I had formal, consistent ballet training," she remarks.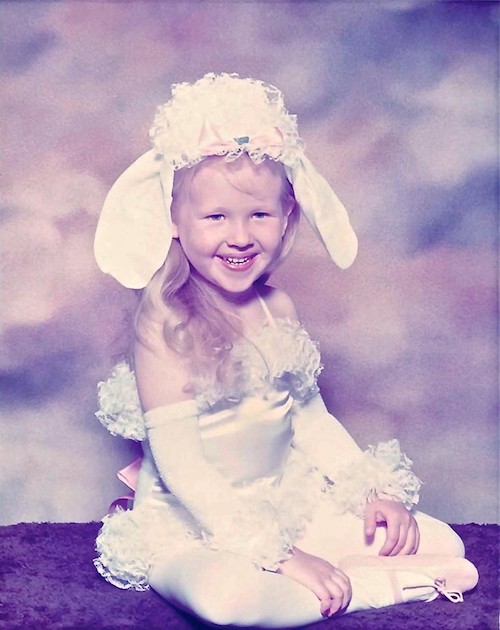 Michelle Loucadoux
She didn't just stick a toe into the waters of ballet, she jetéd in with both feet. "I loved the challenge of it. Ballet was quantitative. A triple pirouette was better than a double." Loucadoux made up for her delayed start by devoting herself — body and soul — to ballet. As a teenager, she participated in two summer ballet programs: one at the American Ballet Theatre Jacqueline Kennedy Onassis School and another at the Ballet Intensive of Moscow in Florida. "My last day in New York was a Friday. My parents picked me up and drove me to Coral Gables, Florida where I started a new program on Monday." When her courses ended for the day, she would stay and take the open-level adult classes. "I had a lot of catching up to do," she says.
Loucadoux's relentless, fervent work paid off. She accepted a traineeship with the Richmond Ballet (full disclosure: we know each other from our days as hardcore bunheads there) before dancing professionally with Greensboro Ballet, Lexington Ballet, and New Jersey Ballet. "I loved being on stage. I loved the rush of being in front of an audience," she says. While pursuing her balletic ambitions, she completed a degree in English from Virginia Commonwealth University.
During a layoff from New Jersey Ballet, a friend double-dog dared her to try out for My Fair Lady, which was doing a run at the Paper Mill Playhouse in New Jersey.  A rookie to musical theater auditions, she showed up in a leotard, tights, and a chiffon skirt with a one-page resume. When the artistic team asked her to sing another song after her rendition of "Think of Me" from Phantom of the Opera, she didn't have one. So she sang a few more verses from "Think of Me."
Michelle Loucadoux
It didn't matter. She got the job. "I fell in love with musical theater when I did My Fair Lady. After ballet, it was nice to do something that came easily." The choreographer, Michael Lichtefeld, urged her to audition for Kiss Me, Kate at Westchester Broadway Theatre. She did and was offered a contract.
Loucadoux was faced with a heart-wrenching decision: stick with ballet or make a fulltime move to musical theater. "I was still into ballet, but I had gone as far as I could go with it. So I picked musical theater. The costumes were amazing, I got to sing, and everyone thought I had really good technique." Thus, she refocused her energies and reconnected with her past training. "I shook my ass before I put it into a tutu," she says.
The transition wasn't completely seamless. "I had to get used to dancing in heels," she admits. Loucadoux fell down, often, and, sometimes, during shows where she would struggle to get back on her feet. "I was a baby deer," she says, laughing. A classically trained singer, she needed to take voice lessons to learn how to belt. As with ballet, her zealous devotion paid off. She performed in the ensemble of as well as featured roles in five Broadway shows. Notable parts included Hope Harcourt in Anything Goes and originating the role of Adella in The Little Mermaid in which she eventually played every little girl's favorite mermaid — Ariel.
Michelle Loucadoux
Musical theater is a grueling profession with hopefuls hoofing it to endless, fruitless auditions. Once a performer has booked a show, it's eight shows a week for week after week. Loucadoux says, "It's a great job, but it's definitely a job." Stamina is essential. To maintain her performative gusto, she honed in on the minute details that changed with each show. "Every audience is different. Even when you're doing the same show, it's still a different show."
Several years ago, Loucadoux traded the Great White Way for sunshine, palm trees, and a gigantic Hollywood sign. Ballet and musical theater still figure prominently in her life. Currently, she heads two programs at Relativity School where she insists on teaching freshman ballet. She also finished playing Carole, whom Loucadoux describes as a "loose, over-it waitress," in the musical movie, Waiting in the Wings: Still Waiting.
Loucadoux teems with advice for ballet dancers looking to segue into musical theater. "Diversify, diversify," she urges. "Take tap, take an acting class, and learn to sing." She feels that ballet dancers bring something special to musical theater. "One advantage ballet dancers have is a willingness to choose art over anything. As a result, we get good at whatever we decide to do."
---
JOIN US ON APRIL 12TH, 2016 FOR THE DANCE ENTHUSIAST'S ENTHUSIASTIC EVENT!   DANCE: BROADWAY STAGE AND SCREEN
Tuesday, April 12, 2016 from 6:15 PM to 9:00 PM
FOR MORE INFO ABOUT OUR SPECIAL GUEST PERFORMERS, PANELISTS, AND THIS ENTHUSIASTIC EVENT! CLICK HERE