Dance Up Close to Miki Orihara and Her Solo Show "Resonance"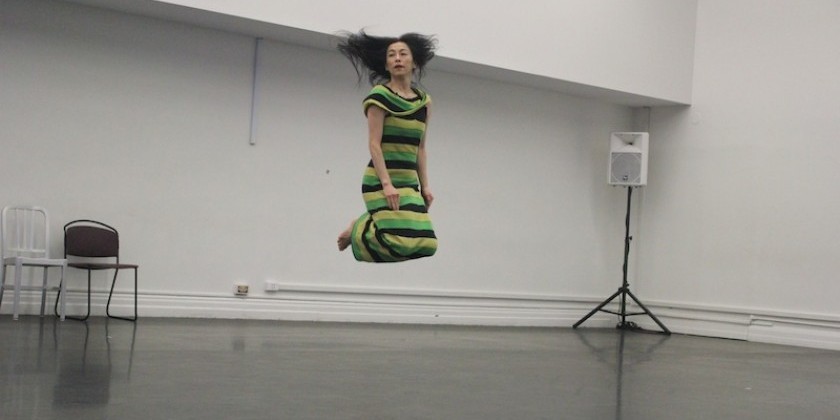 As The Artist Prepares for LaMaMa Moves!
La MaMa presents Resonance
Miki Orihara in a Solo Concert
as part of La MaMa Moves! Dance Festival 2014
Thursday to Saturday, May 8-10 at 7:30pm and Sunday, May 11 at 2:30pm
Tickets: $20 Adult; $15 Student/Senior
---
"I'm deeply interested in the continuity and lineage between modern and contemporary dance," says Miki Orihara, solo dancer and principal artist with the Martha Graham Dance Company. Orihara will present her first solo evening length show, Resonance, in the La MaMa Moves! Dance Festival May 8-11.
Orihara's performance showcases the longevity of early American modern dance works by Martha Graham and Jose Limón and  their direct connection to contemporary choreography by Adam Barruch, Martha Clarke and Orihara herself. While observing the veteran dancer in rehearsal, I witness the relationship firsthand. For example, the clipped gestures in Adam Barruch's Memory Current are reminiscent of the quirky hand cupping in Graham's Satyric Festival Song.
The Timelessness in Choreography and Performance from 1932-2014
---
Resonance will be one of the first times the venerable performer will be sharing her own choreography. "Before this performance, I never thought about making my own work. Creating movement is a challenge for me, because I tend to be very abstract and pedestrian." After working diligently on the other established choreographers' works, Orihara fortuitously discovered that her minimalistic style was an appropriate addition to Resonance, balancing out the drama and high impact pieces on the program.
In addition to her own choreographic endeavor, Orihara wanted to challenge herself by learning a new technique. Though an expert in Graham's work ( she has been a member of  the Martha Graham Dance Company since 1987) Orihara felt she had to go back to the basics when learning Limón's repertoire. The two styles differ greatly in their use of weight and texture. Orihara mentions she is only just beginning to grasp Limón's concepts, and couldn't have done it without the Limón Dance Company's artistic director Carla Maxwell. Maxwell, an acclaimed Limón interpreter and a direct link to the choreographer, coached Orihara in Maenad from Dances for Isadora, guiding her through Limon's main principles of fall and recovery.
Miki on Adam and Adam on Miki / Team Barruch and Orihara
---
"I heard that José choreographed an homage to Isadora Duncan, the mother of modern dance, the year before he died," explains Orihara on why she chose to include Maenad from Dances for Isadora. "You can't speak about the history of modern dance without mentioning Duncan."

Opening with the earliest work, Graham's Satyric Festival Song, and concluding with the newest, Barruch's Memory Current, Orihara takes viewers on an exhilarating journey through American dance history. She reminds us that we can continue to discover new things by revisiting the old.
Bonus: A Dance Enthusiast Minute: Graham Can Be Funny.