A DAY IN THE LIFE OF DANCE: Misty Copeland Reflects on the Choreographers Who Shaped Her Dance Career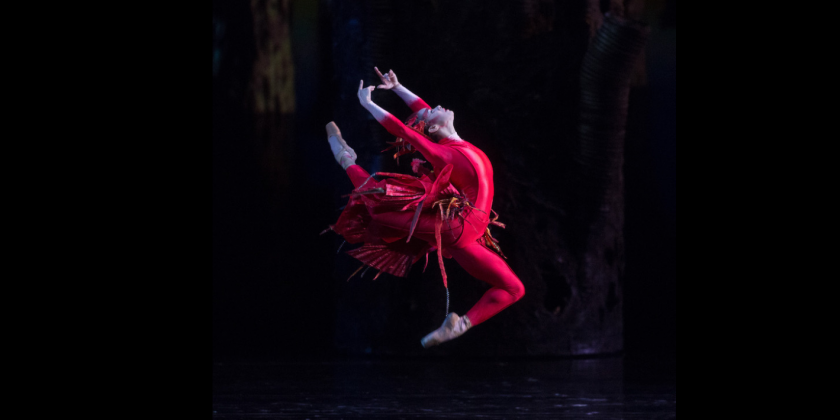 Those who say it can't be done are usually interrupted by others doing it." — James Baldwin
---
Nearly 50 years after Virginia Johnson, Dance Theater of Harlem's Black Principal Dancer captured the public's imagination, Misty Copeland rose to the rank of Principal Dancer at American Ballet Theatre (ABT). She was the first Black Ballerina to achieve this honor in the company's 75 year history.  Now her name evokes images of a dazzling Black ballerina with her own Barbie doll, but despite her rocketing reputation as a Principal dancer as well as a writer, actor, entrepreneur, cultural agent and philanthropist, she retains an introspectiveness and humility that's disarming.

Growing up during the 1980's, Misty fell in love with dance the minute she stepped into a ballet class. Consumed by the desire to dance, but lacking financial resources, she left her family to be mentored by a devoted teacher, Cynthia Bradley, and catapulted into the professional sphere before she even knew the ballet French terminology spoken in every ballet studio. In a breathless 6 years from her first class, Copeland joined ABT.
Misty Copeland in Giselle with American Ballet Theatre; photo by Gene Schiavone

Although she started ballet late at age 13, Misty owned a potent skill:  the ability to look at a movement sequence, remember it and repeat it after only one showing. Choreographers treasure this gift, because these dancers capture the ideas making an ephemeral art form repeatable.
Little Misty Copeland, first time en pointe; photo courtesy of the Artist

Armed with this facility and impressive technical skills, Copeland connected with choreographers who invested her with the confidence and courage to claim a universe where few others "looked like her."

William Forsythe
An influential, radical choreographer, Forsythe flipped ballet's demure etiquette by asserting sexually-confident attitudes sharpened on elongated limbs slung over off-center torsos set to locomotive speeds.

Although the choreography for workwithinwork was not built on her in 2003, Copeland was immediately attracted to the process. She described Forsythe's exercises like "…writing the alphabet with different parts of our bodies. He would put on whatever music and say 'move'. "  
This exertion of freedom within the ballet lexicon excited her interest in future challenges to invent movements and  "just dance!"

Jorma Elo
Her next major opportunity to be part of the creative –process arrived with Elo. Balanced on the cusp of traditional and postmodern ballet,  he created abstract compositions on "speed." Steps breathlessly bumped into one another and joined in interlocking, cantilevered sequences.

Copeland entered choreographer Elo's rehearsal room at ABT while still a corps dancer in 2006. Quickly recognizing Copeland's ability to retain choreography, Misty became his corporal video camera. According to Copeland, Elo wildly threw out one movement after another,  "With Elo I felt, for the first time, like an artist. He challenged (us) to think of novel ways to make a series of steps work. His journey became my journey."

His belief in her invested Copeland with the additional mental and emotional stamina required to excel in a world-class ballet company.

Alexei Ratmansky
Another formative influence, Alexei Ratmansky worked closely with Copeland in 2010 and 2012. ABT's critically applauded resident choreographer (until his departure June, 2023), Ratmansky pulled Copleand into  a rehearsal room to develop the "Spanish Dance" role for The Nutcracker Ballet he was choreographing based on the 19th century original.

He noticed Copeland's "go for broke" enthusiasm, and "my willingness to do whatever it took to achieve his choreographic ideas. Ratmansky knew how to build this good tension in the studio, inspiring dancers to want to do everything possible to realize his ideas." Involving several casts, Copeland recalled, "Dancers worked in fierce ways, technically one-upping each other."
Misty Copeland auditioning for the American Ballet Theatre; photo by Rosalie O'Connor

Copeland's openness was rewarded in 2012 when  Ratmansky tapped her, a Soloist in the company, to step into the starring role of the Firebird along with two other Principal ballerinas.  Determined to put a new spin on the classic 1910 version by Michel Fokine to a crackling score by Igor Stravinsky, Ratmansky built a different choreographic structure for each ballerina.

Copeland wholeheartedly tackled the challenge and, in her words, rehearsal was like "going into battle."  Firebird was grueling, and Ratmansky demanded the dancers focus not just on the steps but the intent of the steps. For Ratmansky, every gesture defined this "otherworldly" creature invested with minute details. Copeland recalled, "Arms rose in anticipation of the iconic leap defined by the head thrust back over arched back — suggesting a fiery power shooting through the hands to the very ends of the fingertips." Determined to embrace his concept, Copeland read books on the Firebird fairy tale and myths and attended acting classes with a coach to more productively embody the fiery, red creature.

Technically demanding and dominated by leaps-- practice took a toll on Copeland who was secretly struggling to cover-up increasing pain in her left shin. Intense fear of being sidelined coupled with the thrill of dancing the lead proved too seductive. She kept dancing, kept quiet, and emerged victorious in Firebird — at least on opening night. A monumental experience, after wrangling the Firebird, Copeland grew exponentially as an artist.
Misty Copeland in Ratmansky's Firebird with ABT; photo by Rosalie O'Connor
Despite her nearly career-ending injury, Copeland returned to ABT within the year. By 2015, she was elevated to Principal Dancer and cast in the classic romantic ballets that steal little girls' hearts.

Absent from ABT due to the birth of her son and recurring injuries, Copeland has written books, produced and starred in an independent film, established a nonprofit organization and engaged in a number of commercial ventures. She's a woman with a mission and a vision that both includes and extends far beyond dance.

After interviewing Copeland in the spring of 2023, I realized that at her core, Copeland reminded me of a memorable character in the Oscar winning animated  film The Boy, the Mole, The Fox and the Horse. When the mole asks the boy what he wants to be when he grows up, the boy responds "I want to be kind."
---
The Dance Enthusiast's DAY IN THE LIFE covers the stories behind dance/performance and creates conversation. For more behind-the-scenes stories from NYC and beyond, click here.
---
The Dance Enthusiast - News, Reviews, Interviews and an Open Invitation for YOU to join the Dance Conversation.
The 2020 Moving Visions Initiative welcomes artists and enthusiasts to guide The Dance Enthusiast's coverage as guest editors. Our guests share their passion, expertise, and curiosity with us while we celebrate their accomplishments and viewpoints.