Related Features
Contribute
Your support helps us cover dance in New York City and beyond! Donate now.
Monica Bill Barnes and Company Celebrates 20 Years by Bringing Dance where it doesn't Belong from the MET to the Office
THE MUSEUM WORKOUT 
The Metropolitan Museum of Art
Now-February 12 (sold out); NEW DATES! February 27-March 5 and March 7-March 9; for more info, go to the Metropolitan Museum of Art
HAPPY HOUR 
Gibney Dance / Once a month beginning February 15; for tickets, click here. 
THREE ACTS, TWO DANCERS, ONE RADIO HOST 
With This American Life host Ira Glass and Monica Bill Barnes & Company 
BAM Harvey Theater as part of RadioLoveFest / February 7-8; for tickets, click here.
---
One Thursday in January, early risers and I barrel through The Metropolitan Museum of Art before its doors open to the public. Striding with arms outstretched above our heads, we make a beeline past a row of ancient crumbling busts. Our sneakers pound the floor in synchronicity as the Bee Gees' Stayin' Alive blasts through the cavernous space.
Obviously, this isn't your typical museum tour. In fact, it's an experience conceived of and choreographed by Monica Bill Barnes & Company, dubbed The Museum Workout. Led by Bill Barnes and her longtime collaborator Anna Bass, the workout takes participants on a two-mile journey through the museum. It stops periodically to take in some pinnacle pieces. The two performers are accompanied by producer Robbie Saenz de Viteri who holds a laptop and portable speaker and artist and writer Maira Kalman, who provides narration.
The company turned to Kalman, a friend and Met enthusiast, to curate the highlighted works. "She flies around the museum so joyfully," Saenz de Viteri says in an interview after the event. "We wanted to capture this feeling by creating an emotional and physical experience for people to do something that Maira does so naturally."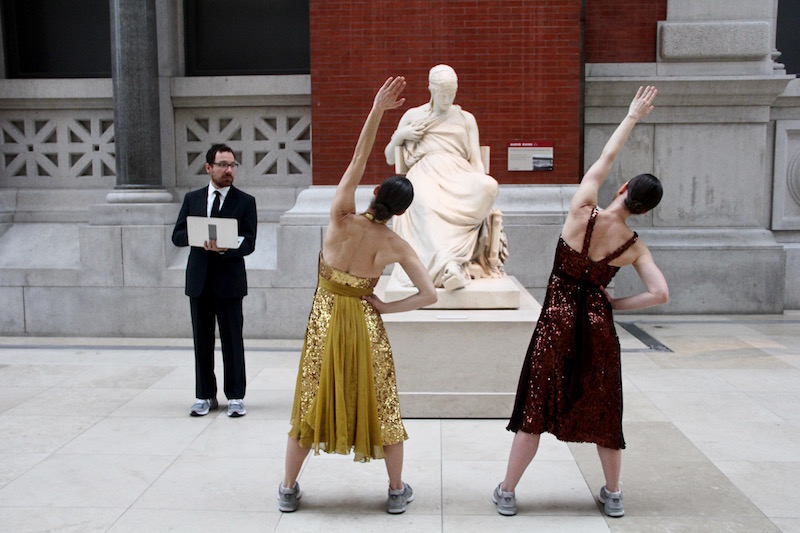 From Left to Right:  Robbie Saenz de Viteri, Monica Bill Barnes and Anna Bass in The Museum Workout; Photo: Mallory Lynn
From one gallery to another, we march, run in place, and make sweeping arcs in a formation like birds flying in a V. While standing on one leg for a quadriceps stretch, Kalman says, "Be in the moment and love what you're looking at" — a simple message yet profound.
Bringing dance into unexpected spaces is a cornerstone of the company's work. "Anna and I have been making dances for so many years," Bill Barnes says. "At a fundamental level, you have to keep yourself engaged and happy with the process. The way you can interact with an audience is to some degree dictated by the physical space that you have. What we realized is that we wanted to interact with audiences differently as performers."
Museums aren't the only place you'll find them this season. On February 7 and 8, the artists will reprise Three Acts, Two Dancers, One Radio Host with This American Life's Ira Glass at BAM. Though in a theater, this is not your traditional concert dance program which fuses radio storytelling with dance. In a 2014 review of the show, Dance Enthusiast contributor Garnet Henderson wrote, "Their dances, sometimes inserted between Glass's stories and other times occurring simultaneously, are imbued with subtle, clever humor, as well as delightful slapstick comedy."
From Left to Right: Anna Bass, Ira Glass and Monica Bill Barnes in Three Acts, Two Dancers, One Radio Host; Photo: David Bazemore
"The reason why we're doing these projects in all types of venues is to expand audiences for the form," Saenz de Viteri says. "And it feels — partially because of the personalities that Anna and Monica bring to the performance — that people can deeply relate."
There is something strangely familiar about the company's work. Perhaps it's their frequent use of pop music from the '60s, '70s, and '80s. Or maybe it's their costumes that could be from your quirky grandparents' closets. But most likely, it's the inescapeable humor and earnestness present in each of their works that pulls you in.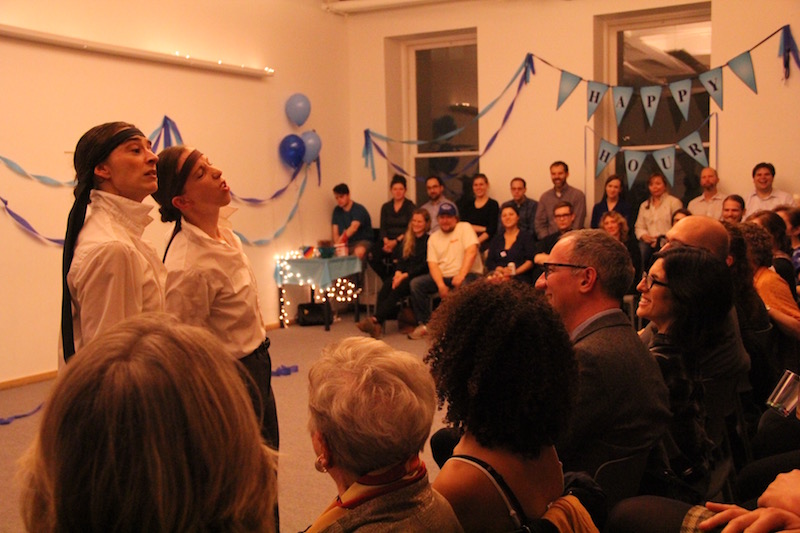 Monica Bill Barnes and Anna Bass in Happy Hour; Photo courtesy of the artists
In Happy Hour, which will run once a month for three months at Gibney Dance Center, the artists transform a dance studio into a drab office workplace. What happens, though, is anything but mundane or ordinary. Wearing suits and dancing to '80s songs, opera, and Elvis, Bass and Bill Barnes offer a refuge from the 9-to-5 grind as guests imbibe cocktails and beer plus partake in karaoke.  
After a long run in 2015, the artists had no intention of remounting Happy Hour so soon. But then the election happened. "We felt like it was a strange moment that we were entering into," Bill Barnes reflects. "In Happy Hour, Anna and I dress up as men in a stereotypically male-dominated culture. In every piece that we do we deal with gender, but I think this work does it most directly. That's why we've decided to perform it every month for maybe the next four years as a way to offer a perspective that we think is valuable."
After 20 years of dance making, the company continues to create paradigm-shifting works — whether it's jogging around a museum or embodying two working stiffs. Where will they take dance next?
---
The Dance Enthusiast Creating Conversations/ See More Conversation in The Day in the Life section
For more on Day in the Life stories, click here. 
Share your #AudienceReview of this show or others for a chance to win a $75 giftcard to Trader Joe's.