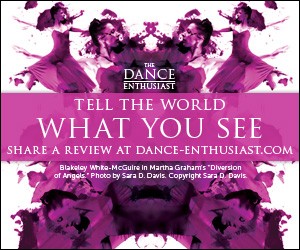 Related Features
Moving Caribbean in New York City: The Epitome of the Caribbean Man, Geoffrey Holder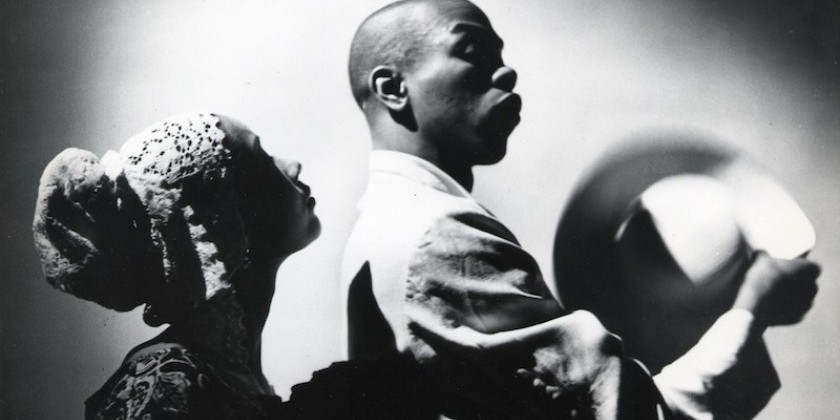 That height, the booming laugh, the swath he made about town, the ease he had with color, fabric, dance, music, and people — dancer, painter, choreographer, actor, set and costume designer, Geoffrey Richard Holder lived large! According to his wife Carmen de Lavallade, Holder never got out of kindergarten, he always wanted to play and wanted everyone to join him.
Holder arrived in New York City from his native Trinidad in 1954 with his own folk dance company, and soon danced on Broadway in the Harold Arlen-Truman Capote musical
House of Flowers.
In the cast was de Lavallade to whom he proposed just four days after they'd met. His lifetime muse, she danced with her husband in the Metropolitan Opera Ballet, and for Josephine Baker in Paris, among other innumerable engagements.
Carmen de Lavallade and Geoffrey Holder. Photos: Courtesy of Nick Doob.
"In the fifties, Latin music was in, Calypso was popular, being from Trinidad, you were the man of the period, " he says in The Visionary Project videos. For all his connections to his island, all his dances and
cookbook
celebrating the Caribbean, Holder left Trinidad at age seven to dance with
Boscoe
, his elder brother, in his dance company in England.  But, he credits the anthropologist/dancer/
choreographer
Katherine Dunham
as being the one who turned him onto the Haitian folk painter and voodoo priest
Hector Hyppolite
(1894–1948).  
Along with Dunham, Holder seduced audiences with an escape into allure, a sensual celebration, slipping past the bounds of the US puritanism of the time. His choreography rippled from head to hip, took high leaps, and convulsed the torso; his dancers barely-clad except for some feathers in their hair or swirling in yards of vibrant cloth.
Judith Jamison
, Artistic Director Emerita of the Alvin Ailey American Dance Theater originated the role of the goddess Erzulie in Holder's
The Prodigal Prince
(1967). Dance Theatre of Harlem produced in 1974 his
Dougla
, an evocation of a Caribbean wedding processional. Holder played Baron Samedi, a top hatted painted character drawn from Haitian Voodoo culture, in the 1973 James Bond film, "Live and Let Die" and in his dance
Banda
(1982). Holder's lush impressionist paintings hang in the Barbados Museum and Washington's Corcoran Gallery.
He claims that he was very shy, so he compensated by strutting. His father said, "You mustn't go in looking for atmosphere, you must bring it with you." As a kid, he suffered from a bad stutter,  but that vanished after an event in which he felt compelled to speak about the Caribbean for an hour, after hearing a slew of misconceptions.
Geoffrey Richard Holder was born on August 1, 1930, in Port of Spain, Trinidad and Tobago, one of four children of Louise de Frense and Arthur Holder, who had immigrated from Barbados. A favorite memory of his childhood was Carnival Days, "Two days and two nights when everyone danced together." Race was never an issue, only class, said Holder.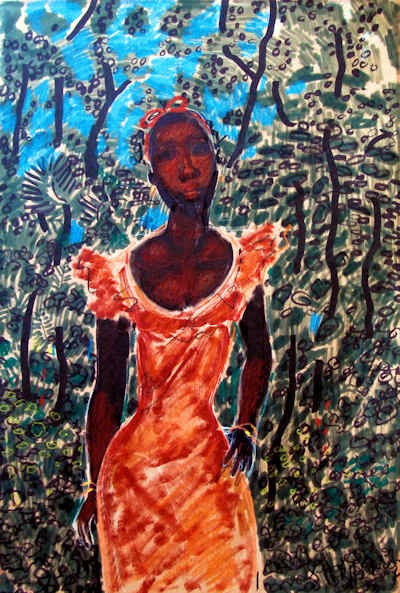 A painting by Geoffrey Holder
When we had the chance to show the documentary
"Carmen & Geoffrey"
  in the Dance on Camera Festival. I wondered what to wear? I certainly couldn't greet him in a drab business suit. So I wore a short red dress and felt prepared. But I wasn't! When it came time to introduce D.A. Pennebaker, the executive producer and long time employer of "Carmen & Geoffrey" creators, Nick Doob and Linda Atkinson, I was stunned, literally speechless, by the full house at the Walter Reade Theatre, filled with heroes of mine in the front row, such as
Odetta
 and 
Arthur Mitchell
. Everyone came out to celebrate the magic of this couple whose prolific creativity was so gracefully shared. 
Holder lived large to his last breath. With test tubes in his mouth, he couldn't communicate clearly but his son Leo figured out that he needed music for his grand finale, to choreograph his exit. And so he passed….whispering a triplet…2 3…2 3…2 3.
**Read this moving story of Holder's last night in its entirety in an NPR story that was released on October 5, 2014.
---
Join us at our Enthusiastic Event! celebrating Caribbean dance in NYC
When: November 16
Where: Gibney Dance, 280 Broadway