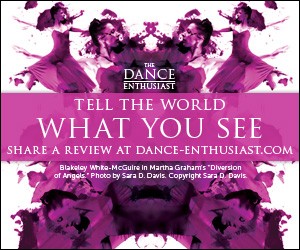 Related Features
Day in the Life of NEW@Graham: "Deo" by Maxine Doyle and Bobbi Jene Smith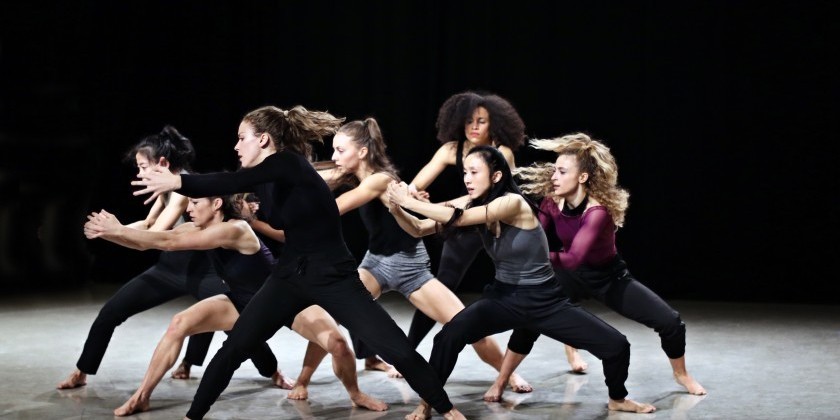 Choreography: Maxine Doyle and Bobbi Jene Smith
Music: Lesley Flanigan
Premiere: April 2nd, 2019 at the Joyce Theater
Cast: So Young An, Laurel Daley Smith, Natasha M. Diamond-Walker, Marzia Memoli, Anne O'Donnell, Anne Souder, Leslie Andrea Williams, Xin Ying
---
The mother of modern dance, Martha Graham, often placed women at the center of her work. Now 28 years since her death, The Eve Project is part of an ongoing attempt to keep her legacy alive, promoting contemporary choreographers who pursue similar explorations of femininity. Its latest commission, entitled Deo, is a co-creation from Maxine Doyle (Punchdrunk's Sleep No More) and Bobbi Jene Smith (Batsheva Dance Company, Sharon Eyal), which will premiere at the Joyce Theater in April. The Martha Graham Dance Company's NEW@Graham series offers a look inside the creative process of Deo by showcasing excerpts alongside a conversation with the choreographers.
The Greek myth of seasonal change centers on Demeter, the goddess of the harvest, and her daughter Persephone. The two women are captivating female archetypes: Persephone is a naïf whose innocence is taken advantage of by the God of the Underworld while Demeter is the loyal, vengeful matriarch, who retaliates by wreaking famine upon the earth. Doyle and Smith use this story as a launching point.
Smith says: "Maxine came to me with the concept of Demeter and Persephone and shared her desire to dig into some of the themes the myth presents . . . we started to look into the endless search, and the grief and separation, both physically and emotionally. I would try to take these concepts into the body."
Photo of Laurel Dalley Smith (soloist) with Martha Graham Dance Company in a rehearsal run­through of Maxine Doyle and Bobbi Jene Smith's Deo by Melissa Sherwood.
Graham created a movement vocabulary capable of expressing a vast range of emotion. Gestures within the all-female Deo evoke her lexica such as visceral contractions and low weight shifts initiating from the back of the heel. In a mini rehearsal before the showing, Doyle gives the cue: "if you could try dancing with your feet through the floor to try and bring Persephone back up, what would that dance be?" With grounded intensity, the dancers alter weight, slapping opposite ankle with the other foot.
Vulnerable expressions juxtapose with cold, precise gestures. The dancers rise to demi-pointe during an exaggerated inhale, tipping their heads back to expose their throats. This resolves in a squat with a flexed hand jutting forward that indicates stop." Throughout, Smith says "dark" and "light" to suggest lighting cues, but the words hold deeper meaning in the context of the dramatic exploration.
A duet, choreographed by Smith, explores the tension forged through separation, as two dancers break apart and come back together. When the women run through the duet before the official showing, Smith coaches them on specific movement qualities: "really into the plié here, but softer."
Smith says of working with the Martha Graham Dance Company: "It is incredible to work with such women who have a direct connection to their effort and pleasure, their desire to dance, and their limitless access to fantasy and imagination. I was curious to see how far we could go. How we can amplify all of the tools in the body they already have. It was exciting to see them go to new territories, exploring the edges of a whisper or a scream and how that lives in the body. How both can exist at the same time."
Photo of Martha Graham Dance Company in a rehearsal run­through of Maxine Doyle and Bobbi Jene Smith's Deo by Melissa Sherwood.
Deo is a collaboration with experimental composer Lesley Flanigan, who builds her own instruments using microphones and speakers. She combines these with more traditional instrumentation to explore the physicality of sound. Here, the abrasive sound of amplified feedback from speakers contrasts with the delicacy of her soprano voice to perpetuate the themes of strength and fragility.
Says Doyle of the collaborative process: "Bobbi introduced me Lesley's work, and I was immediately hooked! I met Lesley very early on in the process and shared a range of information on the source material. In our first meeting in New York, we talked about our shared interest in creating worlds and atmospheres. I listened to some of Lesley's existing soundscapes and described what I enjoyed in terms of specific sounds, pulses and tone. Because of Lesley's process — I knew the work would arrive as a whole, and we would respond to this."
Graham's body of work represents a multifaceted examination of womanhood. She portrayed women in love, women in jealousy, and women as heroines and anti-heroines. The Eve Project celebrates the 100th anniversary of the 19th Amendment to the U.S. Constitution, which guaranteed women the right to vote, by amplifying women's voices in dance. The project will feature several of Graham's signature pieces, presented side by side with a commissioned work by Pam Tanowitz as well as dances by Lucinda Childs and Annie-B Parson, connecting to both historical and present-day ideas of what it means to be a woman.
When asked which aspects of Graham's legacy are conveyed in the work, Doyle responds: "Myth, magic, and modern women." 
---
For tickets, please visit the Joyce Theater here.
The Dance Enthusiast Shares IMPRESSIONS/our brand of review and Creates Conversation.
For more IMPRESSIONS, click here.
Share your #AudienceReview of performances. Write one today!