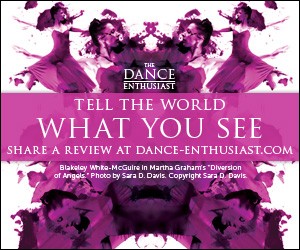 Related Features
Nai-Ni Chen Dance Company in "Leaning into the Unknown"
As the Great Lockdown of 2020 grinds into its seventh month, we can only hope artists have the ingenuity and the fortitude to survive the forces now pulverizing our nation like colossal mill-stones.
Signs of life have appeared in New Jersey, where the Angelica and Russ Berrie Center for the Performing and Visual Arts, at Ramapo College, has offered a handful of artists the opportunity to broadcast their response to the crisis on the arts center's YouTube channel. Acknowledging the uncertainty of these times, the theater is calling this program "Leaning Into the Unknown." The first broadcast, on September 19, will include the Nai-Ni Chen Dance Company performing a suite of five dances, four of which Chen choreographed while living in isolation and connecting with her dancers electronically. The second broadcast, on September 26, will include Mignolo Dance and The Moving Architects, and will feature performance artists and poets, too.
Social-distancing rules allowed as many as 20 people to attend the video-taping of Chen's dancers at the Berrie Center, on September 10, but, as it happened, only a couple of arts journalists were present. The majority of this jewel-box-size theater was off limits, the seats draped with hazard tape like bright-red scars. Yet the theater was still functioning, with technicians jogging down the aisles, keys jangling at their sides; videographers re-positioning and focusing their cameras; and huddled conversations about lighting and costumes taking place as usual. Dancers drifted onto the stage to continue their warm-up, their bodies as lithe and powerful as ever. With one hand on the proscenium, a woman calmly began the timeless ritual of grands pliés. In the dim auditorium, I remembered Merce Cunningham's Winterbranch, and thought of seeds buried in darkness. "Except a corn of wheat fall into the ground and die, it abideth alone; but if it die, it bringeth forth much fruit," says the Gospel.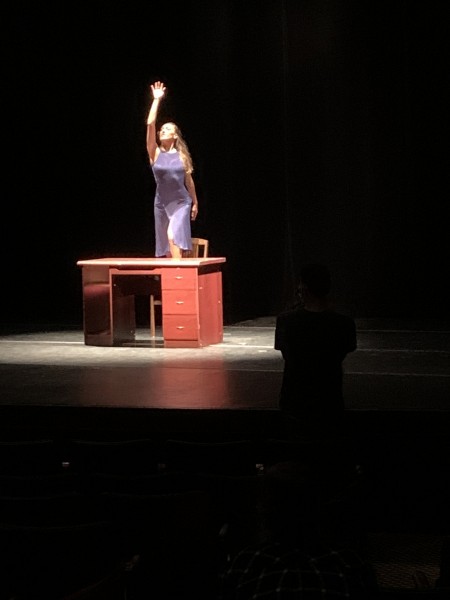 Greta Campo in Nai-Ni Chen's The Desk and I; photo by Karley Berrios 
Perching on an arm-rest nearby, Chen explained to me that she has continued to choreograph during the Lockdown, and is now dancing every day—more than she has in years. Like water running downhill, her creative energy seeks a way around every obstacle placed in its path. Initially, when she was not able to meet with her dancers in person, she taught them movement individually on Zoom. They took these dances outdoors, and recorded themselves with their smart-phones. Chen subsequently edited and assembled the recordings into a digital dance called Phase II. Another dance created while the dancers were still "sheltering in place," and recording themselves at home, is called Ripple Effect. Chen describes it as her contribution to the #WashTheHate campaign, which draws attention to the violence that has been directed at Asian people as a result of Covid-19 hysteria.
Both Phase II and Ripple Effect will be included in the September 19 broadcast, but were not part of the taping on September 10, when the dancers performed Tomorrow, a group work created two years ago; and the new solos Desk and I, and Emissary of Light.
A disciplined ensemble piece filled with rebellious energy, Tomorrow begins with a jolt of electricity, as the dancers' heads snap back and they twist into combative attitudes with fists at the ready. Although casually dressed, these six people are ready to tackle a future that begins immediately. Chiel Meijering's music provides a driving impulse, while the movement motifs include a stiff bouncing sequence in which the dancers gather energy that explodes when they stride forward.  Holding one fist in front of themselves, they raise it slowly but inexorably. When they leap into the air, their bodies arched like sails, one can almost feel the auspicious breeze. Chen was optimistic, when she made this work.
Yuka Notsuka in Nai-Ni Chen's Emissary of Light; photo by Karley Berrios 
Created in the midst of this year's Lockdown, The Desk and I is moodier. Greta Campo sits at the titular work station, cradling her face in one hand, and then launches into a solo weighted with grief and defiance, sweeping the desk's surface and leaning, crumpled, against its side. Her movements are solemn and frantic, by turns. When she touches herself, and then reaches out to her absent companions, the desk anchors her loneliness. Chen has choreographed this piece in classic modern style; and appropriately the dancer's long blue dress and ponytail recall the fashions of the 1930s, when Americans created dances of impassioned social criticism. What's old is new again, including the Great Depression. Even so, The Desk and I is comforting, allowing us to share an experience that becomes less overwhelming when we can face it together. While we have art, we will never be truly alone.
The program's other solo, Emissary of Light, is more delicate, incorporating gestures from various Asian traditions. Yuka Notsuka pinches thumb and forefinger together recalling the Chinese Peacock Dance. Her hands cup together to form a lotus blossom that opens; and, at another point, Notsuka gently paddles the air, her hands like fishes swimming (a Filipino motif). She crosses her arms before her face, peering at the audience as if through a veil of tree branches. Later her movements become full-bodied, but the dance maintains its episodic quality, as if Notsuka were an explorer discovering the features of an untamed landscape. When she stalks off into the distance, her squared shoulders tell us she is not afraid.
If only we could borrow some of this dancer's courage. Maybe we can . . . 
---
The Dance Enthusiast's DAY IN THE LIFE covers the stories behind dance/performance and creates conversation. For more behind-the-scenes stories from NYC and beyond, click here.
---
The Dance Enthusiast - News, Reviews, Interviews and an Open Invitation for YOU to join the Dance Conversation.