Related Features
Contribute
Your support helps us cover dance in New York City and beyond! Donate now.
Dance Up Close to Nai-Ni Chen Dance Company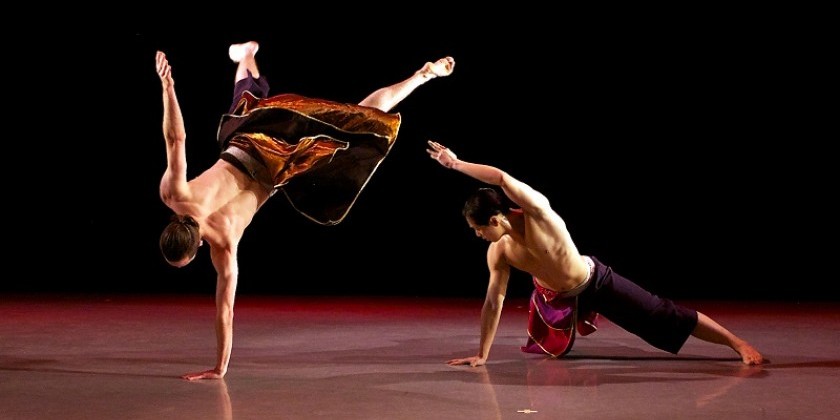 The Company Prepares for their 25th Anniversary Season
A Celebration of Dance with Live Music
performing:
Incense with Joan La Barbara
Grooveboxes with The Ahn Trio
Whirlwind with Glen Velez
& the World Premiere of Not Alone with The Prism Quartet
Saturday, April 26, 2013, 8:00 PM
Sunday, April 27, 2013, 3:00 PM
Salvatore Capezio Theater (126 East 13th St., New York, NY)
---
The Nai-Ni Chen Dance Company will celebrate their 25th anniversary season with two performances at the Salvatore Capezio Theater in New York. The shows feature the pleasure of live musicians set alongside Chen's renowned artistry mixing both American and Chinese sensibilities.
After 25 years of creating and performing in some of the most prestigious theaters in the United States, as well as touring the world in international festivals, Chen continues to discover and try new movement, often inviting her dancers to improvise when developing work. While open to exploration, the choreographer is aware of the essence of her style, an approach deeply informed by martial arts and the classical Chinese dance of her early upbringing. Traditional props, swords, spears, fans, and the flowing, and elegant Chinese water sleeves are often layered into her contemporary dances.  
Nai-Ni Chen on Singluar Movement
---
"Whenever a dancer comes to the company, I have to understand them first," Chen shares. As she creates, she looks for opportunities to showcase the strengths of the dancers she's working with. Each process provides an opportunity to get to know dancers better, to investigate their strengths and weaknesses so their individuality can shine.
Nai-Ni Chen on Highlighting her Dancers' Strengths
---
Since 1995 Chen has been collaborating with composers. The company often performs with live music, and this season offers a special treat with every dance featuring live musicians, such as the vocal sound artist,  Joan La Barbara, who will sing her original composition for Incense. Chen encourages us to , "Come not just to see the dance, but also to enjoy the music."
Nai-Ni Chen and Kristen Lau on Music Collaboration
---
This season the company will also premiere Not Alone, a dance that asked its artists to contemplate if we are indeed all there is. In developing the choreography for this piece, the dancers intimately explored their shadows , as well as the pillars, paintings, and lighting in Newark's Aljira Contemporary Art Museum, where they enjoyed a residency earlier in the creative process. The museum residency culminated in a showing that immersed the audience in both visual and moving art.
Chen and her dancers are excited to share Not Alone on a proscenium stage with live musicians for the first time.
Nai-Ni Chen and Kristen Lau on Creating New Work Not Alone
For more information on Nai-Ni Chen Dance Company and their upcoming performances, visit the company's website.