A Day in the (NIGHT) Life of New York Dance (Fashion Edition): The Fashion of Burlesque
Known For Taking Their Clothes Off, Fashion Is Still Essential To Artists of the Burlesque
In 1937, New York's mayor, Fiorello H. La Guardia, outlawed the popular theater going pastime, burlesque, due to what he saw as its lewdness and "glorifying filth." Eighteen years later in 1955, State Supreme Court Justice Aron Steur lifted the ban by court order, claiming illegal pre-censorship.
Still, the art form experienced bumps along the road. The burlesque world never quite recovered from the ban, and coupled with the rise of brazen nudity found in film and magazines, it lost popularity.
However, in the mid-1990s, a number of performers, who admired their predecessors' glamour and artistry, initiated a resurgence. Inspirations for today's stars were the legends like Lili St. Cyr, whose signature was to emerge from an onstage bubble bath; and Tempest Storm, renowned for working her physical attributes  (44DD-25-35) in conjunction with her "naturally" flame-red locks; and, Jennie "The Bazoom Girl" Lee, who not only twirled tassels artfully but fought for better pay and better conditions in clubs. Fusing the earlier style of striptease with present day influences, contemporary burlesque artists are part of what is now known as the neo-burlesque movement.
Boylesque performer Matt the Knife. Photo: Rex Lott.
Most often when  one mentions burlesque, images of pin-up girls come to mind, but in actuality, a number of men have joined the ranks as "boylesque" dancers. And, contrary to popular belief, acts don't only involve stripping, they also show off artistic innovation, integrating a diverse range of stylistic influences from exotic fan dancing to courtly baroque steps.
Though burlesque artists are known for taking their clothes off, costuming is vital to their routines."Clothing provides so much texture, context, and opportunity for a richer experience," says Company XIV artistic director, Austin McCormick, whose ensemble fuses baroque, modern dance and burlesque styles.
"We've learned some tricks of the trade over the years such as elastic corset lacing and how to quick rig garments for seamless strip teases," says McCormick about his company's finery.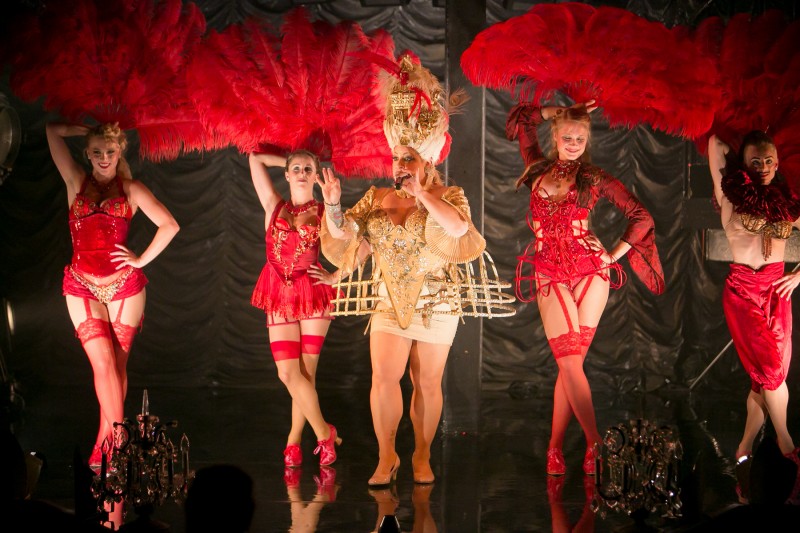 Company XIV in Rococo Rouge. Photo: Philip Van Nostrand.
The removal of clothing in these revues is just as rehearsed and choreographed as a ballet dancer's petit allegro, for example. Fashion mishaps happen like in any other live performance, which, on occasion, throw off performers, even ones who are accustomed working only in their skivvies. Former Miss Coney Island and assel virtuoso (assels are tassels that twirl on one's derrière), Gal Friday, recounts her most notorious wardrobe malfunction. "Last year at a Toronto festival, my bra wouldn't unhook," she says. "So I pulled it down over my hips like pants, but then it got caught on my fishnets."
Friday did what any pro would do -- she went with it. The bra trailed her like a tail between her legs as she finished her act with more wildness than she usually dishes up. "What else are you going to do?," Friday states, unfazed by the episode. "I love when these things happen, because it reminds the audience that they're watching live performance."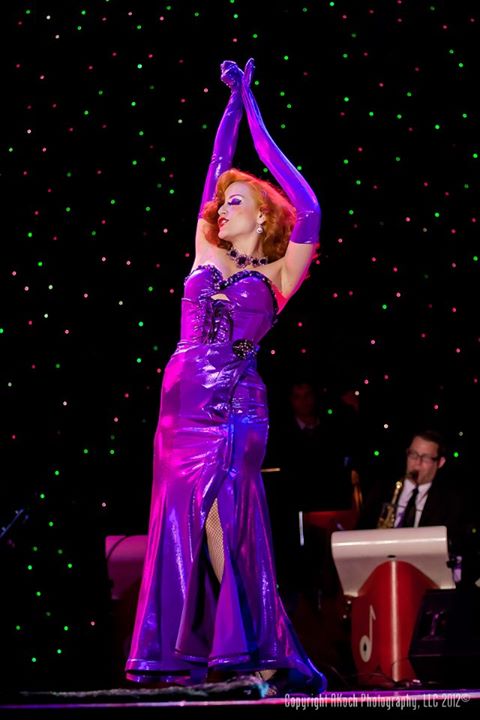 Gal Friday in a costume by Garo Sparo. Photo: Andreas Koch.
Historically, many burlesque dancers made parts of their own costumes, sewing rhinestones on their g-strings and bedazzling their pasties and bras. Boylesque performer, Matt the Knife, studied costume design in college and continues the DIY tradition by constructing his own pieces. When designing for burlesque, the costumer must think about how the wearer's "assets" will fit in their designs. "You have to create from the inside out," says Knife.
For one of his signature numbers, Knife personifies the lovely Princess Peach from the Nintendo video game Super Mario. "You can't just go to the Princess Peach store and buy a dress -- especially one that fits a man," jokes Knife. During his Princess bit, Knife shimmies off his ruffled full skirt and mushroom stuffed bra, revealing his special plot twist-- this Peach, is actually Super Mario's mustached sidekick Luigi.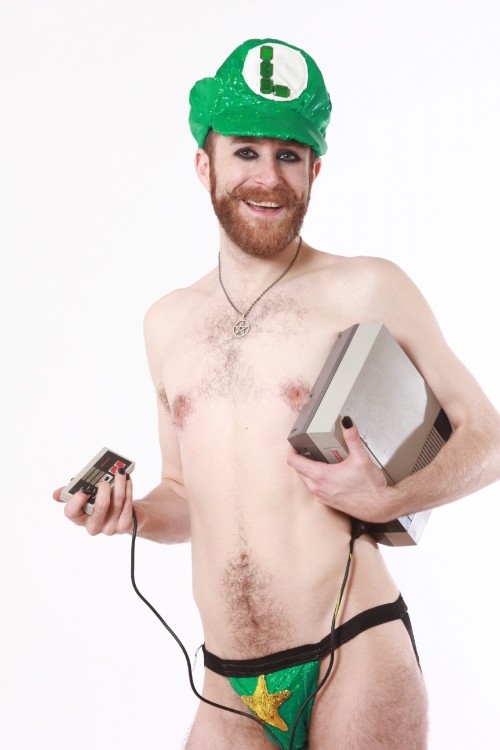 Matt the Knife in his Luigi getup. Photo: Rex Lott.
Friday and McCormick work with designers, Nora Tewksbury and Zane Pihlstrom, respectively. "One of my favorite costumes is a piece that Nora made and delivered on my birthday," says Friday. The opulent gold and bright blue garment was influenced by an old Snake Charmer number, which Friday shared a video of with Tewksbury along with special sketches.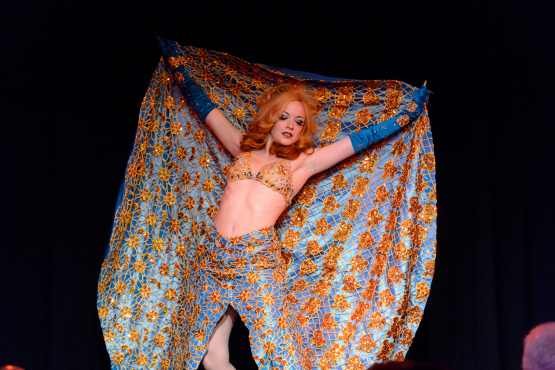 Gal Friday in a design by Nora Tewksbury. Photo courtesy of the artist.
McCormick and Pihlstrom also collaborate closely on wardrobe, creating "an eclectic mix of 17th century shapes and iconic burlesque pieces," says McCormick. In XIV's latest work, Rococo Rouge, elegant corsets and extravagant baroque footwear are right at home in a world filled with showgirl fans, garters and rhinestones.
Along with the challenge of developing a vibrant atmosphere, performers must reveal the most compelling aspect of themselves -- their personality.  A costume may be the splendid wrapping, but the artist is the unforgettable gift.
Company XIV performances of Rococo Rouge take place from now to November 2 at their new intimate, 100-seat theatre-lounge home, located at 428 Lafayette Street in NoHo, across the street from The Public Theater in Colonnade Row. For more info, visit
http://CompanyXIV.com
.
Matt the Knife is hosting Homo Erectus BOOOOOOOOOlesque on October 18 at the Stonewell Inn. For more info, go the
facebook event.
Follow Gal Friday on Twitter for information on her performances
@GalFridayNYC