New York City Welcomes Bloom! Dance Collective In "CITY"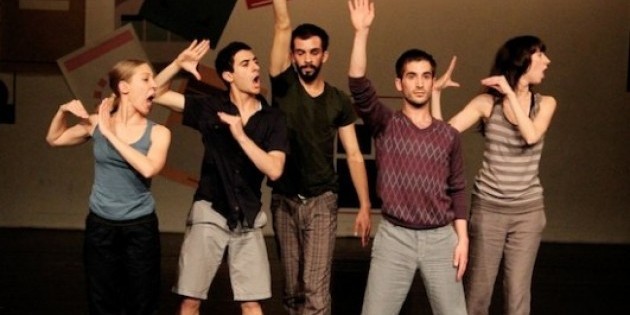 A New York City Premiere — An American Debut
New York City Welcomes
BLOOM! Dance Collective
In CITY
A New York City Premiere – An American Debut
At Abrons Arts Center
466 Grand Street (at Pitt Street), in New York City.
April 27–28, 2012, 8pm
---
©Christine Jowers reports for The Dance Enthusiast
It wasn't Herculean effort that brought the six artists from Budapest, Slovakia, Spain, and Italy together to create the dance/theatre collective known as Bloom!. It was serendipity.
"A phone call," remembers Igor Urzelai, one of the founding members of
BLOOM! Dance Collective. To be specific, Viktória (Viki) Dányi, a choreographer and performer who trained in Budapest and finished her studies with a certificate degree at the London Contemporary Dance School, decided to ring up some of the people whose company she enjoyed in classes, auditions, and workshops while training in the two cities. She asked if they might want to work together.
Pictured L-R: Tímea Sebestyén, Moreno Solinas, Csaba Molnár, Igor Urzelai, Viktória Dányi Photo © Puskel Zsolt
The answer was, an easy "yes" and the company's first work, CITY, soared, receiving accolades such as the 2010 prestigious Rudolf Laban Award, an artistic residency at Prix Jardin D'Europe, and then, an engagement to tour through Aerowaves in the 2010–2011 season.  Now Bloom! Dance Collective, the company that loves to travel -rehearsing in between London, and Budapest (three weeks in one place; two weeks in another) while meeting for brainstorm sessions on Skype- will be making its American debut at New York City's Abrons Art Center on April 27th and 28th at 8pm. They are presenting CITY for its' New York premiere then taking the work on to Philadelphia and Pittsburgh.
"I am looking forward to a new relationship with a new audience," says Urzelai. It will be his first time in the states. He hopes that audiences can find a "freedom to find their own personal vision in the company's work."
---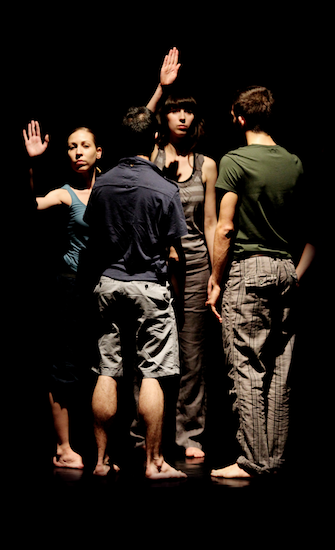 Pictured L-R: Tímea Sebestyén, Moreno Solinas, Viktória Dányi, Csaba MolnárPhoto ©Puskel Zsolt.
Urzelai describes himself as always questioning the meaning of everything, trying to move out of his comfort zone while being clear about the dramaturgy of the work. When it comes to enlightening me on the qualities of his team, he pauses, maybe politely embarrassed, then offers, " Viki, is calm with softness; Csaba Molnár, comes up with loads of crazy creative ideas; Tímea (Timi) Sebestyén, is precise, she is always looking for clarity. Moreno Solinas, the Italian, (and the dancer in one of my favorite sections of CITY, a solo that recalls Charlie Chaplin's Great Dictator) is in the room during our Skype call, and can't (or won't) say what he offers to the group. After a bit Urzelai speaks up, "Moreno finds the depth in the ideas." And Albert Ruiz Soler, the musician and sound designer, brings an awareness to the BLOOM! that none can match. Everyone offers a distinct sensibility.
"The secret ", Urzelai explains, "is our shifting of roles. We are not a fixed structure, but open to finding the new. We are six different minds." 
I learn that Bloom! is six minds bound by friendship, and enriched by cultural diversity as well as a shared passion for activism and ideas that can't be contained within geographical boundaries.
---
an excerpt of CITY


(includes nudity)
Back during the historic group phone call that started it all, the performer/choreographers: Dányi, and
Urzelai, along with Sebestyén, Molnár, Solinas, and the sound designer Ruiz Soler, immediately agreed on the theme for their new  work- The Tower of Babel. They were drawn to the biblical tale feeling it relevant to how they moved -people of different languages, trying to create something, to share as a whole their individual experiences of a city. 

CITY draws on the diverse cultural and artistic backgrounds of its members and builds a thought-provoking collaborative performance piece. Conceived as a "political pamphlet entwined with movement,"

the piece

grapples with the dynamics of power, fear, manipulation, and faith, and the consequences of social conformity all while wittily playing with conventions of individual versus group behavior.

No language barriers here.
---
For Tickets
Performances will be held Friday, April 27, and Saturday, April 28, at 8pm. Tickets are 5 and are available through the Abrons box office by calling 212-352-2101 o
Click here for tickets Abrons Arts Center
is located at 466 Grand Street (at Pitt Street), in New York City.  
---
The Dance Enthusiast's DAY IN THE LIFE covers the stories behind dance/performance and creates conversation. For more behind-the-scenes stories from NYC and beyond, click here.
---
The Dance Enthusiast - News, Reviews, Interviews and an Open Invitation for YOU to join the Dance Conversation.