Dance Up Close to Ori Flomin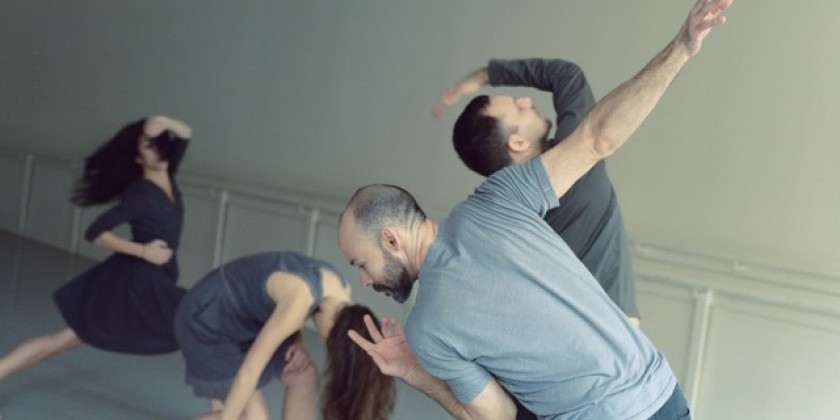 As Flomin and his dancers prepare for "First Move" at Gibney Dance.
Choreographer: Ori Flomin
Performers: A Hannah Button, Ori Flomin, Isaac Gonyo and Colleen Thomas
Wednesday, March 11–Saturday, March 14 at 7:30 p.m.
The Theater at Gibney Dance: Agnes Varis Performing Arts Center
---
Israeli-born choreographer and performer Ori Flomin grew up making dances in his living room. "I don't know exactly how I began, because I think I always did [it]," says the former Stephen Petronio Company dancer. "I was constantly bouncing around and making shows for my family while my dad put records on."
After taking a summer course with Risa Steinberg and Kevin Wynn, guest teachers from New York, the 22-year-old dancer decided to leave Israel and study in Manhattan for one year. "25 years later I'm still here and figuring things out," says Flomin with a laugh.
Ori Flomin on Making his first Full Length Dance in New York
Fast forward to now as the choreographer's inaugural evening-length piece First Move is about to open in New York. Flomin's earliest impressions of dancing in his parent's Israeli living room sparked the initial vision for the work. Wishing to investigate the abstract question "who is the dancer?", he sought out colleagues and students asking for their first memories of dancing, including their actual moves. He even created a questionnaire, completed by 40 dancers, in which they described details of their training and careers.
Flomin revealed it was initially overwhelming to sift through the information. "What do you do with 40 stories and how do you bring them all into the studio?" he questioned.
Ori Flomin Looks Back to the Young Boy Dancing in the Living Room in First Move
The sheer amount of material could have spawned a mini-series rather than one single piece, but Flomin and his three dancers, Hannah Button, Isaac Gonyo and Colleen Thomas, plunged fearlessly into each of the stories -- their vibrancy fueling the artists' improvisation explorations. "We tried to strip away the story but capture the feelings and ideas," explains the choreographer who refrained from miming or strict narratives.
A Minute of Connecting Generations
First Move
was supposed to be presented last spring at Dance New Amsterdam but the organization unexpectedly closed before the premiere. "It was hard initially," admits Flomin. "But in the long run, it feels like that was the right move [for the work]." The turn of unexpected events allowed Flomin and his dancers to delve further, creating an intricate dance with colorful texture and heart.