Related Features
Contribute
Your support helps us cover dance in New York City and beyond! Donate now.
Dance Up Close to Parsons Dance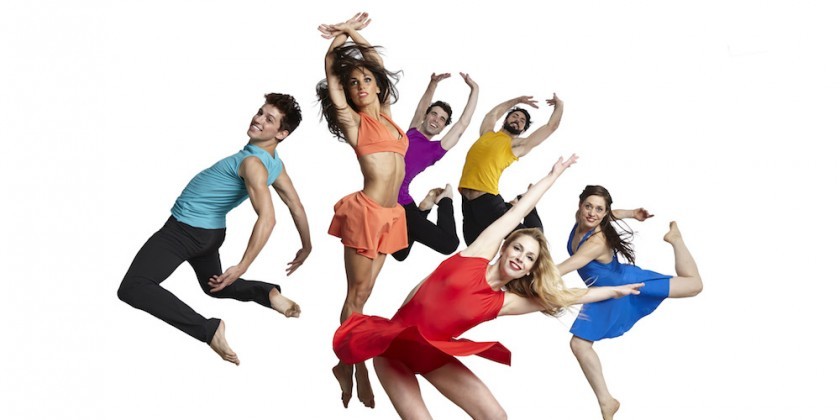 Parsons Dance - 30 Looks Good on You.
The Dance Enthusiast wishes a Happy 30th Anniversary to Parsons Dance!
---
Choreographer: David Parsons
Assistant Artistic Director: Elizabeth Koeppen
Performers: Sarah Braverman, Christina Ilisije, Jason McDonald, Steven Vaughn, Ian Spring, Elena D'Amario, Lauren Garson, Eric Bourne, Melissa Ullom
Composer: Rubin Kodheli
---

In 1985, David Parsons, artistic director, founded Parsons Dance with lighting designer Howell Binkley. Mere mention of the company's name brings robust athleticism to mind. The company is also known for being widely traveled; they have toured the entire United States, Asia, and South America.
Meet Parsons Dance
---
Presented as three different programs, the company's season at The Joyce Theater mixes and matches riveting works such as Caught, The Envelope, Nascimento Novo, and the world premiere of The Introduction.
The Introduction sprung from Parson's desire to highlight each of the company members strengths and unique facilities. Eight solos are set to personalized scores by the established cellist and composer Rubin Kodheli.
 
A Sneak Peek - The Introduction
---
Lighter pieces such as The Envelope serve to raise laughs and evoke a sense of mystery. The 'star' of the show, an unopened envelope, is a piece of Parsons Dance's history – the same envelope has been used as a prop since the dance was first conceived.
 
A Sneak Peek- The Envelope
---

Important Anniversary News: To celebrate 30 years, the company will expand its mission and give young American choreographers a chance to create new works for Parsons Dance across the country. The new GENERATION NOW DANCE PROJECT is David Parsons's project which aims to build opportunities for America's next generation of dance-makers.   
Celebrate the company's 30th Anniversary at The Joyce Theater this month!
Opening Night Program: The Introduction, Brothers, The Hunt /choreography Robert Battle, Cloven Kingdom/ choreography Paul Taylor (excerpt), Caught, Nascimento Novo
Program A: Jan 15 at 7:30pm; Jan 16, 17, 18 at 8pm; Jan 19 at 6pm;  Jan 21, 22 at 7:30pm; Jan 23, 24, 25 at 8pm; Jan 26 at 6pm
The Introduction, Brothers, The Hunt, Kind of Blue, Caught, Nascimento Novo
Program B: Jan 18 at 2pm; Jan 19 at 1pm; Jan 25 at 2pm; Jan 26 at 1pm
The Introduction, Brothers, Kind of Blue, The Envelope, Caught, Nascimento Novo
Venue: The Joyce Theater
Tickets: $10 and above. Call JoyceCharge at 212-242-0800 for $10 tickets. All other tickets can be purchased online at The Joyce Theater 
For more information on   Parsons Dance Company  /  Cellist and Composer  Rubin Kodheli  /  The Joyce Theater