Remembrances of the Cuban Icon, Prima Ballerina Alicia Alonso
A dance legend passed on Thursday, October 17, 2019 — the Cuban Icon, Prima Ballerina Alicia Alonso.
---
(Video at the top and bottom of this article show correspondent Michael Voss speaking with Alicia Alonso, world-famous Cuban ballerina, discussing her career, family, and the Cuban ballet. They were submitted to YouTube seven years ago in 2012 and, along with this article, are very informative)
---
Born in Havana in 1920 to Antonio Martínez Arredondo, an Army veterinarian, and Ernestina del Hoyo y Lugo, a dressmaker, Alicia Alonso won hearts around the world with her artistry and for her leadership of the school and company, Ballet Nacional de Cuba. In 1942, as a young dancer with American Ballet Theatre, she suffered a detached retina. Though nearly blind, she never let her disability diminish her focus, nor hamper her drive. Gathered here are some remembrances from artists deeply connected to Ms. Alonso.
Cuban dancer and choreographer Carlos Acosta, now director of Birmingham Royal Ballet, made these remarks about the extraordinary legacy Alicia has left us:
"Being a daughter of a small Caribbean island, Alicia Alonso encountered all the presumptions that ballet was an art of developed countries, that the Latin physique and temperament did not conform to those required for classical dance. All these prejudices were demolished when Alicia Alonso entered the scene. Her struggle to be recognized opened the doors of classical ballet to all young people who dream of dancing and put Cuba on the billboards of the great international stages."
"I had the joy of dancing with Alicia Alonso on one occasion. Another time I had the privilege of rehearsing Michel Fokine's Le Spectre de la Rose (The Spectre of the Rose) with her. It was an unforgettable experience, because, among the corrections, Alicia told us anecdotes about the choreography. I was dazzled by her knowledge and her memory."
"Today I feel the pain caused by her death, for all that she created, for all that she gave us, for being the main foundation of a ballet school that has given so much glory to our country. Together with the artists of Cuba, I will continue to work to keep our country growing. I think that's the best way to honor her name."
Alicia Alonso circa 1955
Photographer/documentary filmmaker Nan Melville says, "I met Alicia Alonso in 1990 when I visited Cuba to photograph the International Ballet Festival of Havana for Dance Magazine. Alonso greeted us  — Donald Saddler, Marian Horosko, myself, and Norberto Sanchez — her long-lime friends, in her airy office with red and blue stained glass windows and white louver shades, standing there like a queen sparkling in her white suit and turquoise headscarf. The aura about her was what I noticed most and how people responded to her — with unbridled adulation." 
"At ballet performances, the audience didn't go into the Gran Teatro until her black car pulled up. They jostled round to catch a glimpse and greet her. In the theatre, she waved to the audience with her Swan Lake arms from the balcony. As she descended the marble staircase after performances, a chosen child would present her with flowers."
World-class ballerina, choreographer, and New York City-based producer Ann Marie DeAngelo says, "Alicia Alonso was a powerful, magical force and unusual mentor to me. We met in Varna during the 1976 international ballet competition when I competed and she was a judge. She invited me to her International Ballet Festival in Havana. That began a long relationship during which I returned several times to perform, launch my company Ballet D'Angelo, and enjoyed carte blanche to use her dancers, teachers, and other artists to create Ballet de Monterrey in Mexico."
DeAngelo, who is working on a documentary tentatively called It's Not about That! declared, "The dancers from the Ballet Nacional de Cuba are some of the best in the world. They were muses for me in my work, with their great training, unadulterated commitment, and insatiable passion for the art of dance."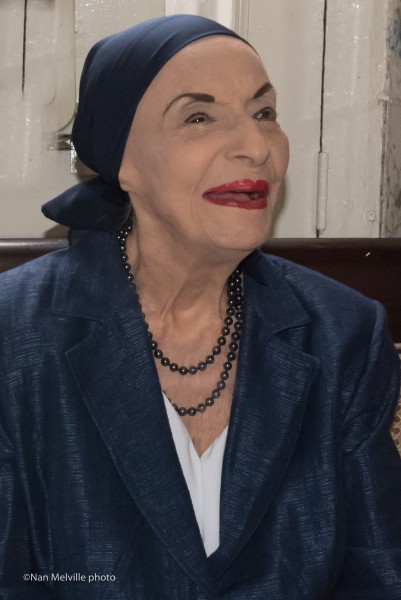 Jan Bartoszek, founder, artistic director of Hedwig Dances based in Chicago, writes, "From her early years until her passing, Alicia Alonso was a leader in the dance field. Her alliance with Fidel Castro helped set up dance academies for talented students as part of the primary and secondary educational system. Alonso took ballet performances to workers in factories and farmers in sugar cane fields, fostering dance as part of Cuban cultural identity."  
"From an early age, Cuban dance students are trained in both technique and improvisation, so that they cultivate a hunger to push their physical ability and a spirit to explore what is creatively possible. Hedwig Dances' collaboration with DanzAbierta challenged both companies to grow and craft Trade Winds/Aires de Cambio as a call and response about the seasons of life in two cities/two cultures. The stage was divided down the centerline. The coup de grace was the moment we broke the barrier and danced together."
In January, the Cuban ministry of culture appointed Viengsay Valdés, the National Ballet's 42-year-old prima ballerina, as its deputy artistic director. In the fall of 2020, Havana will celebrate Alicia Alonso's centennial.
---
---
The Dance Enthusiast's DAY IN THE LIFE covers the stories behind dance/performance and creates conversation. For more behind-the-scenes stories from NYC and beyond, click here.
---
The Dance Enthusiast - News, Reviews, Interviews and an Open Invitation for YOU to join the Dance Conversation.