Guest Writer, Choreographer Rohan Bhargava Reports on Rovaco Dance and Los Little Guys' Trip to India
It is impossible to grow up in India and be separated from dance. Dance is thoroughly mixed into all aspects of life including religion, marriage, entertainment, and culture. Besides traditional art forms, the giant Bollywood industry with its characteristic musical storytelling has ensured that the appetite for dance is sprawling. It is not surprising that this appreciation extends to western dance forms.
Rohan Bhargava
Contemporary dance in India is relatively new as the country opened its doors to globalization in 1991, less than 30 years ago. Yet, the dance scene has grown at the speed of light with hundreds of studios and thousands of dancers spread across the country. India is the second most populated nation in the world, and its huge middle-class forms the market for dance. Entrepreneurs are capitalizing on this brand-new market by opening lavish studios and bringing talented artists to teach at their organizations.  
Rohan Bhargava leads a workshop in Mumbai
This year when I made my plans to visit family in India, I decided to organize a three-city teaching tour in collaboration with two of my close friends, Dimitri Kalaitzidis and Erik Elizondo. Dimitri and Erik have been traversing the world under their collective, Los Little Guys, teaching classes in Canada, London, Mexico, New York, California, Malaysia, and now India! Working under the umbrella of my own company, Rovaco Dance, I organized workshops in New Delhi, Mumbai, and Bangalore, partnering with The Danceworx Performing Arts Academy, That's Dance Studio, Nritya Shakti Studio,The Wooden Stage, and Left Foot Right Danceworks. These are some fantastic organizations headed by talented, intelligent, and humble individuals. They invited us into their studios with open arms. 
Hospitality is a huge aspect of Indian culture. Indians find it joyful to host guests and show them their lifestyle. Dimitri and Erik, who were visiting for the first time, found this quite charming. They commented, "being in a constant state of travel, as dancers on the road, it is incredible to arrive somewhere and immediately feel like you are part of the community. In every city, each studio, and all the places that we called home we felt a very intimate connection to the people."   
Erik Elizondo of Los Little Guys leads a workshop in Mumbai
The structure of our workshops gave participants exposure to two completely different contemporary styles. My class focused on floor techniques — the motor mechanics of moving into, out of, and around the floor. Dimitri and Erik focused on an improvisation technique that they developed while working at Salzburg Experimental Academy of Dance (SEAD) in Austria. We decided to keep the level of our classes high so that dancers were pushed to focus on the source of movement. We wanted to empower them to become active listeners and thinkers. It was very interesting to see how students responded to our classes. 
In some studios, dancers were result-oriented, closed from doing the research required to break habits and find new movement pathways. This pattern felt oddly familiar to me. Growing up in India, when I was 17, I was already teaching dance classes to children, an adult ballet class, and a beginner's jazz class. Looking back, I can say I hardly knew anything about dance. Instant gratification in a huge and unsaturated market is natural. While this can be a strong driving force, it can also create a comfortability that hinders the need to evolve and innovate.
New Delhi
And, is there anything wrong with that? After all, a life where one shares the joy of dance with hundreds of people and positively impacts their lives sounds pretty good. Still…there is so much more to this art form.
My outlook on dance drastically changed when I moved from New Delhi to New York. Thinking that a career in dance was going to be easy shattered quickly during my first year at NYU's Tisch School of the Arts. In hindsight, I'm certain my peers were having similar experiences regardless of where they came from. The reality-check allowed me to start afresh. Becoming a complete novice after dancing for 11 years opened my mind to new tools and approaches.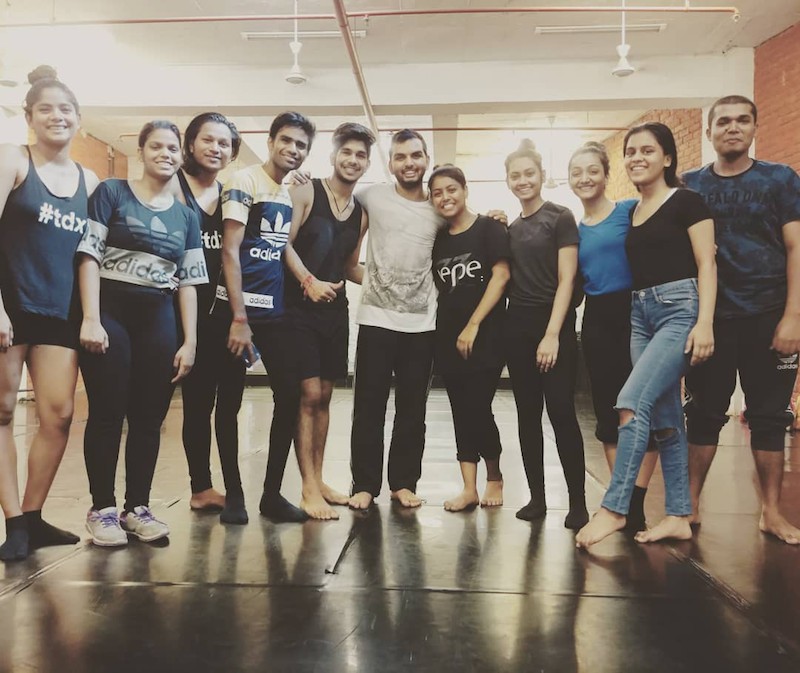 Rohan Bhargava with dancers in New Delhi
In India, there aren't many colleges where one can obtain a dance degree and traveling abroad is not feasible for most people. Many talented dancers are unable to have the education that I was lucky enough to experience. My goal when organizing this tour was to give back that knowledge to the community. I want to inspire and motivate dancers to dive deeper into their work and grow. 
India is hungry for dance education and needs more of it. From a choreographic perspective, I see so many Indian art forms, martial art techniques, and cultural practices easily blending into the contemporary dance aesthetic. There need to be a lot more voices capturing this on the international dance scene. Luckily, Indian organizations have started the process through widespread exchanges, educational programs, and international collaborations. I am excited to fuel the process through my own endeavors with Rovaco Dance Company. 
Rohan Bhargava/Rovaco Dance Company is currently in residence at LaGuardia Performing Arts Center, courtesy of CUNY Dance Initiative. The company will premiere a new evening-length work on April 18 and 19, 2019 as part of this 2-year residency.
---
Beyond our Postcard Series ( check out the POSTCARD series here) The Dance Enthusiast often selects members of our dance enthusiastic community to guest write on our site.  Would you like to know more about guest writing on The Dance Enthusiast? Please contact Christine Jowers cjchiefeditor@dance-enthusiast.com