Dance: Broadway Stage and Screen - A Chat with Rosie Lani Fiedelman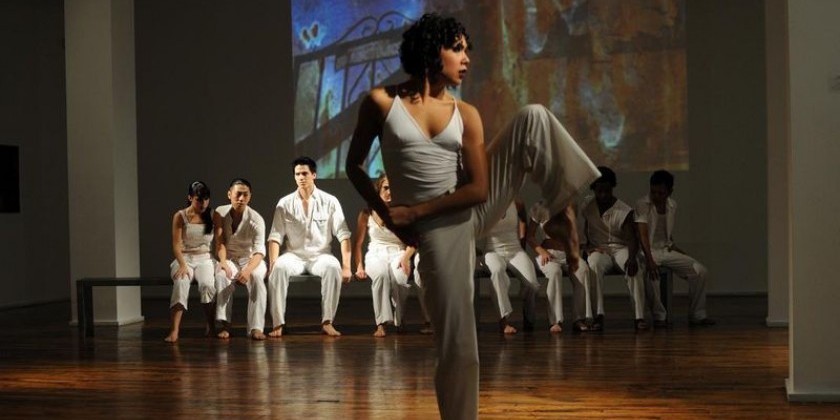 From Modern Dance to Broadway Stage
Pictured above: Rosie Lani Fiedelman in Jennifer Muller's Bench
---
In a city with such varied artistic opportunities, on occasion, a dancer will attempt to transition from concert dance to Broadway. Some have more success than others as it takes flexibility to navigate these disparate domains. Enter Rosie Lani Fiedelman.
Fiedelman, a Colorado native, fell in love with dance when her mom took her to a local dance school's recital. "I was seven," she says. "I remember they did 'Ease On Down The Road' in shiny unitards, and I thought 'this is absolutely amazing, this is what I want to do.'"
After a year of school at The University of Colorado at Boulder, Fiedelman realized that dance was something that she wanted to pursue with more resolve. As many young dancers do, she made the pilgrimage east to The Big Apple.
"I needed something to light the fire under my tush. When you're in Colorado, there's always that coastal pull, either go to LA and do that thing, but I've always just wanted to go to New York."
Rosie Lani Fiedelman dancing with Jennifer Muller/ The Works; Photo: Takao Komaru 
Fiedelman joined the dance program at Ailey Fordham, where she earned her BFA.
"When I went to school there, they didn't have that gorgeous new building, everything felt a little run down, but it still had that feeling of . . . legacy. You walked down the hall, and you felt the energy of past professionals."
Fiedelman joined Jennifer Muller/ The Works right after college. She stayed with the company for ten years, touring the country and the world.
"I came in at a time when the company was revving itself back up," she explains. "They had had such a heyday in the '80s and early '90s, and they were starting to tour again when I joined. If we didn't have a season at The Joyce or somewhere, we would tour."
Fiedelman was drawn to Muller because of the dramatic nature of her work. She learned valuable performance and story-telling tools that she would later take with her into the Broadway world.
"Muller's work is very theatrical, which is exactly what drew me... There's that technique layer, but on top of that, it really mattered not where a limb was placed, but how did you get there and why are you leaving . . . This is why we dance really: to tell a story."
Rosie Lani Fiedelman (pictured right) with dancers in The Jack Cole Project; Photo: Carol Rosegg 
Fiedelman's move to Broadway was, in her words, "something that just kind of happened." All that she learned from Muller surfaced in her first Broadway audition, which was for new show In The Heights.
"The first Broadway audition I did took me right back to my work with Muller," she says. "There are the steps, but they aren't just the steps, they're bouncing off of a lyric, they're clarifying this moment . . . "
She says of Andy Blankenbuehler, choreographer for In The Heights:, " I felt so lucky to be in the room with him that one day."
After the initial In The Heights audition, Fiedelman couldn't make the callback because she was in Thailand with Muller. After returning to town, in one of those magical instances that happens in New York City, Fiedelman ran into the Blankenbuehler on the train.
"I was like, sunglasses, coffee, packed 1 train at 9 a.m., and I look up and I see him. I had never met this man before, I was like, 'this is fate. It has to be.' So I push my way through to him and he's standing there and he looks up and says 'I've been thinking about you. We're having an audition next week. Can you come?'
Fiedelman describes her work with In The Heights as one of her favorite performing experiences. As part of the original cast, she took part in the show's evolution.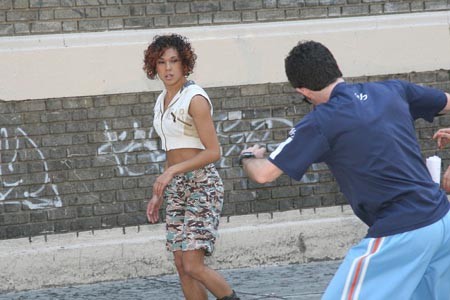 Rosie Lani Fiedelman and Andy Blankenbuehler (Choreographer) during the filming of the In the Heights TV Commercial; Photo: Ben Strothmann
"The joke is calling it "OBC," like "official Broadway cast,'" Fiedelman laughs. "It's really special."
In The Heights was open two months shy of three years, and Fiedelman continued to dance with Muller up through the show's closing.  "She really worked with me to make that happen, which is not common, but it was absolutely wonderful of her."
Fiedelman auditioned for The Lion King in December of 2013. Because The Lion King only has equity course calls, they are required to hold auditions every six months, even if they aren't hiring. She attended another audition in early June of the next year — a six-hour process after many rounds of callbacks. At the end, she was asked if she would be interested in a position with the show on tour.
"I said, 'I would love that, I love the show, but I would really prefer to be here.' They called me the next day and offered me the job (in NYC). They said 'can you start rehearsal in two weeks?' 'Uh huh'. 'Can you go to a fitting today?' 'I can.'"
Rosie Lani Fiedelman in a rehearsal; Photo: Amy Jordan 
In new shows, previews are where things get examined and altered. Right before opening night, the show is "frozen," at which point typically nothing changes. When Fiedelman joined the cast of The Lion King, the show was set, so she learned a track.
"Even if you're learning a track that someone else created, you make it your own eventually — your exploration is completely different," she explains.
Fiedelman speaks of dancing in modern dance companies versus performing on Broadway:
"In modern dance companies, you spend most of your time in the process of creating the work — rehearsal, fine tuning, etc., and then you have a very limited number of performances, you have a week, maybe two weeks, maybe you tour. In Broadway, you usually have a month of rehearsal, a month of tech, and then you're on. And then you do eight shows a week, indefinitely. I love it. I love performing, so it's perfect."
---