Meet Roberto Villanueva -The Founder and Executive & Artistic Director of BalaSole Dance Company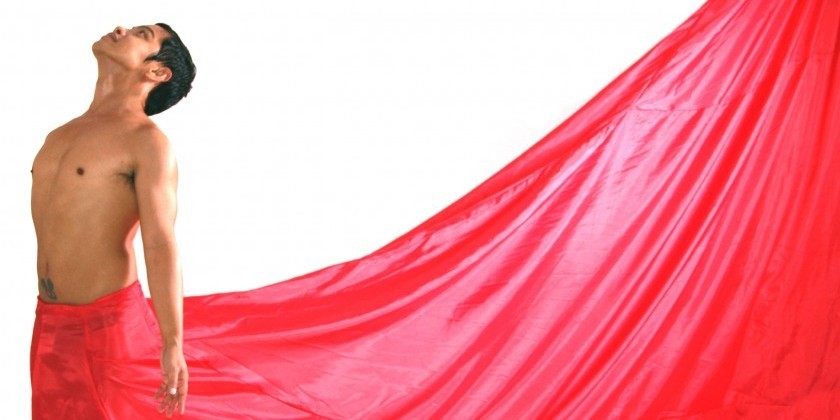 Preparing a Fifth Anniversary Season and Speaking of A New Direction for Dance
BalaSole Dance Company Celebrates Their Fifth Anniversary Season this Summer of 2015
with "SALMAGUNDI"
on July 17 & 18, 2015 , Friday & Saturday at 8PM
at The Alvin Ailey Citigroup Theater, 405 West 55th Street, New York, NY 10019
Ticket Prices on Fri. - $30 General/$25 Students & Seniors
Sat. - $35 General/$30 Students & Seniors (Saturday tickets include post-concert reception)
---
When I chatted with Roberto Villanueva, the founder and executive, artistic director of BalaSole Dance Company on the phone last weekend, I expected to speak about his upcoming concert, SALMAGUNDI, his dancing, and his artistic vision and, of course, we did. What I didn't expect was to meet a leader who not only generously supports his dancers' artistry, but also buttresses their knowledge-base so each may succeed in a dancing career on their own.
Now tell me, what other dance company artistic directors have as their first goal to help their artists succeed in the profession without them? Who else uses ideas from corporate America to bolster creativity and awareness among dancers? Where is philanthropy part of a company mission? Maybe I don't get out too much anymore, but I think this is highly unusual.
---
Villanueva came to the dance at 19 years old while attending SUNY Buffalo as an accounting major. The class was "Introduction to Movement," a phys-ed requirement. After class, his teacher suggested that he look into the dance department.  "What is a dance department?" he wondered out loud. Villanueva didn't grow up with an artistic background and he was naive to this path. "Dance? What kind of career can you have in dance?" It was difficult to fathom. Still, the next day he crossed the Buffalo campus to a completely different building to see what a dance department was all about. It intrigued him. He skipped an entire day of accounting classes to watch. "And the following semester, I didn't take any pre-requisites for accounting. I made up my mind that I wanted to try this."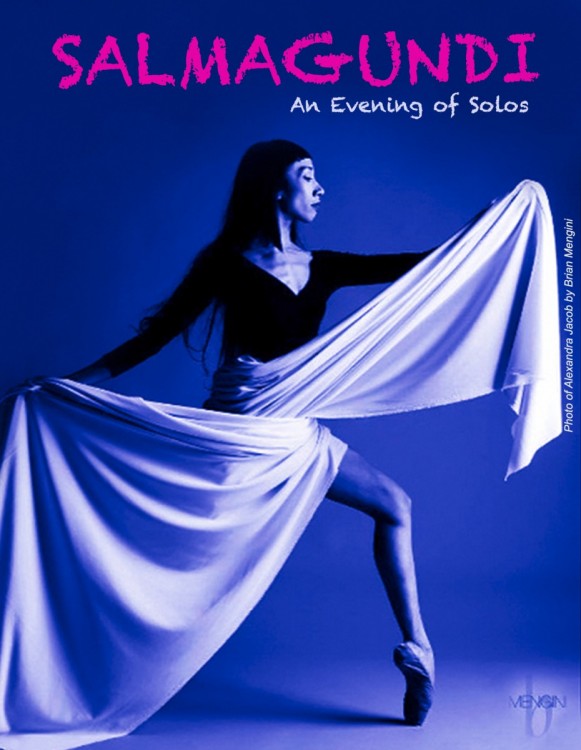 SALMAGUNDI will feature solo wok by former principal dancer of  Dance Theatre of Harlem, Alexandra Jacob; Photo by Brian Mengini
Villanueva ate up classical technique—training hard, studying seven days a week and begging to get into extra evening classes. Despite hurdles he persisted, never giving up. After only two and one-half years he won the Dance Masters of America Competition, competing with some of the best dancers across the nation to be recognized for his talent. Within three years he was dancing professionally. (Amazing!!!) The next step was moving to New York City to put his gifts to use. But despite great experiences dancing with Alpha Omega Theatrical Dance Company, Steeledance, Marie-Christine Giordano Dance, Pick of the Crop Dance, the Buffalo City Ballet, and Complexions, the young artist was unprepared for the hardship that dancers face. In his quest to achieve artistic excellence it wasn't spelled out that poverty and sacrifice are often part of the picture. "It was not something that I was ready or willing to accept. Why would I get my degree in dance knowing that I was going to starve and not be able to pay my bills? " He ended up finding work in a retail store as a manager. It helped him support his mother, himself, his dance career, and by the way, he liked it.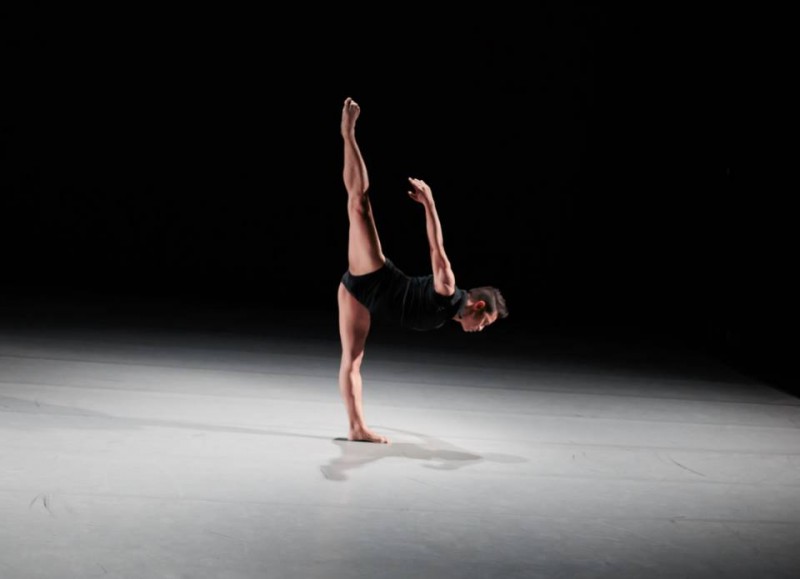 Roberto Villanueva; Photo by  Eric Bandiero
---
"I love the business side of things. I supported myself so I could dance. I worked a lot with no breaks, but I wasn't unhappy…"  Still, the constant pace took its toll and Villanueva was forced to shift gears. After getting a temp job in investment brokerage, he gave up dancing for a full scale career as a cash manager for the emerging markets group of Wasserstein & Perella, a boutique investment bank in New York.  In this role, he managed funds in excess of $200 million for trade-related financial transactions and custodial accounts. He was good at it, but that business didn't sustain him. He sojourned to Europe to re-evaluate his life. Upon returning to the states he found a job with the non-profit American Bible Society, where he worked for 13 years dealing with operations management, financial management, process re-engineering, and restructuring. He also danced part-time and turned forty.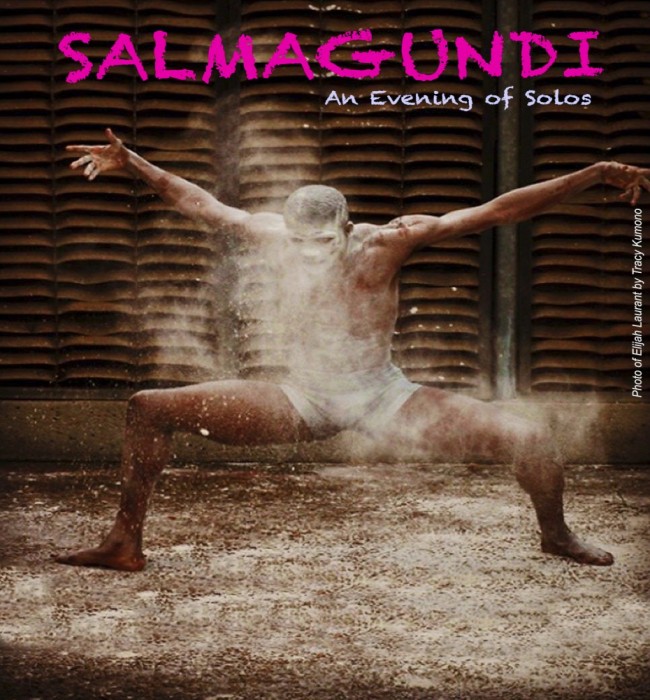 photo of Elijah Laurant,  by Tracy Kumono
Reflecting on the ten years prior to his 40th birthday, Villanueva realized that it was dance that held him together. He  couldn't turn his back on the depth of humanity that this form can share. He thought creating a dance company to marry his passion for dance and business organization would be the best next step: thus BalaSole Dance Company was born in 2010. The name of the group is derived from two words: balance and solo. There is a mission— to fill gaps that exist in the dance field (that is the balancing aspect)— with a five year plan that involves presenting as many talented dancers and their work as possible in prestigious houses across the city. The overarching dream of the company is to nurture the individual voice giving each of the company's talented artists the opportunity to discover or rediscover their unique aesthetic vision and share it on stage.
Every BalaSole concert for the past five years has begun and ended with a group dance created by all the artists in the show. This format is unique to BalaSole and Villanueva describes it as necessary exercise in team building. The artists in each production are new to one another, having met only in the context of the audition. "This is a way for them to get to know each other in a very short period of time." The dancers work on a project with a common goal and different skill sets, making adjustments as they go to keep in line with the big picture. "Just like corporate America," he reminds me, while also commenting that the exercise bonds the group as family.
BalaSole Dance Company- "IDIOMS" January 2014
What are the gaps in the dance world BalaSole is filling?
Villanueva identifies a void in mentorship. Remembering how lost he felt when leaving Buffalo to navigate life as a professional artist, he guides others to not only to be stronger performers but to realize the life skills they innately possess. Working with BalaSole involves taking part in lectures given by Villanueva that teach artists the language of business. "Dancers who hold three to four jobs to make ends meet should consider themselves successful financial planners," he says. They should not feel intimidated to speak with accountants, CEOs or CFO's.  Artists who create their own websites, posters, flyers, and business cards should know that they working effectively on publicity and marketing.
Traditionally dancers are trained to be excellent artists but not to see themselves as part of the larger world of professions and Villanueva hopes to change this. "We are seen as a special field filled with free-spirits and not necessarily organized. Of course, this is not true, but we need to speak a different language to receive the monetary compensation we deserve. We need to learn to articulate our value.
Speaking of value, Villanueva doesn't believe in grants and crowd-funding schemes to support dance. He stresses that dancers shouldn't be begging for money to do "our professional dance work". There has to be a better way. "Most other fields can communicate why people should pay for their services. As a community we need to figure out how to gain the compensation that is deserved for our field."  A new language will eventually change the way world at large values dance and artistry.
How do you support your dance company now," I ask?
Villanueva has taken the calculated risk of borrowing from his retirement fund to support the company. In the next five years, he hopes to offer workshops and classes using his expertise in combining business principles with arts principles to pay for BalaSole.
---
Other gaps in dance have to do with its diversity and availability. Villanueva remembers the humiliation of being constantly left out of roles because he is short and Filipino-American. It was frustrating to know he had ability and artistry but didn't fit neatly into the the "types" classical companies were looking for.  After many rejections he stopped auditioning and instead took master classes and workshops. (One of the workshops landed him into Complexions Dance Company.) With BalaSole he feels it is important  for the audience to see a variety of bodies on stage— bodies the audience can relate to. Differences, in color, stature and experience of movement are crucial. Mixture and combinations have been the theme of every single one of BalaSole's concerts for their five years of existence and SALMAGUNDI is no different—the word refers to a general mixture, a miscellaneous collection, a potpourri.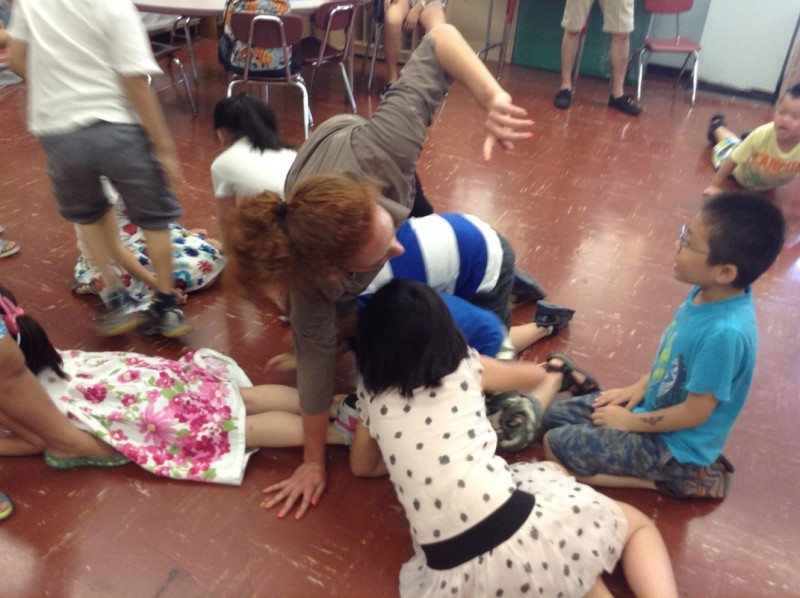 Miss Nadine of BalaSole Company Teaching; Photo Courtesy of Company
Another goal is to make the work available financially to all women, men, and children, including seniors. In only five years Villanueva has initiated education programs for underprivileged children, free concerts for seniors, and more: Dance4Schools, Access2Dance for disadvantaged youth, Dance4Adults, and Dance4Seniors are a few of his community action programs. Every human being is part of the vision of this company.
As we ended our call, Villanueva recounted an enlightening meeting with a non-dance friend. "Well, why should I come to see your dance?" asked the gentleman. Taken aback by the the bluntness of tone, at the same time, it dawned on Villanueva that this was a great question and one that all artists should be able to answer directly. "We are concert artists, but we need to understand our audience… we need to articulate what we are doing and to make sure audience engagement is part of our creative process and not an afterthought."  Obviously this is another gap BalaSole is examining.
Villanueva shared his reply. "I think you should come because we offer perspectives that are not offered in other fields. My company is a diverse company that illustrates different viewpoints. You watch and perhaps can relate ideas to your life, and hopefully, when you leave you may recognize where you may need more reflection or where you need to shift your path. As opposed to other disciplines where things are performed in one way, we dancers push the envelope and share many avenues of exploring. I see the diversity of perspectives in our field and know they can inspire creativity, innovation, and even help relationships work. This is our value, and of course," he laughs, "there is entertainment."
FOR MORE ON SALMAGUNDI
BALASOLE DANCE COMPANY PRESENTS "SALMAGUNDI"
A New Program of Varying Artistic Expressions - 5th Anniversary Season
July 17 & 18 at Ailey Citigroup Theater
Guest Soloists:
Alexandra Jacob, formerly with Dance Theatre of Harlem
Fredrick Davis, formerly with Dance Theatre of Harlem
Friday & Saturday, July 17 & 18 at 8PM
Ailey Citigroup Theater, 405 West 55 Street, NYC
Tickets:  Friday $30/$25, Saturday $35/$30 (Post-Concert Reception Follows)
Reservations: 212.868.4444 or
www.smarttix.com
Share Your Audience Review. Your Words Are Valuable to Dance.
Are you going to see this show, or have you seen it? Share "your" review here on The Dance Enthusiast. Your words are valuable. They help artists, educate audiences, and support the dance field in general. There is no need to be a professional critic. Just click through to our Audience Review Section and you will have the option to write free-form, or answer our helpful Enthusiast Review Questionnaire, or if you feel creative, even write a haiku review. So join the conversation.