SYTYCD's Ellenore Scott and Nathalie Matychak Are Breaking the Glass Ceiling: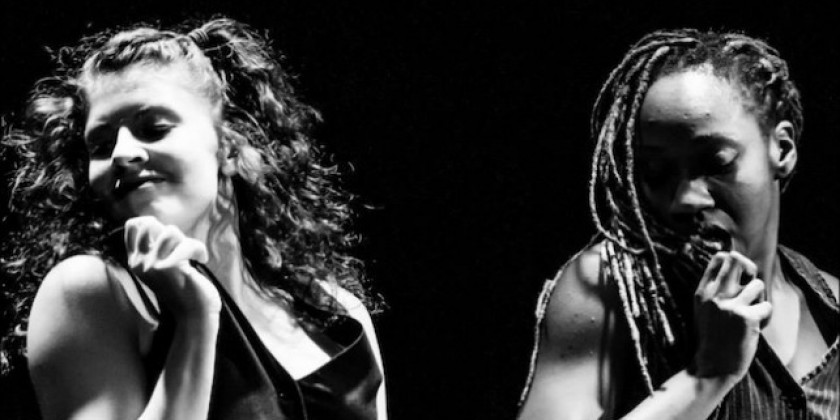 On A Mission to Challenge the Status Quo and Make More Room for Female Choreographers.
Breaking Glass: The Emerging Female Choreographers Project
August 10, 2013
Symphony Space, New York, NY
---
Elana Aquino for The Dance Enthusiast

Every once in a while, an idea so powerful comes along that one wonders why it hasn't been tried before. Breaking Glass: The Emerging Female Choreographers Project is just such an idea. Wonderfully named for its vision to shatter the glass ceiling and create more room for female choreographers in the top echelons of the dance world, Breaking Glass started as a seed in the mind of 24 -year-old Nathalie Matychak, artistic director of MATYCHAK, in late December of 2012. Matychak was inspired by an article she read in The Guardian UK (Oct. 27, 2009) entitled "Vanishing Pointe: Where Are All the Great Female Choreographers?" This same article was tweeted out to over 10,000 follwers by Matychak's partner in Breaking Glass , Ellenore Scott. Scott, age 23, is the artistic director of ELSCO Dance and ,most recently, a star contestant on TV's popular dance show, So You Think You Can Dance. Both young women were on the same wavelength.
Co-founder of Breaking Glass Project Ellenore Scott and her Mother, Michelle Ramos-Burkhart, former ballerina and former president of Dance/NYC

Matychak and Scott, classmates at the renowned LaGuardia High School (of Music Art and the Performing Arts in New York City), recognized in one another similar drives and knew that together they would be able to accomplish something special.

Both young women are connectors and innovators. Scott's desire is to unite concert and commercial dance with her company ELSCO and Matychack's similar dream is to bridge the "uptown" (considered more Broadway and ballet) and "downtown" (considered less commercial and more experimental) dance worlds in her work with MATYCHAK.

Breaking Glass, is the two young women's "something special" - a supportive competition connecting the viewing audience and artistic mentors to the success of young women of talent and vision in all areas of dance..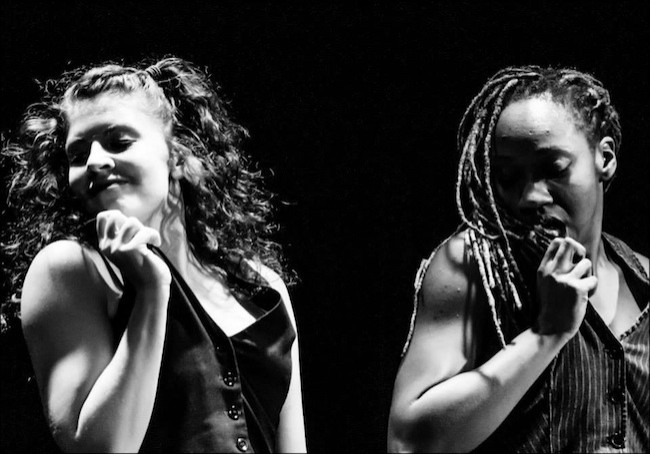 MATYCHAK Dancers performing Game. Choreography by Nathalie Matychak — with Alex M Schell, Nathalie Matychak, and Titilayo Derricotte at Symphony Space.
All About Breaking Glass

The Concept:
Breaking Glass provides a comprehensive multidimensional platform for emerging female choreographers between the ages of 18 and 30 from all dance genres. The platform includes an opportunity to showcase choreographic work and receive mentorship.

Selecting Choreographers:
Breaking Glass seeks candidates who are not only gifted in movement but who are also able to clearly articulate their vision-a necessary skill for any successful artist. Entrants are judged based on both choreographic ability and their written submissions.Six choreographers were chosen from 80 applicants.

Mentors and Feedback Panel:
To nurture, support and cultivate the emerging female artists each of the six selected choreographers is paired up with a mentor. Mentors include, among others: contemporary choreographer, Sidra Bell, contemporary choreographer, Camille A. Brown and Hip-Hop choreographer, Rhapsody James. All 80 applicants have continued access to a LinkedIn forum where they may participate and learn from a discussion board.

The Show and Live Audience Voting:
A performance comprised of representation from each of the choreographers is the pinnacle of Breaking Glass. Through a live voting mechanism, much like the one used in SYTYCD, the audience gets to choose, via cell phone, the single choreographer who will be supported to showcase a full length piece in the next year.
DEVIATED THEATRE Dancers perform, siGHt choreographed by 2013 Breaking Glass Choreographer, Kimmie Dobbs Chan — at Symphony Space.

All six works presented during the evening were uniquely bound together by the strength of the female choreographic voice. The pieces ran the gamut style-wise from Kodo Suite, choreographed by Danielle Smith-Guillermo, a vibrant, aerobic celebration of balletic movement with Eastern undertones, to Please Don't Stop The Music by choreographer Janine Micheletti, a racy hip hop infused number pushing the boundaries of sex appeal.
Dancers perform, We Buried Her Standing Up by 2013 Breaking Glass Choreographer, Grace E. Courvoisier — at Symphony Space.

We Buried Her Standing Up by Grace Courvoisier, was one of my favorites of the evening because of the use of voice along with well-crafted movement. It was the absolute antithesis of Please Don't Stop The Music with all the dancers dressed in almost floor length long sleeved black robes reminiscent of a nun's habit.

Another standout was Kate Ladenheim's HackPolitik Excerpts with its intensity and mesmerizing quality, particularly the solo of the fiery-haired Brittany Testone. Testone drew the audience in, making it impossible to look anywhere else but at her. After all was said and done, the audience voted for Kimmie Dobb Chan's dance opera siGHt - the favorite performance of the evening. Chan will be given the opportunity to showcase a full-length work as part of next year's Breaking Glass event introducing the new class of choreographers to the world.
Dancers perform Please Don't Stop the Music by 2013 Breaking Glass Choreographer, Janine Micheletti — at Symphony Space.

The show lived up to the uniting vision Scott and Matychak's have for their respective dance companies. Given their youth, both women could be considered emerging choreographers. It is clear, however, from the works that each included in the show, that they have been at it for some time and have both attained a breakthrough level of choreographic skill.

It is worth noting that the Breaking Glass project performance opened to a completely full house with standing room only on its first night. The project has already outgrown The Thalia Theatre at Symphony Space on its first attempt. Matychak attributes this to Breaking Glass' answering an unspoken call in the dance community. As she puts it, " Sometimes you don't know something is missing until you see it in action."

With the plan of adding an additional choreographer each year, with a potential cap at around ten choreographers per class, the audience for the Breaking Glass Project performances is likely to grow. So it is highly probable that there will be many more 'standing room only' nights in Breaking Glass's future – not a bad problem to have.