Related Features
Advertise With Us
Make an impression — place an ad on The Dance Enthusiast and receive thousands of eyes on your work every week. Learn more. 
Contribute
Your support helps us cover dance in New York City and beyond! Donate now.
Sallie Wilson In Memoriam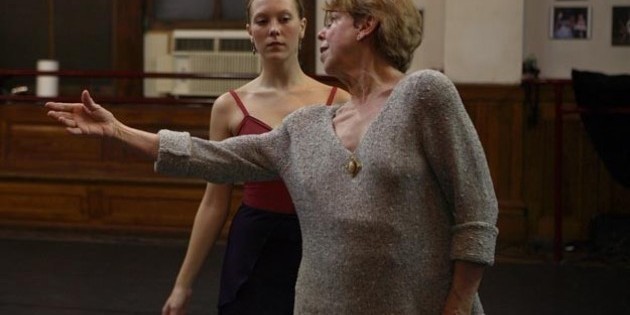 We at The Dance Enthusiast were honored to have met Sallie Wilson and watch her at work. She will be missed.
A Day in the Life of The New York Theatre Ballet-
Sallie Wilson, Tudor Ballerina, Rehearses The Company in "Jardin aux Lilas"
Dance Enthusiast-Christine Jowers 2007

"It is not a ballet, and not just steps, it is a whole world" says Sallie Wilson as she describes her work setting Anthony Tudor's "Jardin aux Lilas" (Lilac Garden) on the dancers of the New York Theatre Ballet. " Details are extremely important. They are the words, the language, that create the characters. The dancers can't just do as they please."

Throughout rehearsal there are many stops and starts to refine the elements of "Jardin." The dancers work on their relationship to one another, to the music, and to their character. " This is the way it has to be, " Wilson says of the repetition.

She chooses her words and images with care and specificity as she watches the dancers perform.

"It is not a jump- it is a dart." she coaches Kyle Coffman.

As she observes Elena Zahlmann repeating a phrase of movement "Don't make that arabesque so established, just levitate, just float."

Later, when Zahlmann makes an entrance from stage left, Wilson shares an inner dialogue to describe a moment when the dancer must open her arms out horizontally, but she is not merely opening her arms. " Oh, fresh air. I am alone. (pause) I am not alone." Wilson urges her to imagine. " You are going away from a room that is hot and smoky. There is not enough air. You are escaping. Can you hear the sound of the oboe? That is your attitude."

It is as fascinating to watch Wilson at work, as it is to listen to her. She constantly shifts positions from a tall stool in front of the mirror (to get the big picture) to center stage among the dancers to share more clarifying notes. She strokes Terence Duncan's arm to remind him that he is not working on a classroom port de bras: it is a subtle brush. I marvel that she knows everybody's parts. " Getting better. Starts to tell a story." she nods after the final run of the day.

Rehearsal ends five minutes early and I take the opportunity to say thanks and to ask Ms. Wilson how she manages to keep the entire ballet in her body. She danced both of the women's roles she informs me and simply knows all the rest, as well as the lighting cues and how to make the costumes. She explains that that's just how her mind works. She has a gift for memory.

"It is like the movie Fahrenheit 451," she tells me as she pulls a packet of cigarettes from her purse preparing for break, "Did you see it? Great movie."

I had not seen it, so she synopsized.

The story (by Ray Bradbury and movie by Francois Truffaut) is about a city of the future where the powers that be don't want the citizens to read and think, so books are burned. (The temperature at which books burn is 451 degrees F.) A subversive group decides to save the ideas of books by reading them before they are destroyed-each person becoming a book in order to preserve it.

"Like me," she smiles, "I have become this ballet."