Sharing Ideas of Performance Across Borders and Disciplines at Earthdance
What We Talk About When We Talk About "Interdisciplinarity" - A Roundtable at New York Live Arts, August 12
Eva Yaa Asantewaa is @magickaleva on Twitter
At first sight, the title of this event–hosted by Marya Wethers, International Project Director of New York Live Arts' Suitcase Fund, and moderated by Peter Sciscioli–might provoke some to do what my wife did: draw a big red X over the two offending letters: "it." But perhaps English deserves a special word to capture that quality of searching, generous sharing across performing arts disciplines, an experience Sciscioli calls "one of the most inspiring and powerful of my life."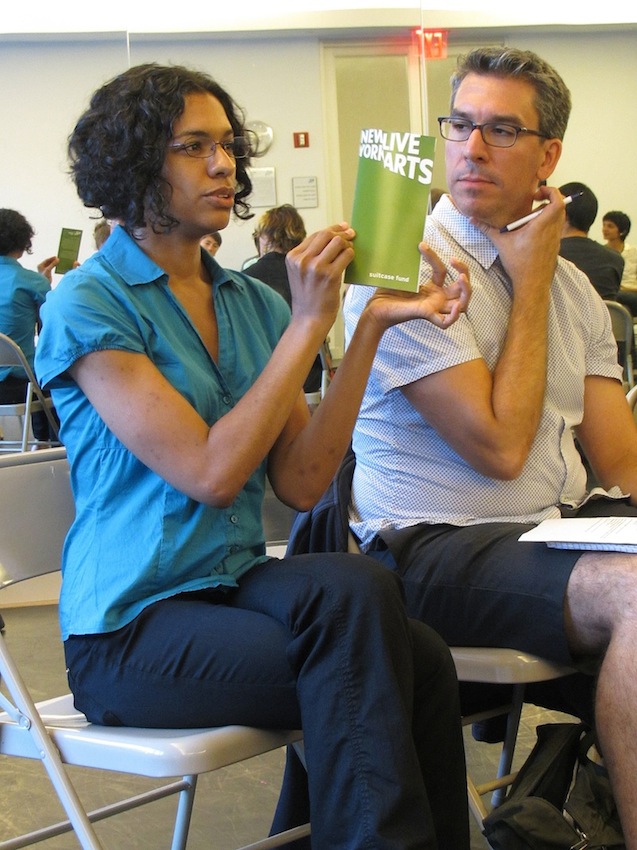 Left to right: Marya Wethers (Program Manager, New York Live Arts)
and Peter Sciscioli (Curator, International Interdisciplinary Artists
Consortium). Photo (c)2013, Eva Yaa Asantewaa.
Sciscioli--best known for his work with Meredith Monk's troupe--is a dancer, actor, vocalist and violinist at ease with the flow of one form of expression to another. He also trains artists in Voice as Movement, examining what he calls "an anatomical approach to vocal production" and "exploring the space that the body and voice occupy together." Sciscioli has performed in works by Philip Glass, Ping Chong and Susan Marshall among many notable innovators in the arts. In 2006, at a professional training taught by Monk, he met Ana Sofrenovic, an actress and singer from Serbia whose vocal repertoire spans jazz, rock and opera. The two have collaborated since 2010.Click here to view a video of Sciscioli and Sofrenovic in a work-in-progress at La MaMa in 2011.
As curator of the 2013 International Interdisciplinary Artists Consortium--a four-day summer residency followed by the Moving Arts Lab workshops and performance--Sciscioli invited Sofrenovic and thirteen other artists from the US and abroad to Earthdance, a retreat center in the Berkshire mountains of western Massachusetts. The artists lived dormitory-style, taking responsibility for the center's upkeep. Pairs of artists developed projects in the areas of voice and movement, contact improvisation, site specific/durational performance and physical theater, and then offered workshops to the entire group. For each two-hour workshop, collaborating partners devised creative exercises, tools and strategies sourced in their own research discoveries to share knowledge with their newfound community of colleagues.
Ana Sofrenovic (Serbia). Photo (c)2013, Eva Yaa Asantewaa
The Suitcase Fund enabled four Eastern Europe-based artists to attend this year's IIAC–Sofrenovic, Iskra Sukarova from Macedonia and two members of the Polish physical theater lab Studio Matejka, Korean-American Daniel Han and Swiss-born Guillaumarc Froidevaux. On August 12, Sciscioli and most of the IIAC participants reassembled at New York Live Arts to reflect on the value of their interchange.
Besides the aforementioned artists, panelists included Martin Lanz Landzuri of Mexico City, Krista DeNio, Earthdance's former Executive/Artistic Director, and New Yorkers Ursula Eagly, Ben Spatz and Maximilian Balduzzi. The nearly two-hour discussion served as a warm reunion for them and a debriefing session. As such, for the small audience in attendance, much of it likely had that certain "well, you had to be there," insider quality. Nevertheless, from all reports, Sciscioli's program did sound like an enviable adventure, no doubt enticing potential future participants.
Left to right: Ursula Eagly (USA) with Guillaumarc Froidevaux and Daniel Han (Poland). Photo (c)2013, Eva Yaa Asantewaa
Spatz talked of having folded unplanned elements into his workshop and taking his collaborator, Balduzzi, by surprise, unbeknownst to the other participants. It was a crafty way for the teachers to keep their own responses sharp and real.

Like other participants, Han acknowledged the challenge, as well as the opportunity, Sciscioli had set for everyone during the Moving Arts Lab.

"We can't teach anything in two hours," he said. "And most of the community there are already incredible movers. [But] how can we share the experience that sometimes, in connecting in a simple way, you can open up something really precious?"
Maximilian Balduzzi (USA). Photo (c)2013, Eva Yaa Asantewaa
"We're coming from so many different roads, different landscapes and disciplines," he later added. "But there is a search for authenticity which is healing."

Sofrenovic also wondered how she and Sciscioli could effectively transmit information and methods that had taken years to discover and build upon.

"A huge part of our exploration is everything that comes before the word and everything that happens within," she said. "These realms are hard to access, and people find this quite uncomfortable to share. How do you achieve that in this environment?"
Left to right: Martin Lanz Landazuri (Mexico) and Iskra Sukarova (Macedonia). Photo (c)2013, Eva Yaa Asantewaa
There appeared to be general agreement that the isolated, rural setting--and the freshness of meeting many of their fellow residents for the first time–actually fostered a useful vulnerability and openness.

"We were talking about three different workshops a day for everybody. Three different worlds a day for everybody," Sofrenovic said. "But when you share artistic work and have honesty about it, you can create an incredible amount of trust among fifteen people who don't know one another."