Dance Up Close to Sidra Bell Dance New York in garment and KINGDOM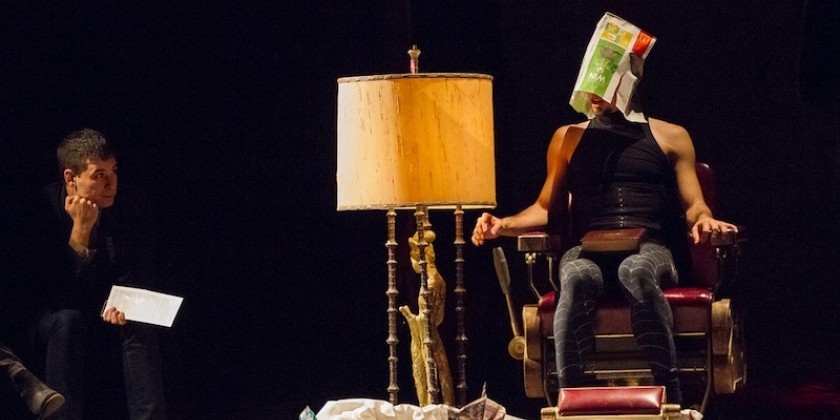 As the Company Prepares for their Two Week New York Season at the Baruch Performing Arts Center
2 weeks, 2 works
New York City Premieres
garment May 8-11, Thursday-Saturday at 8pm, Sunday at 7pm
K I N G D O M May 15-18, Thursday-Saturday at 8pm, Sunday at 7pm
Baruch Performing Arts Center (East 25th Street between Lexington & 3rd Avenues)
---
Sidra Bell Dance New York (SBDNY) returns home this month. The company is thrilled to share its fourth consecutive New York season at the Baruch Performing Arts Center, where Bell has developed an intimate and cherished relationship. The season will feature two New York premieres, garment and K I N G D O M, that use small performance ceremonies to observe antiquation, literacy, transfiguration, and reformation. These works were developed over a series of residencies in cities including Pittsburgh, Philadelphia, Atlanta, and San Francisco.
Sidra Bell Talks about "Unleashing" garment and K I N G D O M
So what is it like building work outside of New York? Bell along with her Rehearsal Director Jonathan Campbell and Assistant Artistic Director Alexandra Johnson shared some elements of that process – from casual games that are incorporated in the choreography to Bell's love of immersing herself in the community of every city they visit.
Sidra Bell Dance New York on Adventures Outside of New York City
Another benefit of residencies is that they often come with educational components. As a self-described introvert, Sidra Bell discloses "Teaching is never something I thought I could do." However, it has now become an integral element in her creative practice. Whether in New York or around the world, both Bell and her company have the opportunity to connect with students that range in age, training background, skill level, and much more. These connections not only keep Bell on her toes, but also allow her company members to investigate new ideas within the work inspired by these fresh bodies in space.
Students, of course, are not Sidra Bell's only collaborators. She most enjoys the process of building work while moving with and challenging her  dancers. "What makes movement vital is how it lives inside a body." Bell rarely enters the space with anything set, but rather improvises with the company to develop movement that fulfills an idea. She is learning to let go even more in these newest works, allowing the dancers to continue their exploration all the way through performance. At the same time, she is asking more  specific questions about who, why, and what as she creates, because "any dance you do is a political statement."
Bell has chosen to describe this season as "material world" because props, costumes, and other materials have been essential to the development of these two works. Whether the items are more functional as they are in K I N G D O M or redefining social standards like the clothing in garment, these materials shape her work as much as the bodies that inhabit and interact with them. The audience may also recognize Bell's familiar use of men dancing in heels, although they are much more "conservative" in this go round.
Sidra Bell Dance New York Talk the Fashion of garment