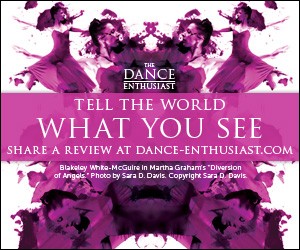 Related Features
Dance Up Close to Souleymane Badolo
As the Artist Prepares for "Benon"
Benon will be performed February 13-15 at Danspace Project. For more information, click the Danspace Project website.
---
Souleymane Badolo is the founder of Kongo Ba Téria - a company fusing traditional African dances with western contemporary dance - and has performed with Nora Chipaumire, Reggie Wilson, and Jawole Willa Jo Zollar. Badolo was recently awarded a Juried New York Dance and Performance Award (Bessie). While he is an acclaimed choreographer in his own country of Burkina Faso, the 2012 Bessie award truly solidified his place in the legacy of American contemporary dance.
In his new work, Benon, Badolo has chosen to work with Charmaine Warren, revered performer, curator, historian, writer, and professor. He was, in fact, interested in collaborating with Warren on another project exploring the physical experience of women in their 50s and 60s. Although that project was not funded, Badolo has taken Benon as an opportunity to work with Warren and develop a long term relationship and creative process with her body.
Souleymane Badolo on Working with Charmaine Warren
---
Benon explores the positive and negative affects humans have on the earth and nature, particularly as a result of pollution from plastic. Badolo does not seek to extradite plastic from our lives. Rather, he is interested in maximizing its efficiency so it can cause less pollution and the earth can thrive. Subsequently, he has compiled collaborators who are using plastic in multiple ways:Tony Turner has created a set and props from plastic which will also serve as supplemental lighting for the work. Omotayo 'Wunmi' Olaiya has created costumes uses garbage bags and other recycled plastic. Even lighting designer Carol Mullins is thinking of new ways to use light to portray plastic, grass, and the earth.
Souleymane Badolo - Collaborators Making Plastic
---
This study of the earth, humans, and the effects of plastic is what guided Badolo in the development of the movement vocabulary for Benon. He is exploring the growth from a seed into a plant, the way that humans interact with plastic, the way the earth is affected by plastic, and more.
Souleymane Badolo - Movement
---
In its exploration of pollution, plastic, and sustainable living, Benon crosses international borders. Recycling is a problem in Africa, in Jamaica, and in America. Badolo's multi-national lifestyle supports this kind of cross cultural exploration. But where is home for Souleymayne?
Souleymane  Badolo - Home