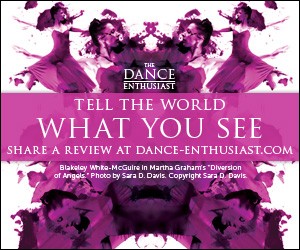 Related Features
Stacey Menchel Kussell's Film "Ritual" Explores the Dancer's Practice and a Passover Seder
Producer and Director: Stacey Menchel Kussell 
Poetry and Vocals by: Aaron Samuels 
Music Composed and Performed by: Carlos Metta 
Featured Dancers: Navarra Novy-Williams, Doron Perk, Makeda Roney, and Xavier Townsend 
Cinematography: Scott Sinkler 
Editor: Elisa Da Prato 
---
Rituals stand at the metaphorical intersection of earth and sky. They ground us, exerting the pull of tradition and remembrance. They exalt us, raising us toward ecstasy and hope. By commemorating the past while acting in the present, a ritual can prepare us for the future.
In Stacey Menchel Kussell's four-minute film Ritual, she pays tribute to rites as both a location and a practice. Using her preoccupations of dance and Judaism, she teases out similarities between the dancer's practice and a Passover Seder.
Knowledge of either isn't needed to enjoy Ritual. The stream of reverent dancers, who appear lit from the inside, progress from quotidian pliés and sweeping rond de jambes à terre to rapturous kicks and churning pirouettes. Spoken-word artist Aaron Samuels recites an impassioned poem about his memories of Passover Seders to Carlos Metta's velvety, percussive score.
Behind the scenes of Ritual. Photo: Edo Kussell 
Kussell brings a dancer's sensitivity and a writer's meticulousness to her filmmaking. In her hometown of Coral Springs, Florida, she trained in ballet and modern before moving to New York where she worked for choreographers including Henning Rübsam. Although her attention has shifted from performing, she still takes Zvi Gotheiner's ballet class, which she calls "a personal ritual."
She started writing after receiving a master's degree in European and Mediterranean History from New York University. Self-described as more "culturally than religiously Jewish," Kussell produced articles that were an extension of her thesis on the Jewish and Muslim population in Spain. Then, she began pitching articles on contemporary dance with a Jewish slant to The Forward. "One article turned into many," she says. She continued to write about dance, accruing bylines at Tablet Magazine, Dance Magazine, and yours truly — The Dance Enthusiast.
Dancer in Ritual; Photo: Scott Sinkler
She turned to film because, she says, "I wanted to tell stories from a visual perspective." Her first work, Renewal, premiered in 2015. A documentary about art and ecology, it features Israeli-based Vertigo Dance Company. Renewal uses luscious shots of dancing interspersed with slice-of-life scenes devoted to green living. Kussell believes that by placing dance in the context of film, it enables the viewer "to get closer to the dancing than in a traditional performance."
While filming Renewal was an extensive process, the gathering of footage for Ritual unfolded in one day at a New York Live Arts' studio. The cast, all of whom hail from diverse movement backgrounds, performed warm-up exercises before improvising to Samuels' poem. Then, Kussell selected clips and wove them together, one of her favorite aspects of filmmaking. "It allows me to curate and choreograph the experience," she says.
As the film progresses, parallels develop between a dancer's ritual and those of a Passover Seder. The studio — home for dancers — reflects the family dwelling where Seders take place. Like a teacher in a dance class, one person leads the Seder, often a man but sometimes a woman, which involves telling the story of the liberation of the Israelites from slavery in ancient Egypt. Customs like eating matzo (unleavened bread) and reclining in celebration of freedom evoke the kinetic traditions of dance classes' tendus and relevés.
In our world of beeps, buzzes, and blares, the communion of bodies in time and space — whether to make a movement or to partake in a meal, whether to present an offering of sweat or to recite the text of the Hagaddah — feels like a ritual worth celebrating.
To view Ritual, please visit vimeo or YouTube.
---
The Dance Enthusiast Hits The Streets to see what is happening in our dance world, and Create Conversation.
For more Dance Enthusiast Hits The Streets stories as well as other Day in the Life pieces, which connect audiences to the behind-the-scenes of dance click here.