Stefanie Batten Bland in Rehearsal at Baryshnikov Arts Center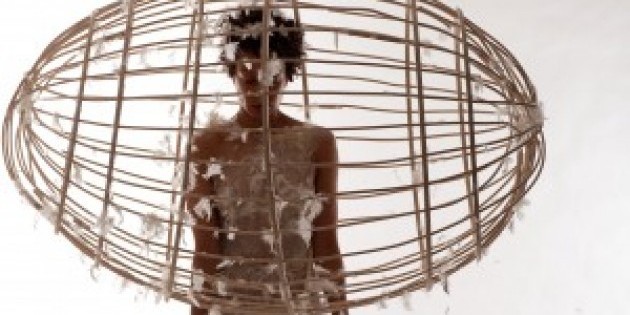 Stefanie Batten Bland — A Jerome Robbins New Essential Works Fellow Shares Her Inspirations with The Dance Enthusiast*
video pieces by Christine Jowers for The Dance Enthusiast
---
For Tickets to  Baryshnikov Arts Center Presents John Heginbotham and Stefanie Batten Bland -
New York and World Premieres of Works Developed in Residence at BAC May 10, 11-12, & 17-18, 2012 click here
*for info on John Heginbotham click here for a humorous review from TDE  here for John's website  (sorry we missed  you John..Merde for your shows and congratulations on the NEW fellowship)
---

Stefanie Batten Bland Chats with The Dance Enthusiast About The Inner Life of Choreography
choreography by Batten Bland and Visual Art Sculptures by Benjamin Heller
---

Trisha Brown, Soho, and Sesame Street- The Beginnings of an Artistic Journey
The Baryshnikov Arts Center (BAC) is pleased to present John Heginbotham and Stefanie Batten Bland, choreographers who will each perform premieres of works they developed in residence at BAC with support from the Jerome Robbins Foundation's New Essential Works fellowship. On May 10 at 8PM in the Jerome Robbins Theater, a shared program will feature the World Premieres of the artists' newest works. Each of the artists will then perform their own program over two evenings.

John Heginbotham's program on May 11-12 at 8PM will feature his company, Dance Heginbotham, performing his yet untitled new work, and the New York Premiere of Closing Bell (2010).

Stefanie Batten Bland's program on May 17-18 at 8PM will feature her company, CSBB, performing her new work, A Place of Sun (2012), and the New York Premiere of Terra Firma (2010). For the past several years, she has traveled between France and the U.S. creating works with distinct, multi-disciplinary futuristic environments, drawing on themes of human connection, transformation, and adaptation. In Terra Firma (2010), set to music by John Adams that incorporates natural sounds of water and wind, six dancers move through a billowing set of fabric sails in a work about migration and new homelands. A Place of Sun (2012) is Bland's collaboration with visual artist Benjamin Heller. Dance and sculpture are merged in this work inspired by imagery of oil-soaked birds and drenched marshlands following the BP oil spill in the Louisiana Bayou.
---
A Minute of Flying Feathers : CSSB in rehearsal at Baryshnikov Arts Center
choreography by Stefanie Batten Bland and Visual Art Sculptures by Benjamin Heller


More About  Partnership between Mikhail Baryshnikov, The Baryshnikov Arts Center and The Jerome Robbins Foundation:
All four works were created in residence at BAC with support from the Jerome Robbins Foundation. In 2009, the Foundation established the New Essential Works (NEW) program to support choreographers and dance companies through residencies and commissions. As a result of its ongoing relationship with the Foundation, BAC was identified as a NEW program partner, and Mikhail Baryshnikov was asked to select artists who would each receive a five-week residency at BAC and a 0,000 stipend to create new work.

In fall 2010, Heginbotham and Bland were each granted a NEW fellowship, during which time they created Closing Bell and Terra Firma, respectively. In 2011, both choreographers were granted a second NEW fellowship to create additional new works, which will be developed during a residency throughout the month of April 2012, and premiered in May as part of BAC Presents.
The NEW residency at BAC, combined with the opportunity for these artists to perform their works as part of BAC's distinguished presenting series, is a prime example of BAC's dedication to investing in the careers of emerging artists and supporting the development of new works—from exploration, to creation, to presentation.
Additionally, Heginbotham and Bland are both artists who have had long performance careers with illustrious companies. The NEW fellowship at BAC has provided meaningful support to these artists as they each continue to make the transition from performer to choreographer. The May performances in the Jerome Robbins Theater will further serve as a platform for these talented artists to share their work and their recently established companies with New York City dance audiences.
---
---
The Dance Enthusiast's DAY IN THE LIFE covers the stories behind dance/performance and creates conversation. For more behind-the-scenes stories from NYC and beyond, click here.
---
The Dance Enthusiast - News, Reviews, Interviews and an Open Invitation for YOU to join the Dance Conversation.