The Dance Enthusiast Hits The Streets for the Opening of a New Creative Cultural Center
Destination: St. Veronica's Church, Greenwich Village, 149 Christopher Street

Christopher Street in Greenwich Village was once synonymous with wild times: drunken Irishmen, besotted gay lovers, rebels, and misfits seeking acceptance, if not liberation. In 2015, this long street is oddly calm, far from the circus of midtown and the tourists in Soho. An artist can find peace and quiet to concentrate here. Or so dancer/producer Jorge Navarro and dancer/choreographer Antonio Hidalgo hope. After three years of negotiation, letters to the Vatican, and securing $5 million insurance, the two entrepreneurs have secured a new home for dance on 149 Christopher Street in the basement of St. Veronica's Church, built in 1877.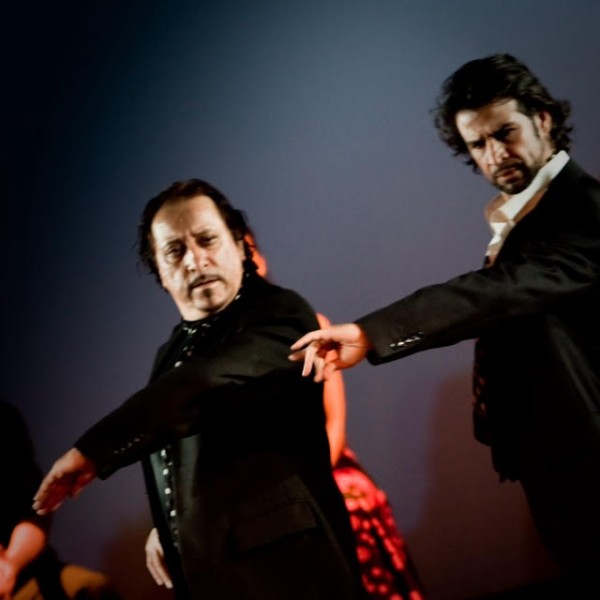 Jorge Navarro (L) and Antonio Hidalgo (R)
Their search began with the 2007 loss of Fazil, a beloved midtown Manhattan rehearsal space/school for Flamenco, Belly Dance, and Tap. When the real estate transformation of NYC swallowed up that multi-floored space on Eighth avenue, Navarro set out to find a replacement. While Navarro produced his weekly flamenco tablao, Alegrias, in La Nacional; Hidalgo toured and choreographed for Carlota Santana Flamenco Vivo. Eight years later, their Creative Cultural Center with 5 studios, each with their own character, floors, and mirrors, in St. Veronica's has opened its doors.
CCC St. Veronica Grand Opening Performance; Photo by Antonio D. Gamboa
This red brick church, decorated with white stone facing, and two steeples, is named for St. Veronica, the woman who mercifully wiped the face of Jesus as he trudged toward Golgotha to be crucified. The original parishioners were mainly Irish longshoreman and others working on the docks of the Hudson River. In the 1980s, St. Veronica's cared for AIDS victims, creating housing for those homeless, and a memorial to the many who died from the disease. This new chapter involving the arts puts St. Veronica in the good company of the many other churches in NYC that support the dance community. Just east of St Veronica's Church is the Judson Memorial Church, a home of modern dance pioneers since the 1960s. Also downtown, St. Mark's Church has housed Danspace since 2005 and now New York Theatre Ballet which lived for 33 years at Madison Presbyterian Church. At the other end of the island, Theatre of Riverside Church, founded in 1960, has long been a presenter of dance. Noche Flamenca just transformed Amsterdam West Park Presbyterian Church for a summer run of their production  "Antigona." Church of St. Paul & St. Anthony  three times a year for 10 years presents in their West End Theatre the Soaking WET series of  David Parker and The Bang Group. St John the Divine claimed for decades their resident artists Omega Dance Co. &  Abdel R. Salaam's Forces of Nature Dance Theatre. 
CCC St. Veronica Grand Opening Performance; Photo by Antonio D. Gamboa
According to The Economist, "Timothy Dolan, the president of the United States Conference of Catholic Bishops and Cardinal-Archbishop of New York, is believed to be Manhattan's largest landowner." If so, we couldn't ask for a better keeper of NYC's Terpsichorean flame.
For  class and rental opportunities at CCC St. Veronica, contact Arts Flamenco at:
 929-312-9604, info@artsflamenco.org, or go to space's 
Facebook page