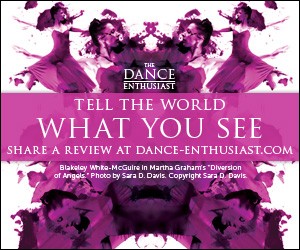 Related Features
George Faison Directs "The Wiz" at SummerStage to Celebrate the Musicals 40th Anniversary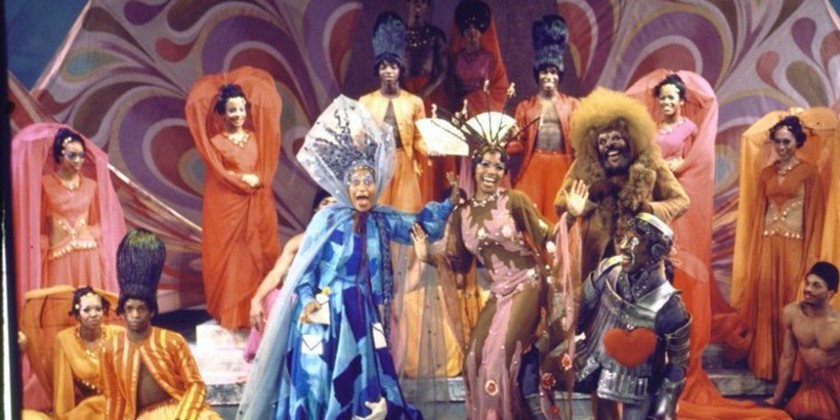 "There's No Place Like Home"
About The Wiz: A Celebration in Dance and Music -- SummerStage August 12 @ Rumsey Playfield & August 13, 14 @  Marcus Garvey Park
George Faison made history in 1975 when he became the first  African-American to win a Tony Award for Best Choreography for The Wiz. In honor of the Broadway hit's 40th anniversary this year, a number of members of the original Broadway cast will return for this celebratory run. Actress Phylicia Rashad, a munchkin and swing in the original production, will co-host the performance with George Faison. André De Shields will reprise his original role as the Wiz; Dee Dee Bridgewater, Tony Award winner for her role as Glinda, will reprise this original role; and Ebony Jo-Ann, who played Addaperle in the Broadway revival of the production will reprise her role as well. Inaya Day joins the cast as Dorothy. Singer-songwriter Wallace Gary joins the cast as the Scarecrow. Damien L. Sneed will act as the musical director and conductor of The Wiz: A Celebration in Dance and Music.
Even as George Faison sits waiting in a busy North Carolina airport, loudspeakers blaring in the background, I can feel the fire in his voice as we speak over the phone. The Wiz is a project he is passionate about. "There's been a  resurgence of interest in The Wiz which seems to have happened all at the same time. It's just incredible."
Perhaps the excitement has been spurred by the 40th anniversary of this history-making, black musical. Back in 1975, it swept the Tony Awards, winning seven, and creating a multitude of firsts in Broadway history. The Wiz won Best Musical; Charlie Smalls won a Tony for best music and lyrics (the first African-American to do so); Tedd Ross, who played the Cowardly Lion, won best performance by a featured actor in a musical; Dee Dee Bridgewater as Glinda, won for best performance by a featured actress in a musical; Geoffrey Holder received a Tony for his direction of the musical and for its costume design; of course, George Faison received his Tony for best choreography, and Stephanie Mills' talent was unleashed on the world. Says Faison, "Yes, we did win seven Tonys and ran for five years. And no other black musical has ever done that in the history of Broadway. None," he underlines with his tone, "not even Dream Girls." 
George Faision (Picture Courtesy of the Production)
Today, an NBC version, The Wiz LIVE!, is set to air on December 3rd, and a new Broadway production will premiere in 2016. When I inquire if Faison is going to be involved in any of the new projects, he answers quickly, without a tinge of antipathy, no. "No, I am not involved, but it's good to be copied," he chuckles. "We (in the SummerStage production) are going to be the first to go up, the 'original.'  Audiences will get a glimpse of what it was back then and we all look forward to the premieres of the the adaptations that are coming up."
Digging back into a few of the original reviews of the 1975 production, save for a glowing article found in Newsweek, (which Faison said he found only just this year) one discovers that the show met many critical blows. Clive Barnes of the New York Times spoke lukewarmly of the piece, offering, "It has obvious vitality and a very evident and gorgeous sense of style. I found myself unmoved for too much of the evening, but I was respectfully unmoved, not insultingly unmoved." Rex Reed, of the Daily News scathed, spewing, "Garbage is garbage, no matter what color it is, and this all-black sacrilege is at the top of the rubbish pile.
"Did you pay attention to the horrible tenor of the reviews?" I asked.
"We were met with a lot of opposition because people thought we were defaming the legacy and memory of Judy Garland. But, we all want to be Judy Garland, and we all want to have dreams... There were a lot of trials and tribulations, but we stuck to it and we fought. Five months after those reviews, we went to the Tonys and swept. To triumph over adversity is what living is about. And we triumphed!"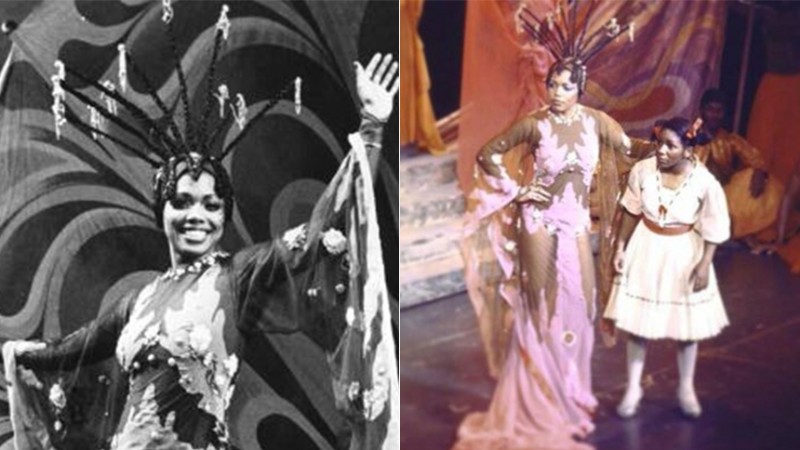 Dee Dee Brigewater as Glinda and Stephanie Mills in The Wiz; Photo Courtesy of the Production
Faison, who was born in DC and attended Howard University with thoughts of becoming a dentist, changed his mind when he saw a production of the Alvin Ailey Dance Company in 1966. He left DC for New York to be involved in theater and since then has worked with an expansive list of top-tier talent in every sphere of arts and entertainment—from Broadway to the music industry, from concert dance to television. Faison has not only won the Tony for The Wiz but also a Drama Desk Award for that musical, as well as an a Emmy for his choreography of the HBO special, The Josephine Baker Story.  
"How much better could it be to have come to New York  and to have worked with Leonard Bernstein, Alan Jay Lerner, Alvin Ailey, Jack Cole, and all of the astounding people who have influenced me over all these years."  While many of his colleagues have died he remarks that, "their courage mixed with what I have keeps me going. I carry the banner for them."
Today, Faison finds immense pleasure in his work at the Faison Firehouse Theatre in Harlem where for the last 15 years he has run a cabaret space, rehearsal space, galleries, and outreach programs for disadvantaged young people from all over New York City. He takes in "kids of all colors, ethnicities, and religions" encouraging them to express themselves and to share their stories. "I encourage them to speak their mind and express their thoughts as a way of freeing themselves so they can grow and not be hampered by their circumstances."
Says Faison, "You discover as you grow older that we don't have anything but each other and we've got to preserve this earth and begin to love each other a little bit more."
The Wiz Original Cast Album Cover
"I haven't done anything but grow richer financially and artistically from having been involved in The Wiz.  We inspired a lot of people who weren't as fortunate as I am, and I think that is the most important thing... Isn't it refreshing that back then, we  put on all those glittering costumes and were immersed in a fantasy - a fantasy where good triumphs over evil; where courage, love understanding, and knowledge are virtues to be celebrated; and home is where the heart is. Isn't that what we are supposed to be giving our young people? Those are the things that we should never lose."
This August, a new generation of audience members will be immersed in the hope of The Wiz.