Ruth Patir's "I dream of the elections" at Danspace Project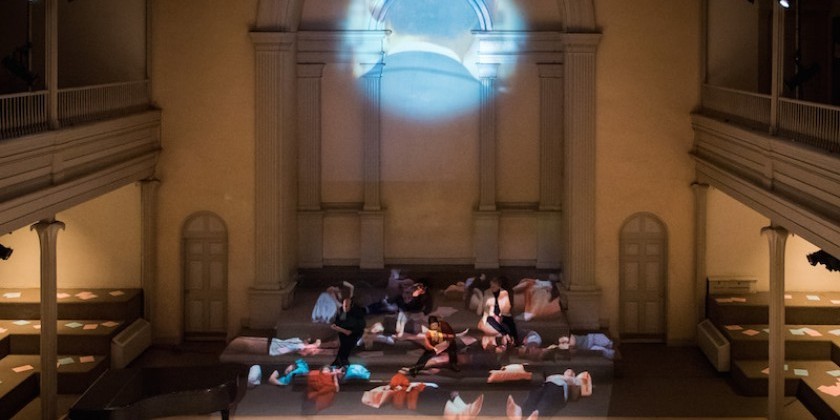 Featuring Ruth Patir, Jackson Randall, Lee Scher, Nathan Carey, Tamar Ettun and The Moving Company, Lauren Bakst in collaboration with effie bowen, Sheila Heti, Virginia Lee Montgomery, Morgan Bassichis, Liz Magic Laser, and Martha Rosler
---
If, for many, November 9, 2016 was the day hope died, then January 20, 2017 was its funeral. Everyone responded differently. Some took to the streets to march, to brandish signs, to shout to the heavens and back that hate and intolerance are not the American way. Others needed a sanctuary to heal, to take comfort from and to find camaraderie with others.
Danspace Project offers a literal sanctuary in St. Mark's Church-in-the-Bowery during a free event on Inauguration Day — Ruth Patir's I dream of the elections. Anyone and everyone can take consolation in dancing, pizza, wine, and groovy beats, spun by DJ Jackson Randall.
Patir has strewn the carpeted risers with pink and blue papers detailing dreams about Hillary Clinton and Barack Obama from Sheila Heti's 2008 project, idreamofhillary.blogspot.com. Here's dream 21 from a 22-year-old Saudi Arabian woman: "I dreamed Obama was reading me a bedtime story." Here's dream 26 from a Brooklyn-based man in his late twenties: "Barack got elected President and I was crying out of happiness."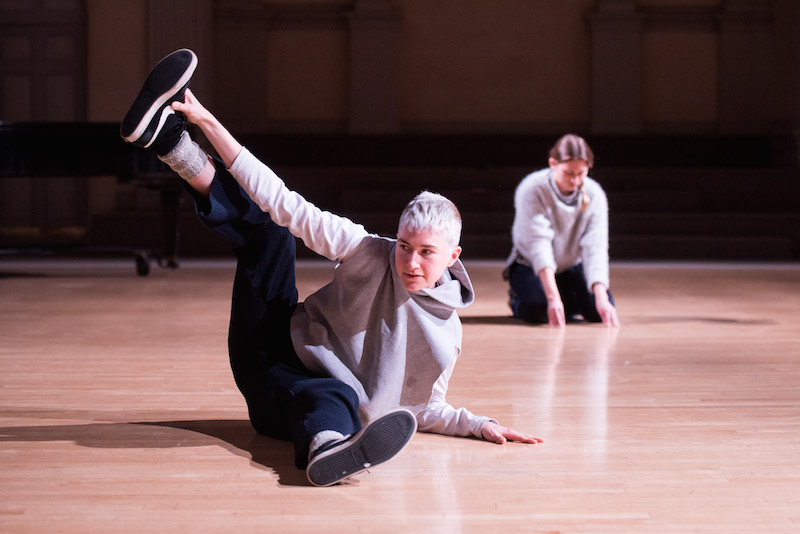 Lauren Bakst and effie bowen; Photo: Ian Douglas

Dancers process feelings through action, so a day this charged necessitates one thing: movement. Lee Scher, of LeeSaar The Company, offers a GAGA class. If you're in the space, participation is mandatory, which isn't the punishment it sounds like. GAGA, developed by Israeli choreographer Ohad Naharin, is democratic, improvisational, and a deeply personal experience that should be felt, not performed. Scher instructs us to "cancel ambition and connect to pleasure." We luxuriate in our flesh by wiggling, pulsing, and undulating as we imagine ourselves in water and then in honey. At the end, we smack our bodies, a wake-up call from the indulgence of embodied sensuality.

Short performances with a strong visual component unfold next, each bookended by short sets of electronica or, once, by sweetly weird pop music by pianist and singer Morgan Bassichis. Nathan Carey ambles and mumbles disbelievingly as he flashes pictures of Donald Trump on the floor from a handheld projector. Tamar Ettun and The Moving Company investigate the tension between interpersonal connections. Grabbing onto limbs, the all-female quartet scuttles across the floor, finding unity through doggedness.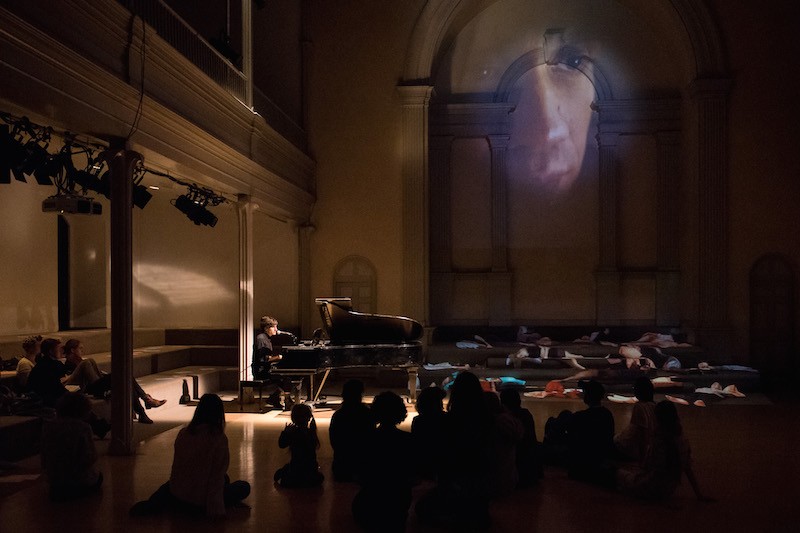 Morgan Bassichis; ; Photo: Ian Douglas
Several female choreographers provide reassurance with a forthright and uncompromising focus. Lauren Bakst in collaboration with effie bowen takes a sculptural approach: the two, sporting black sneakers, skitter on all fours, Bakst sliding her forearms as bowen hammers her fists into the floor. In Oral Economics in 2 Suits, perky pony-tailed Virginia Lee Montgomery leads ten volunteers through "energizer" exercises — squatting with a partner and then popping into the air — a la a satirical TED talk. Then she steps into a funnel of royal blue Lycra to channel her grandmother who came of age during the Depression. It's a prescient reminder that women often manage other people's well being.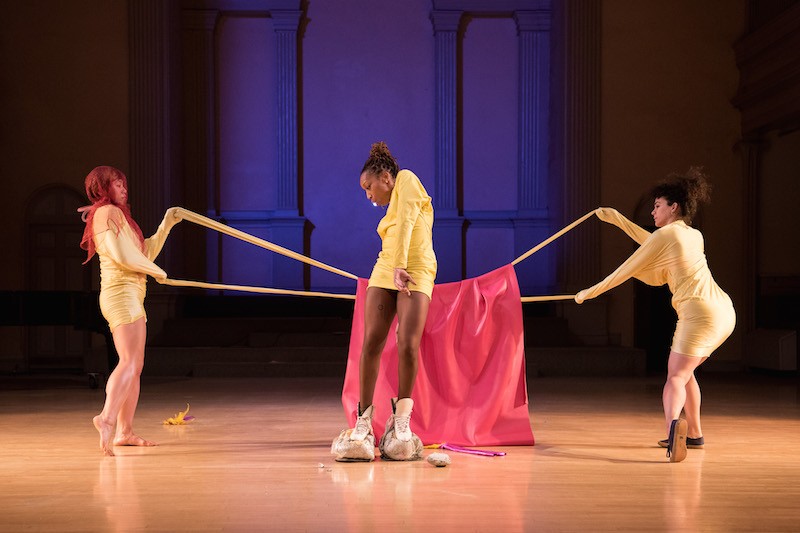 Tamar Ettun and The Moving Company; ; Photo: Ian Douglas

Three videos cap the evening. In Primal Speech by Liz Magic Laser, three women and two men in a gray padded room explore catharsis through primal therapy techniques. Martha Rosler's brief God Bless America, which repeats three-and-a-half times, shows a doll in army fatigues bobbling to a cacophonous horn version of "God Bless America." Toward the end, the camera pans out for a grim punch line — the soldier is an amputee. Patir's Sleepers exposes the profundity and absurdity of dreams. A group takes turns relating dreams about Hillary Clinton and Barack Obama. Underwear (ratty gray panties for Clinton and blue-striped boxers for Obama) and bizarre sexual encounters make frequent appearances, but the mood is less lascivious and more curious.

I dream of the elections has a casual, low-key vibe. People — old and young, even a few babies — come and go. When there's nothing to watch, everyone chats and eats cookies. It's easy to forget it's Inauguration Day, which isn't a bad thing. In fact, it's a reminder that the New York dance scene will remain lively and supportive. And that is reason for hope.
---