Taking Class with The Dance Enthusiast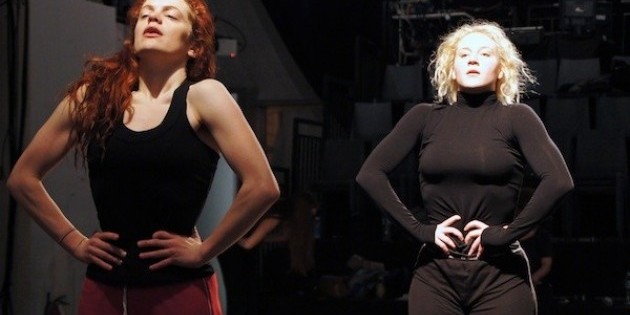 Theodora Buguszewski Takes Class with Austin McCormick's Company XIV (And Tell Us About It)
Meeting the Mysteries of a Fantastical World in Carroll Gardens, Brooklyn
Theodora Boguszewski Takes Class with Austin McCormick's Company XIV
May 22, 2012
---

Upon opening the nondescript glass door of Company XIV's humble abode - a warehouse space on a seemingly abandoned street - we enter a Bohemian wonderland. The black-box theater-turned studio space is ornamented with a massive chandelier, a life-size shimmering tree and many other odd extravagances.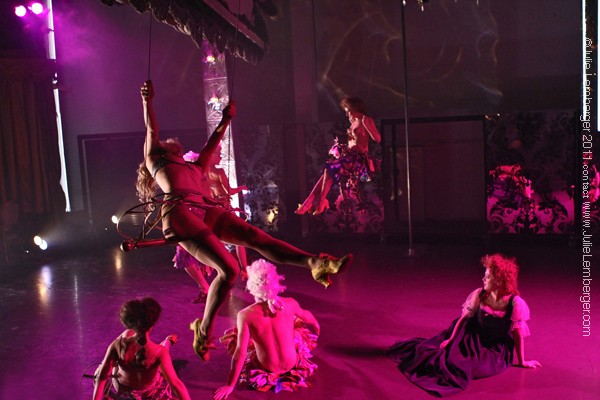 Photo of Company XIV's Nut Rouge ; photo Julie Lemberger

The initial impression of Austin McCormick's space echoes the immediate reaction one has to his productions (if you have been lucky enough to see one.) The most obvious characteristics are drama and ostentation. We notice the formality and excess of the Baroque period combined with the gaudiness of Burlesque. It is not unusual to see women in satin heels and voluminous silk dresses theatrically throw themselves at the feet of men wearing thigh-high leather boots and corsets. Lavishly beautiful and deliciously naughty, McCormick's work sparks our interest and ignites our desire to be entertained.

Yet underneath the grandiose top layers of Company XIV's entertaining productions are substantive emotional investigations. In Le Serpent Rouge, Snow White, Pinocchio, and The Judgment of Paris, McCormick takes classical stories and highlights the archetypes within them. He then addresses the fact that these archetypes exist within all of us. We are drawn to his work because we can relate to it. And, don't we all, innately selfish creatures that we are, want to see work about us?
---
The Classes:

Company XIV's workshop investigations are consistent with McCormick's standard of stage work. Highly physical technique classes are balanced by more sensate, explorative experiences. Classes go from 10 am to 6pm every day (Monday through Saturday), and culminate with a repertory showing. Participants can opt to take the workshop as a whole or drop in to select classes, which are offered on a pay-as-you-go basis.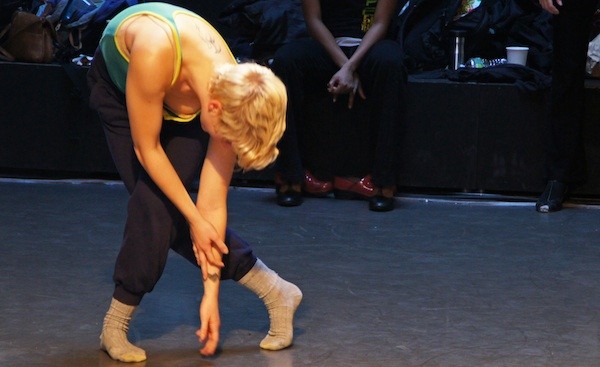 Company XIV Workshop Participant ; Photo Sean Gannon

The workshop itself cost 350 dollars, fairly inexpensive in comparison to what many charge these days. Drop in classes are 15 dollars each. This March program included: Lucid Body Technique, Gaga, Company Class, and a Repertory/ New Creation seminar with McCormick that finished off the day.
While the classes are geared towards dancers, they are open to actors or anyone with theatrical inclinations.

The workshop also featured an interview with McCormick, which was open to the public as well as to participants. The interview offered a rare and valuable insight into McCormick's process and provided the audience with the opportunity to pick his brain about his vision, his work, and his approaches.
---
Theodora's Workshop Takeaways:

Company XIV's Company Technique class was offered almost every day to workshop participants. Taught by Laura Careless, McCormick's talented and intriguing partner in crime, the session began with chakra work - the chakras, according to East Indian thought, referring to the seven major centers of spiritual and psychic power within us. Working with chakras helped cultivate an awareness of personal energy and its effect on our movement.

Watching Careless demonstrate her combinations was a lesson in itself; she maneuvered the space with a sense of contrast that created powerful drama. Her class work moved with immediacy and the intensity of Graham work, although with more physical freedom and less of a threat to our hip flexors.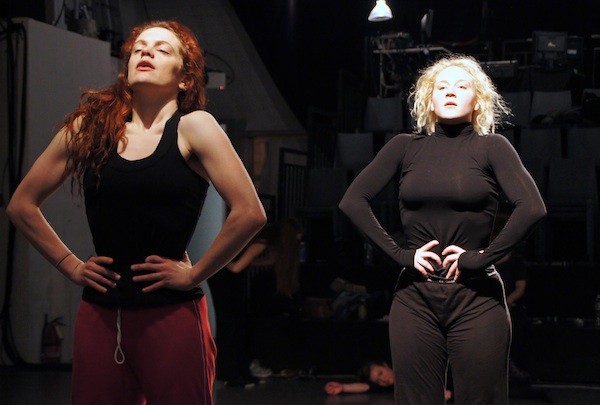 Laura Careless with student, Katrina Cunningham in Company XIV's Workshop ;Photo Sean Gannon

We slowly warmed up with simple floor exercises, which seamlessly transitioned into more athletic phrases that found us whipping ourselves around the floor, spinning and jumping. On first impression, Careless's classroom dance phrases appear quite advanced, but because they are so expertly constructed and taught we found great satisfaction in being able to execute these impressive movements. Careless was very clear about the dramatic intention behind her combinations, which helped us invest in them more thoroughly.

Another class offered daily as part of the workshop was Gaga, a technique created by Ohad Naharin of Batsheva Dance Company in Israel. Gaga (definition of Gaga from www.isrealli.org/get-your-gaga-groove-on) is a "technique rooted in unblocking the body, freeing dancers to move with unprecedented control and releasing untapped reserves of agility and metaphysical connection".

McCormick brought in members of the Batsheva Company to teach Gaga, including the magnetic Bobbi Smith, who conducted a particularly fascinating class. Considering the concern with humanity behind McCormick's work, it made sense that a technique centered on unblocking our innate passion to move was integral to our studies.

The performance on the last day of the workshop was a showing of the choreographic explorations that the full-time participants created. Considering that this showing was the result of only twelve hours of work it was, impressively, almost an hour long, and quite sophisticated. McCormick managed to build a work to showcase each of his ten dancers' specific skills. The piece didn't feel scattered and the consistency of the quality and intention of the work brought everything together. Clearly the work done during the week had paid off.

I highly recommend Austin McCormick's Company XIV workshops to anyone who desires to explore and expand their artistic range.
Footnotes: Upcoming Projects for Company XIV
Judge Me Paris
-A Baroque/Burlesque Opera-
in association with Morningside Opera and Siren Baroque.
May ,24,26,26,27 at 8 pm.
303 Bond Street Brooklyn, New York.
www.CompanyXIV.com
Company XIV Summer Workshop
July 21-28, 2012.
Registration Deadline: July 15th.
For More information:
www.CompanyXIV.com
or
Email:
Laura@CompanyXIV.com
---
---
The Dance Enthusiast's DAY IN THE LIFE covers the stories behind dance/performance and creates conversation. For more behind-the-scenes stories from NYC and beyond, click here.
---
The Dance Enthusiast - News, Reviews, Interviews and an Open Invitation for YOU to join the Dance Conversation.