Related Features
Contribute
Your support helps us cover dance in New York City and beyond! Donate now.
The Dance Enthusiast Hits the Streets: Taking on Yellowface in Classic Choreography at the 92nd Street Y with Phil Chan and Georgina Pazcoguin
November 15, 2019
Speakers: Phil Chan and Georgina Pazcouguin
Performers: Rachel Hutsell, Georgina Pazcouguin, Sebastian Villarini-Velez
---
Mark Twain once said, "The less there is to justify a traditional custom, the harder it is to get rid of it." Although Twain probably didn't see much ballet in his lifetime, his words aptly describe an art form that is almost slavish in its devotion to a vaunted past. How else to explain the racist clichés that parade across stages around the world well into the 21st century?
Phil Chan and Georgina Pazcoguin decided to address head-on the harmful caricatures and inaccurate stereotypes of Asians that regularly appear in the ballet canon. Chinese-American Chan and Filipino-American Pazcoguin founded Final Bow for Yellowface to encourage ballet communities to have conversations about their depictions of Asian-Americans. The organization's vision statement asks, "If all audiences see is the bobbing and shuffling coolie from a bygone era as the only representation of Asians on stage, what message does that send to our Asian students who dream of dancing the Swan Queen?"
During their Fridays at Noon lec/dem at the 92nd Street Y, they unpacked their goals and led a nuanced conversation about race in ballet. "Hopefully, we can give you guys a framework to think about any race in any ballet," Chan said.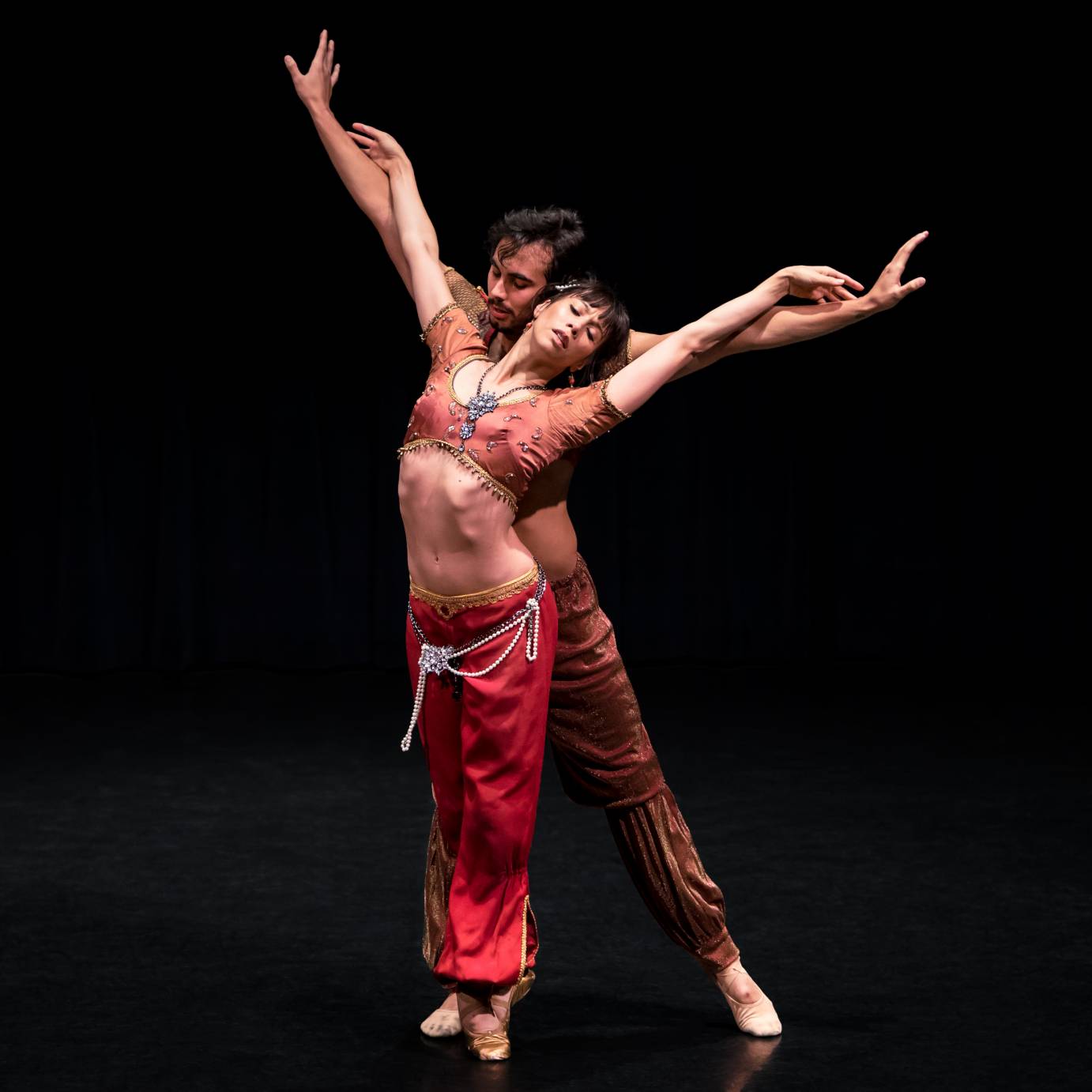 Georgina Pazcouguin and Sebastian Villarini-Velez in Michel Fokine's Scheherazade; Photo by Elizabeth Schneider-Cohen
The program opened with the longish pas de deux from Scheherazade, choreographed by Michel Fokine in 1910. Although New York City Ballet soloists Pazcoguin and Sebastian Villarini-Velez were fabulous, the piece had plenty of cringe-worthy moments. Those began with the costumes, which included bare midriffs for both. They continued through the choreography, which was typical balletic virtuosity embroidered with Fokine's idea of Middle Eastern culture, like undulating hip circles and flexed wrists. 
Many of these flourishes were for the woman, and it was easy to figure out why. The exotic locale allowed the female dancer to depict sex and seduction frankly. During one eyebrow-raising moment, Pazcoguin writhed on the ground and then arched her back like a music video vixen as Villarini-Velez blazed through coupé grand jeté en tournant en manége. Another time, he caressed her wiggling bottom. Prince Siegfried would never do to the Swan Queen!
Chan and Pazcoguin gave us a graph through which to evaluate the representation of non-white characters. The X-axis offered a spectrum to assess the historical exactness, moving from fantasy on the left to accuracy on the right. The Y-axis stretched from character at the top to caricature at the bottom. Scheherazade fell in the top left quarter; the characters aren't rooted in any reality, yet they are multi-dimensional. "They have an inner life," Chan said. 
Rachel Hutsell in The Fairy Doll; Photo by Elizabeth Schneider-Cohen
Besides the graph, Chan and Pazcoguin identified three stages of Asian representation in ballet. The first involved using props to define Asian people and locales. "How did you travel to China or Japan in the 19th century? You went to the theater," Chan explained. Rachel Hutsell, a member of the NYCB corps de ballet, performed the Chinese and Japanese variations from The Fairy Doll, which premiered in 1881 at the Viennese Court. To indicate Japan, Hutsell carried a fan while, for China, she danced with a parasol in one hand and her index finger of the other pointing upward. 
About that finger. Chan and Pazcoguin elaborated on where it came from. First, it may have been inspired by a Mongolian chopstick dance that appeared on a tapestry. Second, it could stem from porcelain makers who wanted to flaunt their talent by creating figurines holding up specific fingers. "Individual digits showed virtuosity," Pazcoguin said.
Chan clarified that the second period occurred when Asians joined Western communities. When referenced on stage, they were flattened into what Chan called "a Fu Manchu with a queue." We watched videos where this stereotype appeared in popular ballets like Coppélia and more obscure works like Excelsior (a kitschy ballet about Italian nationalism). We compared and contrasted, concluding that Tea in Baryshnikov's Nutcracker was less objectionable than Lev Ivanov's performed by the Bolshoi Ballet in 2018. Baryshnikov's had costumes inspired by Ming vases with the dancers clasping fans. Ivanov's featured finger-pointing, shuffling steps, exaggerated makeup, and imbecilic forward rolls for the big finale.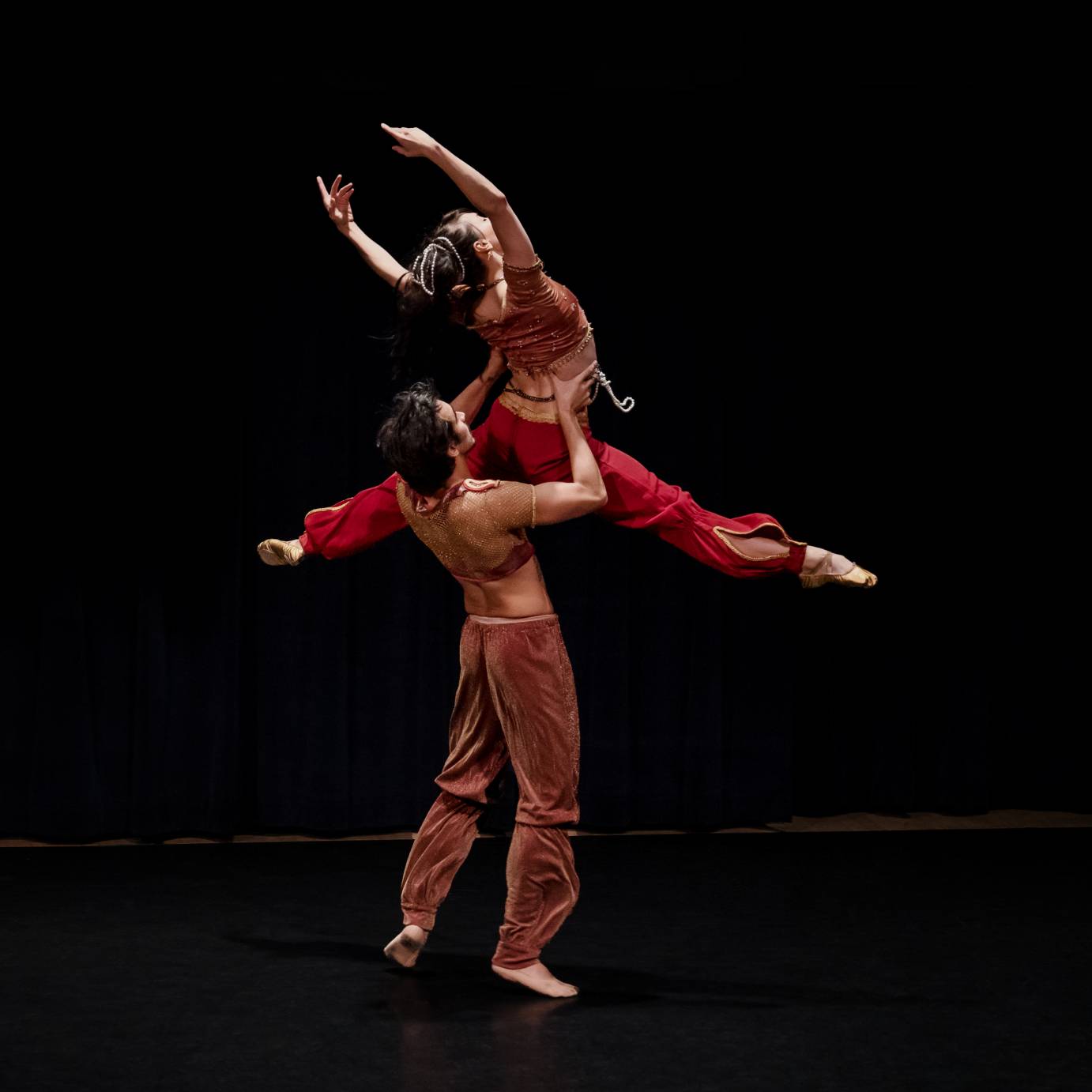 Georgina Pazcouguin and Sebastian Villarini-Velez in Michel Fokine's Scheherazade; Photo by Elizabeth Schneider-Cohen
Chan pointed out that this parodic portrayal was historically accurate. "Chinese people did look like that when they came to build the railroads. They were poor, working-class people. But imagine if we were all defined by our first ancestors in this country?"
The third period of Asian representation happened in the latter half of the 20th century when Asians began telling their own stories. Pazcoguin embodied this with her interpretation of The Tinikling (choreography by Chan and herself). The traditional Filipino folk dance features bamboo snapping at the dancers' ankles, which Pazcoguin evoked through whip-fast actions of her lower limbs.
Final Bow for Yellowface asks those in power to sign a pledge to eliminate offensive Asian stereotypes on stage. Although this is a clear and important step forward, the event highlighted discussions that need to take place off-stage. Pazcoguin spoke about how she was often made to feel "other" through various microaggressions. She was told to make her makeup less "Oriental," and she was a B-cast party parent for years — that was the non-white cast. "I am the only biracial, Asian-American woman to be promoted out of the corps at New York City Ballet," she said.
Undoubtedly, there is work to be done, but Chan and Pazcoguin don't consider themselves to be scolds or censors. "We want to affect real change and teach people empathy," Chan said.
---
The Dance Enthusiast's DAY IN THE LIFE covers the stories behind dance/performance and creates conversation. For more behind-the-scenes stories from NYC and beyond, click here.
---
The Dance Enthusiast - News, Reviews, Interviews and an Open Invitation for YOU to join the Dance Conversation.