Related Features
Contribute
Your support helps us cover dance in New York City and beyond! Donate now.
The Dance Enthusiast Attends ONE @ The Ballet Hosted by Singapore Dance Theatre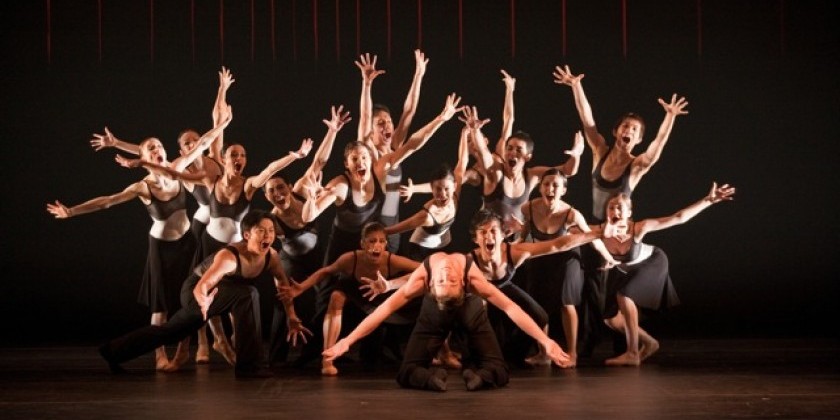 Singapore Dance Theatre Fuses Performance With Lecture
A Brief History of Singapore Dance Theatre:
Founded by Goh Soo Khim and Anthony Then in 1988, Singapore Dance Theatre (SDT) turned a quarter of a century old this year. The 37 dancers who make up the company hail from all over the world, such as: Korea, Japan, China, Australia, the United Kingdom, France, Italy, Brazil, the Philippines, Malaysia and Singapore.
The company presents six local seasons annually: full-length classics along with Masterpieces in Motion, consisting of international works, and Passages, a contemporary dance season. Singaporean dance enthusiasts also have the pleasure of looking forward to one of the Company's most popular events - Ballet Under The Stars - held at Fort Canning Park every July.
Singapore Dance Theatre hosts myriad educational programs including monthly in-studio presentations dubbed ONE @The Ballet, so called because the programs always begin at one in the afternoon -- sharp.
Singapore Dance Theatre in The Winds of Zephyrus by Edwaard Liang. Photo © Tan Ngiap Heng.
Artistic Director Janek Schergen, from Göteborg, Sweden (formerly with the Royal Winnipeg Ballet, Pennsylvannia Ballet, former Ballet Master of the Washington Ballet, and also artistic director of the Choo-San Goh and H Robert Magee Foundation) initiated the program in 2009 for several reasons, the first being to break down the walls between dancers and audiences. ONE @The Ballet reveals the countless components that make up a dance company's repertoire.The informal studio setting finds performers cozied up to audience members who are literally a few feet away from them. (I had no idea pointe shoes could be so loud!)
"We try to base our theme on whatever we happen to be rehearsing," said Schergen. "Sometimes it's a particular ballet, sometimes it's  a particular idea. One that everyone particularly loves is How to Dress a Dancer. I pull a pointe shoe apart in front of the audience, explain how tutus are made, and talk about rehearsal clothes."
Rosa Park and Chen Peng in Ballet Under the Stars 2012. Photo © Milk Photographie
September's topic happens to be Music for Dance. Part performance, part narrative, the lesson come dance show introduces us to ballet music's 'Greats' including Stravinsky, Prokofiev, and Tchaikovsky. The vastness of the subject matter is especially challenging:entire libraries could contain the wealth of information on musical composition for dance. Still, Schergen does a respectable job of tackling the discussion by including enough fun facts to suprise adults (Did you know that composition for the ballet was once deemed second rate next to music for opera?) along with an abundance of breathtaking visuals to delight both young and old.
When we speak privately in his office later, Schergen confesses, "I would like to be able to go more in-depth. The progression of music in dance throughout the years really fascinates me, but so many people bring kids who start getting really squirmy, so I think, "Move on, move on… let's start dancing."" Schergen's grandfather was a composer, which explains his zeal for dance music. "You have to train them (dance artists) to be better musicians as wells as dancers," he says.
Heidi Zolker and Timothy Coleman. Photo © Tan Ngiap Heng.
 
Learning how dancers 'count' is part of today's focus. Although musicians count music, dancers do so quite differently by following the structure of phrases.
"People joke that dancers can't count past the number eight. We're always counting one-two-three-four-five-six-seven-eight… Two-two-three-four-five-six-seven-eight… We never quite reach the number nine," jokes Schergen.
Short segments 'curated' for the afternoon help demonstrate music's relationship with dance. I relate best to Absence of Story (1st Movement) by Japanese Canadian choreographer Toru Shimazaki. The feeling in Shimazaki's choreography pairs perfectly with Johannes Brahms's music, which exudes painful longing. Schergen adds zest to the performance by sharing a fun tidbit about the composer: Brahms was in love with Clara Schumann, the spouse of his best friend; he pined after her day and night, year after year. It was this wretched obsession that infused Brahms's music with such keen desire.
Full of romance, courtship, and good humor, Absence of Story, allows the dancers to literally let their hair down. Long flowing skirts complement wavering halos of locks. The immaculate timing astounds me. It is no easy feat to marry speed with suspension, but the company pulls it off.
Chihiro Uchida and Kenya Nakamura Photo © nicolethen studio.
Schergen introduces Don Quixote as "The perfect example of music being used as a means to further the story." Principal dancers Rosa Park and Chen Peng exhibit their full potential in Don Quixote's celebrated Pas de Deux. I don't want to miss a moment of the dance, but am sorely tempted to peek at the audience's expressions. A sidelong glance proves extremely satisfying – a mother and daughter are grinning from cheek to cheek as they take in Park's pert solo with a fan. Park snaps the fan shut and whips it open in time with staccatos arranged by Ludwig Minkus. To know dance music is truly to know dance.
"One of the nicest things about being a dancer is to be able to BE the music," says Schergen. "It's something that's indescribable, and it's one of the real reasons that people enjoy dancing."
Follow Sammi Lim on Twitter @ilikeloofahs
Singapore Dance Theatre's official Website: www.singaporedancetheatre.com
ONE @ The Ballet is held once a month, 1–2PM, Saturdays
Venue: Singapore Dance Theatre, Bugis + Mall, 201 Victoria Street, #07-02/03 Singapore 188067
Fees: $10 (Standard), $6 (Children ages 6 and below). 20% discount for purchase of 4 tickets or more (only applicable to standard tickets).