The Dance Enthusiast Takes Class (and Writes About It...)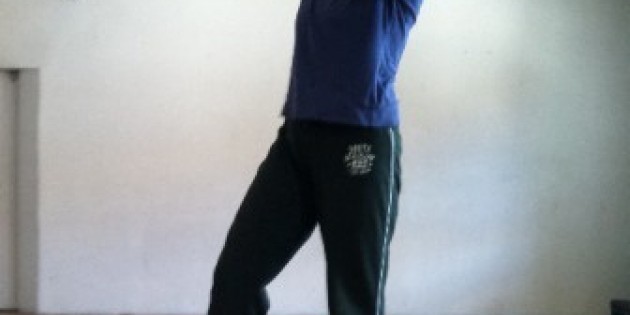 Tara Sheena Takes Class with Xan Burley at Dance New Amsterdam
The Dance Enthusiast Takes Class and Writes About It
Dancing, class-taking writer, Tara Sheena for The Dance Enthusiast
---
The Class: Xan Burley's Modern Dance Class
 
Location: Dance New Amsterdam
280 Broadway, 2nd Floor (entrance on Chambers St.)
Days and Times: Varied
Cost: 6.50/class (5.50 for DNA members)
What You Should Bring: Comfortable clothes (especially pants that cover your knees for floor work), an open mind, and a sense of humor.

Why Tara Attended:
"Xan Burley is one of the ubiquitous darlings of downtown dance. When I first heard she was teaching as a part of the Modern Dance Guest Artists Series at Dance New Amsterdam, I knew I had to check it out."
---
Tara's Take Aways:
Starting out with a slow and steady warm-up, Burley leads by encouraging the class to follow her movement, rather than relying on us to instantly memorize combination after combination. Easy shoulder rolls, punctuated by her audible breathing, inevitably fall into a series of hip rolls and floor work common to a modern class.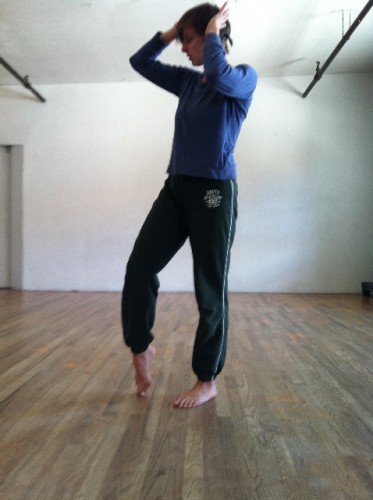 Xan Burley in the studio, Photo Courtesy of Xan Burley
It is clear there is great virtue in the concept of what is "familiar" for Burley. She approaches teaching as though she is familiar and friendly with every mover in the class and uses this intimacy to establish grounds for freedom later on.
One of my favorite moments during the warm-up is Burley's simple plié exercise. She asks us to use the room's length, travelling back and forth, while alternating our facings between sets of pliés. To establish a new facing for every set , we are encouraged to create a transition, a short backward stumble.  Each time—and, we do this exercise at least four times back and forth—we discover more and more ways to stumble-- until what was once a small trip becomes a turn, then a hop, then a leap.
 
An hour-long warm-up gets me sweaty and ready to take over the room. Suddenly, I notice the room, and light effortlessly bleeding through windows overlooking City Hall Park on this crisp fall day. ( Dance New Amsterdam!)
Now we are moving. Catch steps become wide lunges. Legs stand in sturdy balance and then are knocked off it. I enjoy Burley's use of  constant forward, falling motion. Signature Xan Burley movement is sharp, intricate, and sweeping. The final combination of class is challenging and fast paced, but because of her sense of calm,  and her familiar open style I don't feel anxious about it.
Burley reveals after class that that she views teaching advanced level dancers as sharing. She learns just as much from her students as we learn from her.
 
For more on Xan Burley Classes and Performances and for more great Dance New Amsterdam Guest Artists, check out these links:
Xan Burley and Alex Springer teach a donation based partnering class at Triskelion Dec 1, 8th, and 15th ,click
here
Xan Burley and Alex Springer Perform at BAX Dec 2 and Dec 3th for more info ,click
here
Xan Burley teaches at The Playground on Dec 14th, click
here
Other Teaching/Performing Schedules Etc for Xan Burley and Alex Springer, check their website, click
here
For more great classes at Dance New Amsterdam, click
here
---
The Dance Enthusiast's DAY IN THE LIFE covers the stories behind dance/performance and creates conversation. For more behind-the-scenes stories from NYC and beyond, click here.
---
The Dance Enthusiast - News, Reviews, Interviews and an Open Invitation for YOU to join the Dance Conversation.