Related Features
Contribute
Your support helps us cover dance in New York City and beyond! Donate now.
Dance Up Close to Francesca Harper and "The Look of Feeling"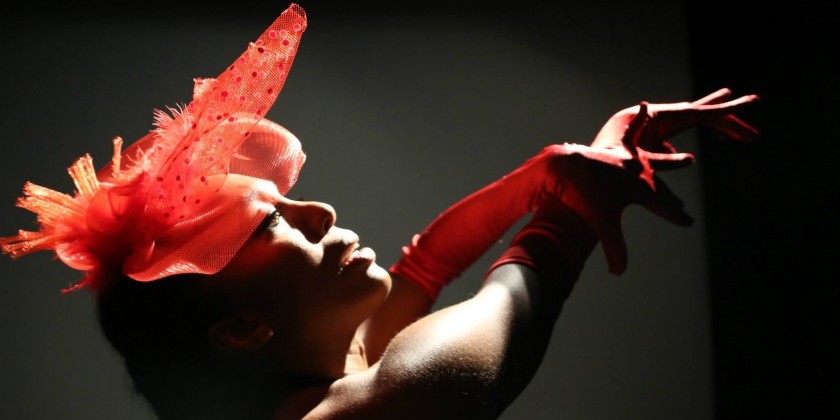 The Story of Denise Jefferson (1944-2010) American Dance Pioneer and Francesca Harper's Mother
The Look of Feeling will be performed on May 2-18 2014
Showtimes: May 2 & 3 at 8pm; May 9, 10, 16 and 17 at 7pm; May 12 & 19 at 3pm; May 11 & 18 at 6pm
At the Susan Batson Studio Theater, 300 W 43rd St (near 8th Ave), #300, NYC.
Subway: A/C/E Port Authority. Tickets: $20
To purchase, contact the Studio at 212.226.4630 or visit slices-of-lives-productions.ticketleap.com
---
When speaking with the statuesque performer, Francesca Harper, one cannot get over how closely she resembles her late mother Denise Jefferson. It is uncanny, and noticeable particularly in her smile - one that is confidence inspiring, bright  and full, set between regal cheekbones. Jefferson, known by her students as Ms. J., was the head of the Ailey School, from 1984 until she died of ovarian cancer in 2010. In this position, she inspired countless young dancers to move from studio classes onto the stages of performing houses across the world. Born to a family that valued education, and possessing a practical and optimistic nature, Jefferson collaborated with Dean Edward J. Bristow of Fordham University, to create an innovative dual degree program joining Fordham's Lincoln Center Campus to the Ailey School so that the dance academy students could simultaneously pursue a liberal arts degree.
"She was very politically active and aware of what the community needed," shares daughter Harper, who in her lastest creation and first solo production,The Look of Feeling, dramatizes important scenes from her mother's life.
 
Francesca Harper On Denise Jefferson
---

"She questioned how to empower young people, asking, 'How do we make them feel important and justified to go out and become professional artists, and if they aren't going to become professional artists how can they become excellent arts administrators?'"
Excellence was important to the Jefferson family and their quest for it is revealed in Harper's show as she covers the family's flight from slavery; her mother's involvement in the Civil Rights Movement; and Jefferson's journey towards becoming the well-respected educator and founding director of the Ailey School who we are most familiar with.
Jefferson started dancing with ballet, but quit disheartened because she saw no black ballerinas on stage and consequently no place for her. She discovered modern dance in college, later winning a scholarship to study at the Martha Graham Center of Contemporary Dance and performing professionally with Pearl Lang.  Harper remembers her mother crying about how painful and simultaneoulsy wonderful it was to see the Dance Theatre of Harlem perform for the first time. "She knew she was talented but she didn't see any opportunity. That's probably why I chose ballet and to have a mastery of that technique," remarks Harper, who danced as a ballerina with the Dance Theatre of Harlem and at the Frankfurt Ballet under the direction of William Forsythe.
 
Francesca Harper in Rehearsal for The Look of Feeling

Harper, a multi-talented artist, whose career has encompassed classical ballet, experimental dance theatre,contemporary choreography, song and acting, began work on The Look of Feeling as a way to grapple with the grief of losing her mother.  It was not always easy. The incredible intensity of the work and the emotions it elicited found her needing to take multiple breaks. The piece took over three years to make and it is still difficult for Harper to talk about her loss; however, the gift of the work is in the richness of the memories.
Harper who was raised primarily by her mother says, "I always felt very honored to be so close to someone who didn't question her purpose here on earth." She feels it is important to share her mother's story with the community of women, and dancers, and people who knew her. "I wanted to document, and to understand what made her so exceptional. I thought of moments in her life that drove her passions as a human being, a mother, and a woman and tried to connect these universally to us all. We all want to find our purpose. We are all daughters and sons."
"She was my mother, my father, my sister, and my confidant," Harper adds.
 
Francesca Harper in Rehearsal for The Look of Feeling