DAY IN THE LIFE OF DANCE: The New Museum's NEW INC's EdgeCut Performance Series Curated by Heidi Boisvert and Kat Mustatea
Curators: Heidi Boisvert and Kat Mustatea
Artists for October 10th: Rourou Ye; Kate Ladenheim + The RAD Lab; Theater in Quarantine; Carrie Sijia Wang; Sadi Oortmood; Emily Twines; Sylvain Souklaye; Xue  
EdgeCut returns on December 5 with Sanity. Visit HERE for tickets and more information.
---
EdgeCut curators Dr. Heidi Boisvert and Kat Mustatea were just starting to hit their stride when the COVID-19 pandemic shut down New York's live performance scene. "We had chosen our artists for a March show and then had to cancel right when we gained some velocity," Mustatea says. 
The two initiated EdgeCut as an independent project out of The New Museum's NEW INC art and technology incubator, making use of the space for their in-person shows. Boisvert, who teaches emerging media technologies at CUNY City Tech, and Mustatea, a playwright who studies language and machine art-making, began EdgeCut with four short performances plus a visual artist, all riffing on a theme. "We put out an open call to our networks and received an astonishing number of applications," Mustatea says. 
Screen grab from EdgeCut's Captivity
Something was clearly missing from the NYC performance ecosystem. She points out that there are places in New York to show tech demos, and there are places to perform live, but few venues support video games, AI, or robotics as artistic performance. What initially filled a gap evolved into an experimental platform in its own right. 
The sudden impact of COVID-19 caught Boisvert and Mustatea unaware, even though their backgrounds as artists and technologists better prepared them for a creative shift online. As their peers scrambled to replicate live programming via live-streaming, the pair decided against rushing into what felt like an incomplete translation. After a brief curatorial hiatus, Boisvert and Mustatea put out feelers, asking their networks about what seemed worth showcasing in the virtual domain. "That was a lightbulb moment," says Mustatea. "In a space where digital is the given, what is gathering? What is the body? What is intimacy?" 
Screen grab from EdgeCut's Captivity
They moved forward with a virtual platform called NOWHERE, which offers a 3D environment — essentially, different "rooms" or virtual landscapes that audience members can traverse using their keyboard arrows. New York Live Arts joined as the official presenting partner for Captivity, the EdgeCut show that aired on October 10, and will join future events as virtual ushers and hosts. 
NOWHERE users don't see their own face the way they would in Zoom. Instead, audiences navigate the space as floating nonagons with their webcam on one plane of the 2-D shape. NOWHERE uses spatialized sound, so one has to approach an event to hear it. Imagine a handful of floating playing cards drifting toward each other for a conversation.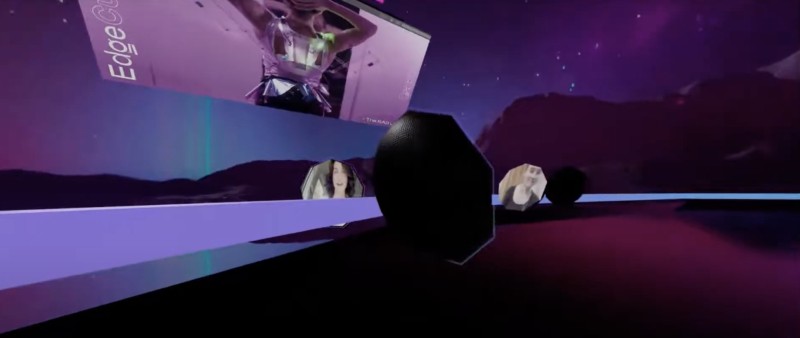 Kate Ladenheim and the RAD Lab's Babyface; Screen grab from EdgeCut's Captivity
The curators describe NOWHERE as "out of the box," meaning they were somewhat limited (from a technologist's perspective) in how each room was already designed, be it a purple alien landscape or a grassy field. Artists could utilize a variety of features to present their work, including a drive-in-movie screen in the sky, webcam shots of an entire room, and more — though Boisvert and Mustatea plan on eventually offering bespoke features. Performances happened in a durational cycle, with audiences gathering and dispersing from room to room as they pleased. Groups of strangers gathered their nonagons to talk — something that has been largely absent since social-distancing guidelines went into effect. "The idea was to integrate and centralize many different performances into one environment," Boisvert says. "We were questioning how to use the 3D environment to remap intimacy and cultivate community." 
Kate Ladenheim, in partnership with Robotics, Automation, and Dance (RAD) Lab director Amy LaViers, and Rourou Ye responded to EdgeCut's most recent theme of "captivity" with two sharply divergent dance works that challenge intimacy and re-present the body within a captive space. Ladenheim and LaViers showed Babyface, which uses a winged cyborg character to explore how femininity is hyper-stylized (often by male designers and programmers) in robotics and screen-based technology. Ye performed The Absent Umbra, featuring her ongoing exploration of lighting design, shadows, and disembodiment.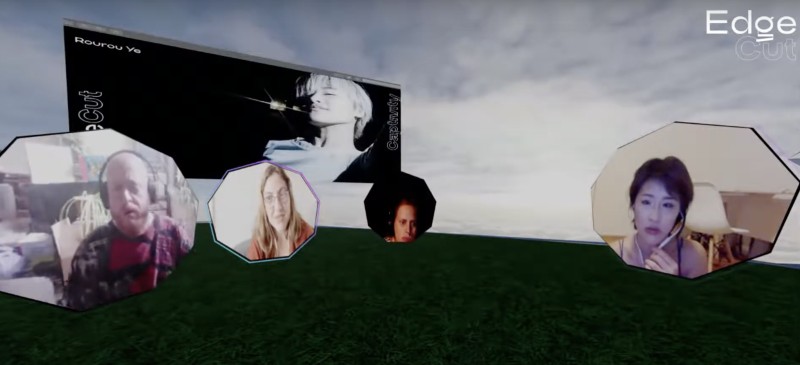 Rourou Ye's The Great Umbra; Screen grab from EdgeCut's Captivity
Ye focused on presentation rather than new technology, so she stuck with Zoom for her live-streamed performance. "At first, I had no idea what NOWHERE looked like," she says. "But when I met with Kat inside of the program, I got really excited. Moving through the space felt intimate."
The Absent Umbra evolved from Ye's experience as a Chinese immigrant and freelance artist dealing with uncertainty, loneliness, and isolation. "When the pandemic hit, I was questioning what it means to be an artist. All the questions I was asking before the pandemic felt like they didn't matter anymore," she says. "Dancing in my room made me feel sad, and I didn't want people to see my room during a live-stream." Ye considered the camera as a tool to navigate the space or instigate a new point of view. "I started to play around with how to place my laptop," she says, "and discovered angles and aspects you can only see through the camera. Things that can't be seen in a theater."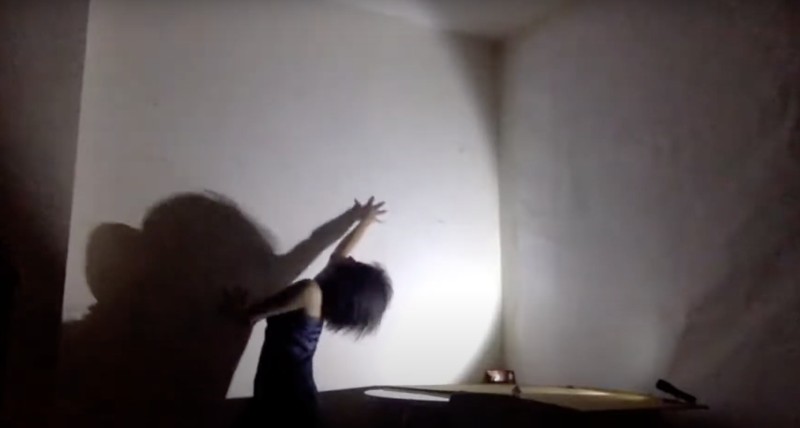 Rourou Ye's The Great Umbra; Screen grab from EdgeCut's Captivity
Ye's explorations had a problem-solving component too: She moved apartments several times during her process, and each space required new camera angles and set design. For now, Ye is inspired to make dance films as long as she's limited to digital presentation. "I didn't choose this condition [of COVID-19 isolation], but I'm exploring all the possibilities I can find to be creative," she says.  
Babyface had its own translation challenges from stage to screen, and into the unique parameters of the NOWHERE platform. "Our last iteration was very live," Landenheim says, describing an installation in which participants could try on the cyborg's breath sensor and wings. "EdgeCut pushed us to be more direct in the ways that screens force us into a feminine expression of self."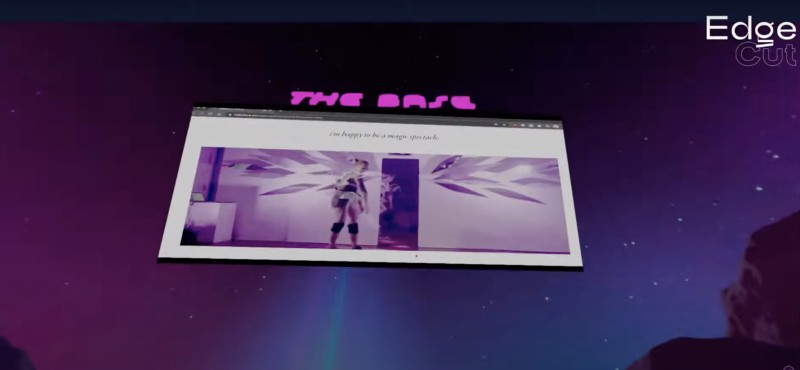 Kate Ladenheim and the RAD Lab's Babyface; Screen grab from EdgeCut's Captivity
Ladenheim and LaViers built a website for audience members to record themselves in dynamic interaction with a Babyface movement score—tilt your head, smile, etc. "In the original version, Kate's character doesn't fully control her wings," LaViers says. "They respond to her breathing. In some ways, it's natural to think of the internet browser as an extension of human-machine exchange. The audience member now becomes part of the performance, somewhat unwillingly and unknowingly." The pair considered how to adjust the score to better fit participation through a screen. "There has to be a change in how the presentation of self becomes uncomfortable," Ladenheim says. They changed the prompts from, for example, moving your hips to opening your mouth wide. 
LaViers says it took time to figure out how Babyface could fit into NOWHERE. She and Ladenheim decided to frame the Babyface website as a floating screen within their "room," held a talkback, and added a last-minute live demo. Mustatea agrees that EdgeCut's first attempt at using NOWHERE was far from flawless. "We knew there would be awkwardness," she says. "It's so cutting-edge, it's on the verge of falling apart." But she's satisfied that their essential questions around intimacy and embodiment were posed, in part, by using the platform itself. 
Kate Ladenheim and the RAD Lab's Babyface; Screen grab from EdgeCut's Captivity
Will EdgeCut continue as an all-virtual platform? Boisvert and Mustatea can't say for sure, but Mustatea thinks it makes sense to reconsider what future performances might look like, even after in-person spaces are safe again. "These new modalities for live performance will run in tandem," Boisvert says. "We see how the legacy knowledge of film technologies inform our practices, and I hope we can continue experimental interventions to see what the new performative shapes will be." 
---
The Dance Enthusiast's DAY IN THE LIFE covers the stories behind dance/performance and creates conversation. For more behind-the-scenes stories from NYC and beyond, click here.
---
The Dance Enthusiast - News, Reviews, Interviews and an Open Invitation for YOU to join the Dance Conversation.