The Roger Smith Hotel Presents Dance/Season 2: RoofTop/GroundFloor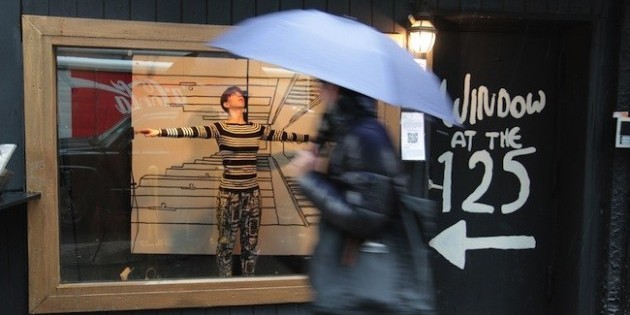 Season 2: RoofTop/GroundFloor
Presented by The Window at 125
The Roger Smith Hotel, New York, NY
8 a.m. – 8 p.m., March 3 – 15, 2013
Artists:
Lindsey Dietz Marchant, Amanda Szeglowski, Deborah Lohse, lona Bito, Sarah McSherry, Jillian Sweeney, Mariana Valencia, Tony Carlson, BoomBat Gesture, Annette Herwander, Walter Dundervill, Kirsten Schnittker
Producers:

Benn Rasmussen, Anna Adams Stark, Edward Rice, Isabella Hreljanovic, and Sarah A.O. Rosner
---
It is a cold, sunny Midtown morning. Tourists venture out of Grand Central Station in tenuously organized clusters, smartly dressed business people stare straight ahead as they charge toward work, and the crashing and clanging sounds of construction can be heard close by. An interesting sight in a window on East 47th street catches the eyes of most passersby, though many of them speed walk on after a quick sideward glance.
Walter Dunderville Photo John Birdsong
As the morning work rush subsides, though, more and more people stop to watch what is happening in the window. A woman lingers with her coffee. A nanny slows down her stroller. Two construction workers pause and mumble to each other. This is season two of RoofTop Dance's RoofTop/Ground Floor series, a mini festival introducing 13 performance artists in 13 days. Each artist has twelve hours – from 8 a.m. to 8 p.m. – to do what they will with a small rectangular space, visible through the window on 47th street. Part of the Roger Smith Hotel, the Window at 125 usually showcases the work of visual artists, but RoofTop Dance has made use of the singular space to carve out a place for downtown dance in Midtown.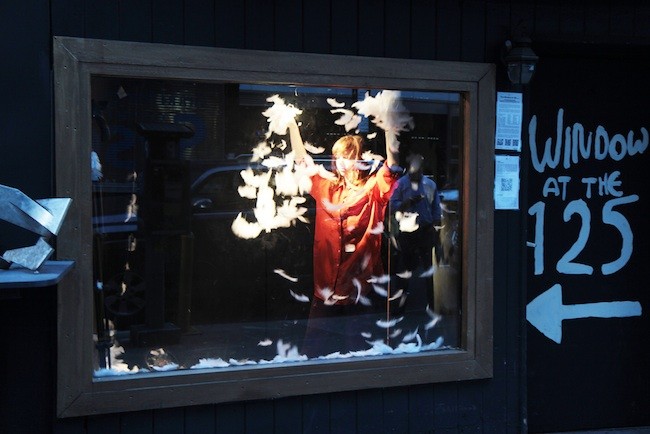 Annette Herwander Photo John Birdsong
RoofTop Dance did begin on a rooftop. Original producer Benn Rasmussen lived in a Bushwick loft space with roof access, and during a rooftop party, he and Anna Adams Stark realized that the roof would make a great performance space. They brought Raja Kelly and Jessica Chen onto their production team and held their first season in the summer of 2010.
"That year, each of the choreographers went on a scavenger hunt throughout the city and picked up objects along the way, and they had to somehow incorporate those objects into the inspiration for their work," explained current producer Edward Rice. "We haven't maintained that particular task with some of the other things we've done, but the idea of having some sort of unifier throughout our programming is something that we've tried to maintain."
Deborah Lohse Photo John Birdsong
Rasmussen has since moved, so RoofTop no longer has access to that particular roof. Thus, they have been searching for new roofs, and in that search they found the Roger Smith Hotel. The hotel holds visual art and music events at its roof top bar. RoofTop producers felt that the bar wasn't exactly what they were looking for, but then they were introduced to the hotel's other art venue – the Window at 125.
The Roger Smith Hotel uses the Window as a venue for its Introducing Series. In that program, an established visual artist formally introduces an emerging visual artist to the community, and the emerging artist creates an installation that can be seen in the Window for several weeks. RoofTop has worked with the Roger Smith Hotel to create a new iteration of this series, RoofTop/Ground Floor.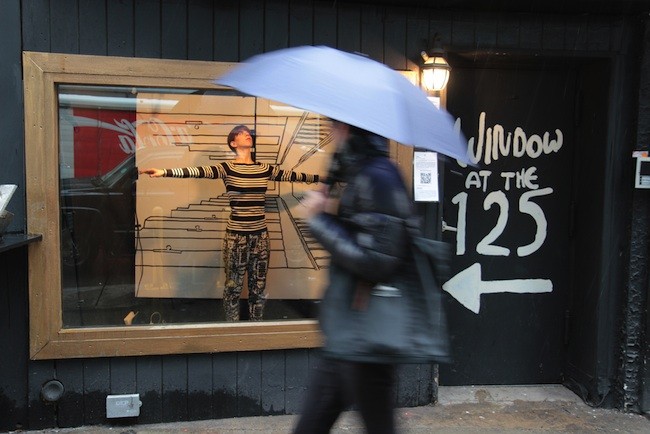 Jillian Sweeney Photo John Birdsong
"It's not quite the same dynamic of introducing less experienced folks, but we're thinking of it like introducing more downtown, experimental people to the midtown environment," said Rice. "We brainstormed about people that we were interested in working with for the entire year, because we are hoping to have performances again this upcoming summer. And then with that list we tried to identify people that we thought would really do well and really appreciate the opportunity to work in this very small, strange space. Whose work would be featured well and who would be interested in the durational aspect of this."
Each day of the series was also broadcast live on Ustream, so that virtual viewers could tune in as well.
"That was actually an idea of John Birdsong, the technical director of the Roger Smith Hotel," said Rice. "We find it to be really an amazing addition to our idea. It has allowed more people to experience the work, and the video of each day is still available for people to watch. And it's a really different perspective. It's back, top, and side angles, versus the one that we see through the window."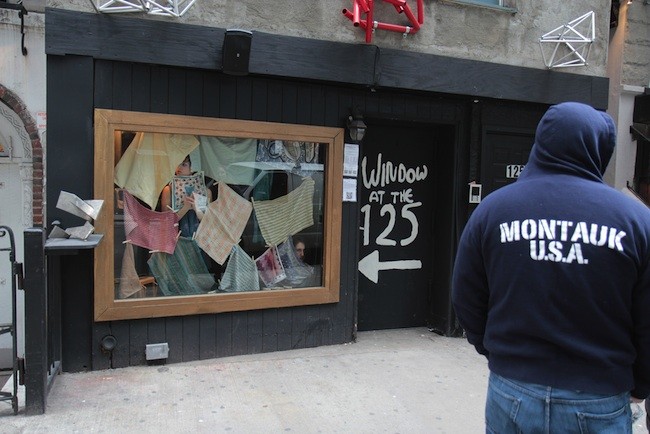 Kirsten Schnittke Photo John Birdsong
On March 15th,
Kirsten Schnittker and her dancers Rebecca Hadley and Emily Giovine inhabited the window with clarity and focus. They seemed entirely absorbed in their little world, exploring every surface of the diminutive room. At one point, they created a patchwork covering for the window, fastening together colorful cloth scraps with clothespins so that they hung over the window with small spaces in between. They stuck their hands and faces through these gaps, dramatically altering the experience of watching through the window. They had started with a stark, open space in which every inch was fully visible, and suddenly exerted a powerful control, choosing which of their body parts would be seen by thrusting them through the drapery.
"I think what is most interesting to me is watching other people watch what happens in here," said Rice. "Moments that change the trajectory of a person's day."
---
The Dance Enthusiast Interviews The People Who Make Dance Happen. 
For more Dance Enthusiast Day in the Life pieces, which connect audiences to the behind-the-scenes of dance, click here. 
---
The Dance Enthusiast's DAY IN THE LIFE covers the stories behind dance/performance and creates conversation. For more behind-the-scenes stories from NYC and beyond, click here.
---
The Dance Enthusiast - News, Reviews, Interviews and an Open Invitation for YOU to join the Dance Conversation.