Related Features
Advertise With Us
Make an impression - place an ad on The Dance Enthusiast. Learn more.
Contribute
Your support helps us cover dance in New York City and beyond! Donate now.
The Singular Voice of Woman

Two Women Choreographers From Two Different Parts of the World Speak Dance
The Singular Voice of Woman
Dance Makers Nelisiwe Xaba and Tami Stronach Speak Dance
September 18, 2012
---
Garnet Henderson reporting for The Dance Enthusiast

This week, New York audiences are in for a full and exciting slate of performances – two venues will feature female choreographers tackling issues of identity, politics, relationships, personal history, and gender.

First, New York Live Arts presents Voices of Strength, a mini-festival of dance and theater works by women from Africa. Voices consists of two programs. Program A, which can be seen September 18 and 19 at 7:30pm, features Correspondances with Kettly Noël and Nelisiwe Xaba, and Quartiers Libres with Nadia Beugré. Program B, showing on September 21 and 22 at 7:30pm, features Sombra with Maria Helena Pinto and Madame Plaza with Bouchra Ouizguen.

Second, Tami Stronach Dance presents a bill of three works at Dance New Amsterdam, showing September 19 through 22 at 7:30pm. The engagement features the world premiere of Stronach's Me and Not Me, a work in progress entitled Close, and a re-staging of the solo Mother Tongue.

"I'm really excited to finish it," said Stronach of Me and Not Me, which she worked on for about two and a half years. Stronach began creating the piece while she was pregnant, and that experience had a strong impact on her creative process. "I think because I was pregnant, it was kind of inevitable for me to start asking questions about me and not me, the relationship between self and other," said Stronach, "I started to think about the way that memories are a part of you, or you try to discard them and disconnect from them. I thought about body parts – hair, fingernails, that are a part of you, but when you clip them off they're garbage."



Tami Stronach with baby her inspiration for Me and Not Me; Photo by Fiorenzo Borghi

These grand conceptual ideas manifest on a practical level in a duet between two women. "One of the women is caught in a sort of dream world. She keeps doing these impossible tasks, and it's almost like she's locked in the past. And the other is a visitor to that space. And she's much more practical and wants to move forward," said Stronach, "It's about nostalgia, nostalgia for the past versus angular marching forward."
A kind of nostalgia, or desire to reconnect with the past, was a component of the inspiration for Mother Tongue as well. Stronach made the piece for her mother, but it was also born out of a desire to rediscover her own roots. Stronach and her parents lived in Iran when she was young, but left in 1979 because of the revolution.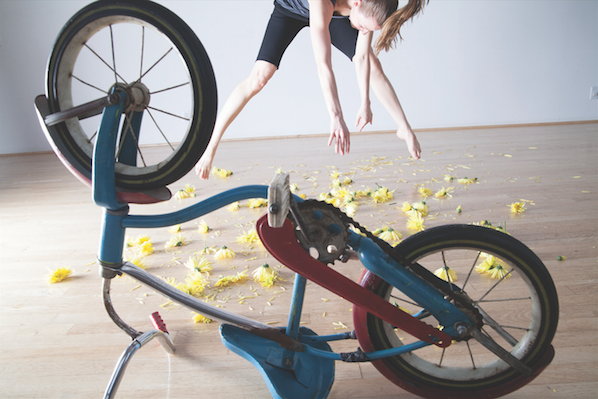 From Me and Not Me ;Choreography Tami Stronach Photo by Fiorenzo Borghi

"It was around September 11 when I started making the piece, because I felt the need to kind of claim a connection to my Iranian roots that was not political. That was personal," said Stronach.
Mother Tongue
makes use of old footage of archeological dig sites in Iran taken by Stronach's parents who were archeologists. "I wanted to approach the sound of the language and what it did to my nervous system, the smell of the food and what that did to my nervous system. And the images of the digs, and what they did to my nervous system," said Stronach, " I spoke Persian. It was my mother tongue, but I don't remember any of it."
Finally, Stronach and her dancers will present
Close
, a work in progress that uses cameras on and around the dancers to present a new perspective to audiences. "I wanted to get the audience inside of the piece. I feel like there's always this tension in dance between the kinetic experience of the dancer and the visual experience of the audience," said Stronach.
The
Voices of Strength
performance series will also explore the complex connections between performers and their audiences.
Dancer and choreographer Nelisiwe Xaba, who co-created the duet
Correspondances
, explains that "it's a piece about two women, two girls, who are exploring their relationship. The piece is based on conversations. Conversations about the world, conversations about daily life, conversations about politics, conversations about men."

Nelisiwe Xaba and Kettly Noël (Pictured L-R) in Correspondances;
Photo: Eric Boudet
Xaba looks to enter into a dialogue with her audience. "When I choreograph, I don't think of myself as making steps," she said, "It's always inspired by what I want to say, or a conversation that I want to start… I use lots of props sometimes, and these days I'm into videos, so it always changes based on what I'm saying or what I want to explore."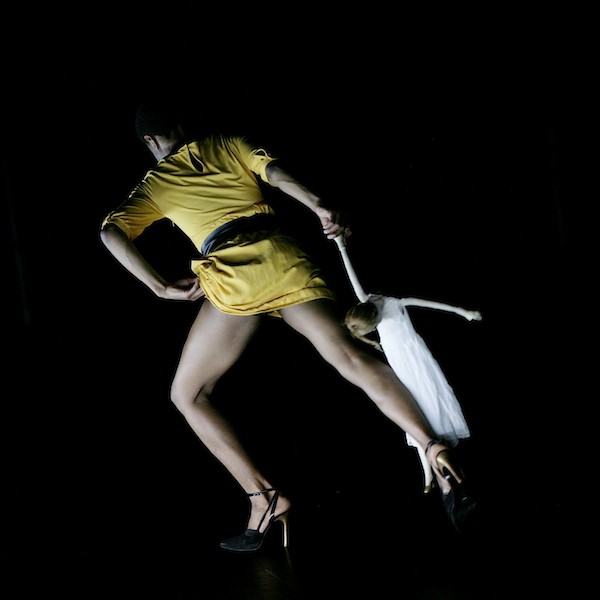 Nelisiwe Xaba in Correspondances ; Photo: Eric Boudet
A native of South Africa, Xaba says that she sees a "male dominance" in the African dance scene.
The Voices of Strength
artists are significant, she says, because "these women actually have something to say. These women, actually, are strong."
Xaba creates with a global audience in mind. "I'm always considering the fact that one day I will do a piece outside of South Africa… What will someone in America say or think, or what will someone in Europe think? I'm also interested in how to present myself, how to put myself on the stage with an audience that doesn't know me. I think today we live in a global world. But when you come from Africa, people always forget that you belong to the global world. And actually, we're playing with that, especially in
Correspondances
, we are part of this global world."
For Tickets and to find out more about the Performances of Nelisiwe Xaba and the other African women choreographers of Voices of Strength at New York Live Arts
Click
here
For Tickets and to find out more about the Performances of Tami Stronach at Dance New Amsterdam Click
here