Related Features
Contribute
Your support helps us cover dance in New York City and beyond! Donate now.
Throwback Thursday #TBT: Dance Up Close to MADboots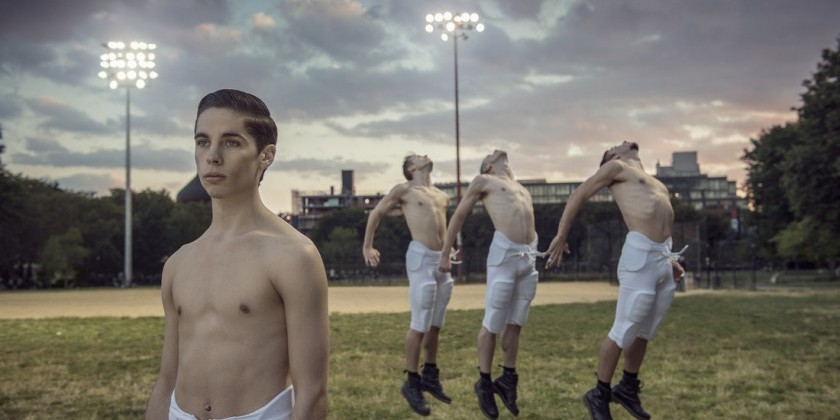 Looking back at our coverage of MADboots as they prepare to perform at Jacobs Pillow
*MADBOOTS DANCE will be performing on  August 26-30 | Doris Duke Theatre
Wednesday through Saturday 8:15pm
Saturday and Sunday 2:15pm
Tickets: $35, $25
For more information go to the Jacobs Pillow Website
---
In 2011, Jonathan Campbell and Austin Diaz formed MADboots dance co. on a whim after discovering an intriguing artistic chemistry. Devoting themselves to creating works exclusively for men, Campbell and Diaz balance artistic director duties through a blend of compromise, collaboration, and the conviction that two viewpoints can elicit a more interesting response.
While MADboots dance co. may have originated as a lark, Campbell and Diaz have amassed an impressive resume in a short period of time. Their performing credits include showcases at Jacob's Pillow Dance Festival's Inside/Out series, the Duo Multicultural Arts Center, and festivals in Italy and Canada. They have taught master classes at Dance New Amsterdam, Broadway Dance Center, and throughout the United States.
Who is MADboots and How Does the Jonathan Campbell and Austin Diaz Collaboration Work?
Campbell and Diaz match their athletic, testosterone-fueled choreography with humanistic sensitivity. They enjoy pushing against the boundaries of conventional movement to form complex and rigorous phrases that resound with virtuosity.  While being an all-male company may submit them to stereotypes, MADboots dance co. strives to produce choreography that transcends gender and speaks to the duality that resides in us all.
Why is MADboots An All-Male Dance Company?
The 92Y  presented the world premiere of ACADEMY the first weekend in December 2013. Stimulated by the pervasive sports culture that manifests itself from peewee football leagues to crazed fans attacking each other, this piece explores athletic regimes and group rituals. The soundscape highlights a collection of found sounds, which range from the contrapuntal brightness of Bach to droning electronics.  Costume designer Alexandra Johnson will outfit the quintet in padded pants and crop tops, the latter a signature feature of the MADboots dance co. aesthetic.
Garth Johnson, Dancer with MADboots dance co., Talks About His Solo work in Academy.
One highlight of ACADEMY is dancer Garth Johnson's solo. He explores the transition from outsider to in-group member through a passage rife with assaultive motions. "The solo is really physical, and I feel like there are many spastic moments. I push my boundaries to the limit and expand my skin throughout the whole solo," Johnson explains.
MADboots dance co. appeared as part of the 92Y's Dig Dance: Weekend Series. blue, a piece created earlier this year for the Duo Multicultural Arts Center, will also appear on the program. Taking its inspiration from Picasso's blue period, this work utilizes text by Christopher Moore. 
---
*MADBOOTS DANCE will be performing on  August 26-30 | Doris Duke Theatre
Wednesday through Saturday 8:15pm
Saturday and Sunday 2:15pm
Tickets: $35, $25
For more information go to the Jacobs Pillow Website
For More Information about MADboots dance co.
92Y presented MADboots dance co. on December 7, 2013 at 8pm and December 8, 2013 at 3pm
I