#ThrowBackThursday: Aubrey Lynch and Gary Lewis Reflect on Their Experiences as Original Cast Members of 20-Year-Old "The Lion King" on Broadway
From Disney-animated film to Broadway musical, from television spin-offs to a CGI remake slated for 2019, The Lion King's many permutations are proof enough of a story with staying power. The Lion King on Broadway in particular — the third longest-running show on Broadway with more than 8000 performances — has met unprecendented success, and celebrated its 20th anniversary in November 2017.
Two original cast members, Aubrey Lynch and Gary Lewis, poured their hearts out to The Dance Enthusiast about being part of such a spectacular show.
---
From the very first day of rehearsal in 1997 through 2008, Aubrey Lynch was part and parcel of The Lion King on Broadway. No longer with Disney but now the Director of Dance at the Harlem School of the Arts, Lynch was truly instrumental to the musical.
"To backtrack my whole journey there," he draws a deep breath, "I was originally a dancer, then I became dance captain, the person responsible for all choreography in the show. After that, I became dance supervisor teaching the show overseas with a team. Next, I became the associate choreographer, working on behalf of Garth Fagan to help cast dancers from all over the world. Finally, I was an associate producer, in charge of the creative aspects of the show, to ensure that each company had a high level of performers all over the world. I helped mount 14 productions worldwide!"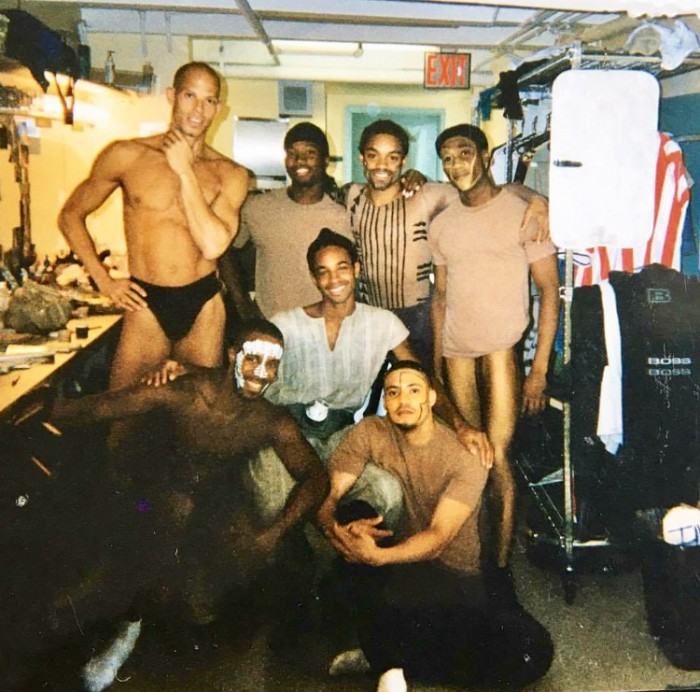 Front row L to R: Micheal Joy, Aubrey Lynch, and Gary Lewis. Standing L to R: Mark Davis, Levensky Smith, Peter Moore, and Tim Hunter.
Photo credit: Dresser Douglas.
 
Gary Lewis, on the other hand, had a shorter (but no less rich) stint from the fall of 1997 until 2001, beginning as Swing Dancer and Assistant Dance Captain at the New Amsterdam Theater, and culminating with The Lion King National Gazelle Tour.
"When they held the first audition calls, Angelica Edwards, who also became a cast member for many years, told me that I had missed the auditions for The Lion King in New York, but joyfully added that they were holding auditions in LA," recalls Lewis. "So, I caught the next flight!"
Lewis never aspired to be on Broadway, but was inspired by the movie and excited about Garth Fagan being the choreographer. "I made it all the way to the last cut. There were hundreds of dancers at the call, which was pretty nerve-racking. But, I made it. I'm an official 'Original Cast' member — I have the jacket to prove it."
When asked if he still has his 'Original Cast' jacket, Lynch smiles.  "Of couuurse." I have all kinds of Lion King memorabilia."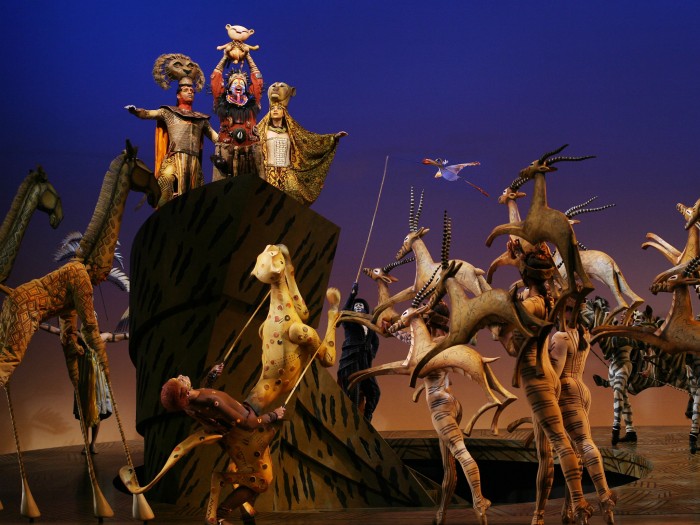 Photo courtesy of The Lion King on Broadway.
Today, artists auditioning for The Lion King have but to slip into roles. In 1997, however, the original cast fleshed out the characters.
"Because the show was being created, the roles were made on our bodies," explains Lynch. "In the original run, I changed costumes 19 times.  I played 19 different characters from the gazelle in the opening, to a shadow puppet, to grass, dancing vines, hyenas, to wilder beasts — [ I was] the whole jungle, basically!"
"Being an original cast member made the experience more rich," says Lynch. "The problem-solving needed to create the show was  extraordinary. It changed my life completely. Everything that I ever learned came into play, from studying dance to training as an actor, and singing to designing sweaters. Every skill that I ever acquired, I needed to use to help The Lion King come together."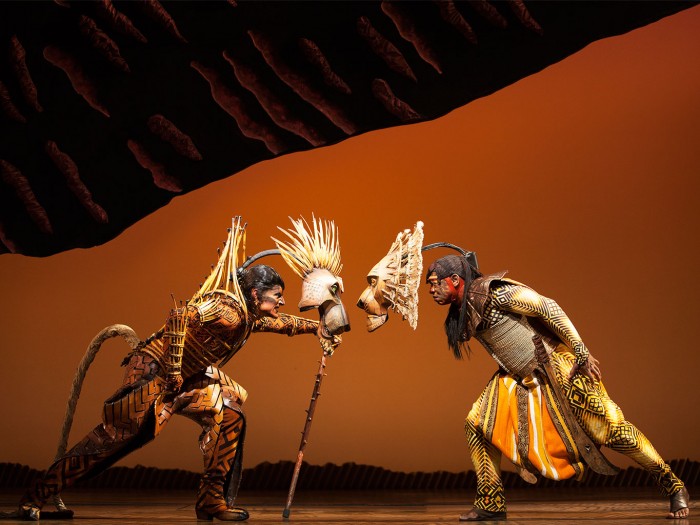 There is extensive use of puppetry in The Lion King on Broadway. Photo courtesy of The Lion King on Broadway.
Further cementing the belief that he was born for the part, Lynch continues, "Ironically, my father used to play South African folk songs in the house. So when I heard 'The Circle of Life' being sung in the rehearsal studio for the first time, it was like going back home. I knew those voices, recognized the language, the sounds, and those chords. And interestingly enough, my brothers and I used to create puppets. I made them, animated them, made costumes for them and gave them characters, wigs, and voices. So It was very natural when I picked up the gazelle for the first time. It kind of just came to life."
Likewise, Lewis, a native of the St. Thomas, US Virgin Islands, believes that his childhood experiences in the islands deeply informed his journey to the stage. Ending up on Broadway, though he hadn't considered it as a career move, was natural. "Even before I started studying dance formally at the age of 12, I was exposed to Calypso music, Soka music, Reggae, R&B, Disco, and Soul. Many local talent shows and televised performances  inspired me to perform in my living room and bedroom; sometimes even in the yard."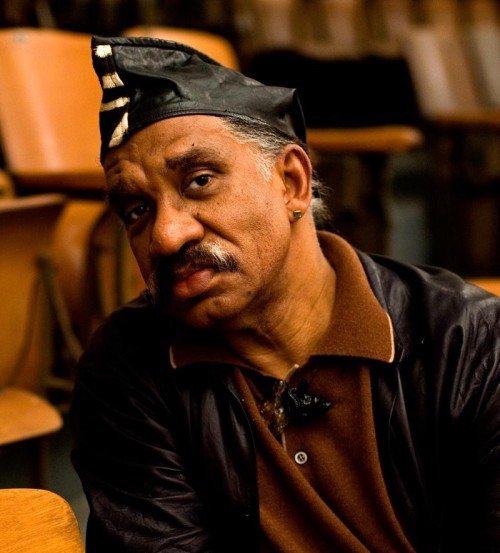 Photo copyright: Garth Fagan.
While discussing the production's movement vocabulary, mentors such as Garth Fagan and Julie Taymor naturally pop up in the conversation. "The movement was modern-based: Garth Fagan vocabulary, lots of jumps, play on rhythms, and balancing," says Lewis. "There use to be a ballet (pas de deux with upstage and downstage flying) in 'Can You Feel The Love Tonight' that is no longer in the show," he reminisces, somewhat regretfully.
Lynch describes Garth Fagan saying " [he is] always challenging himself to create something that no one has ever created, and he succeeds. He's one of those rare choreographers who actually creates new shapes. Fagan is committed to exploring every possibility.  He challenges traditional techniques, and finds new shapes in the air and in turns. He's so inspiring, you just want to do it. By the same token, Julie Taymor has extraordinary vision and extraordinary ideas. You challenge yourself to bring her imagination to life because if you can, you've found something extraordinary."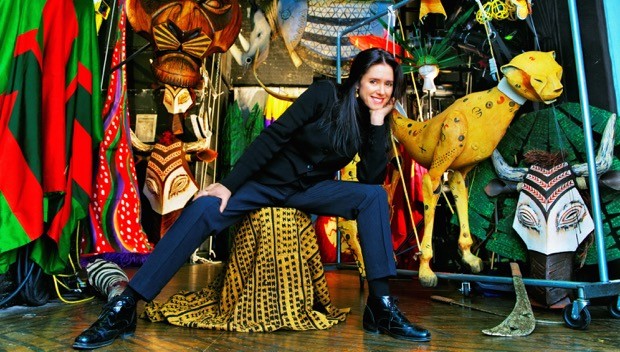 Photo copyright: Julie Taymor.
The Lion King celebrated its 20th anniversary on Broadway last month with a free performance at the Minkskoff Theater, a special appearance by Sir Elton John, funs and games for the public, and a special alumni gathering. "It was wonderful to watch the show on the 20th and to relive all of those memories of how it all came together. That it is still running 20 years later is a tribute to all the original people who have created it," says Lynch. "The Lion King gave the world permission to be creative. It brought ancient storytelling techniques and people of different nationalities together and celebrated humanity."
Lewis reminds us that: "The Lion King employs the largest number of South Africans and African-Americans on Broadway." And, most importantly to him,  "Cast members are like family — we stay in touch and genuinely love each other."  More than a song in a spectacular 20 year Broadway phenomenon, The Circle of Life idea holds deep personal significance to each of The Lion King players.
---
The Dance Enthusiast Interviews The People Who Make Dance Happen. 
For more Dance Enthusiast Day in the Life pieces, which connect audiences to the behind-the-scenes of dance, click here.