Artists Activated: Tiffany Rea-Fisher on Safe Spaces, Your Best Self, and Leading Elisa Monte Dance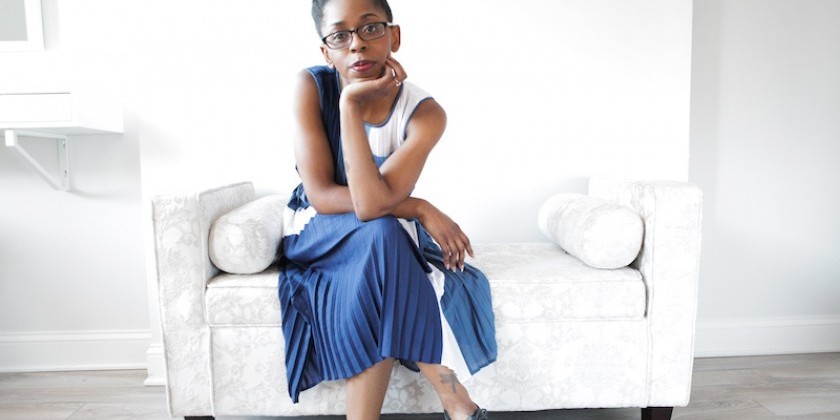 As the Company Prepares for "Best-Self Project" at City College's Aaron Davis Hall
Elisa Monte Dance (EMD) will return to City College's Aaron Davis Hall for two original evenings of collaborative works in celebration of their 37th season on March 16-17, 2018. For more information and tickets, click here.
---
"Being a small black female, people will ignore me," said Tiffany Rea-Fisher matter-of-factly. "Being seen and heard has always been important to me." Steadily pushing forward, Rea-Fisher, artistic director of Elisa Monte Dance (EMD), asks herself and her dancers, "What are we doing in our daily practices to bring our best self no matter is happening around us?"
Blondie's "Heart of Glass" as re-imagined by Philip Glass vibrated in Police Athletic League (PAL) Harlem Center, where EMD rehearses. Rea-Fisher said "Heart of Glass" has "a then-and-now sound," a quality that also emerges in the scooping, swooping shapes of her dance, which is punctuated with surprises, like a head coming through legs. Heart of Glass premiered at The Red Bull Stadium in front of 25,000 soccer fans during the Danone World Cup.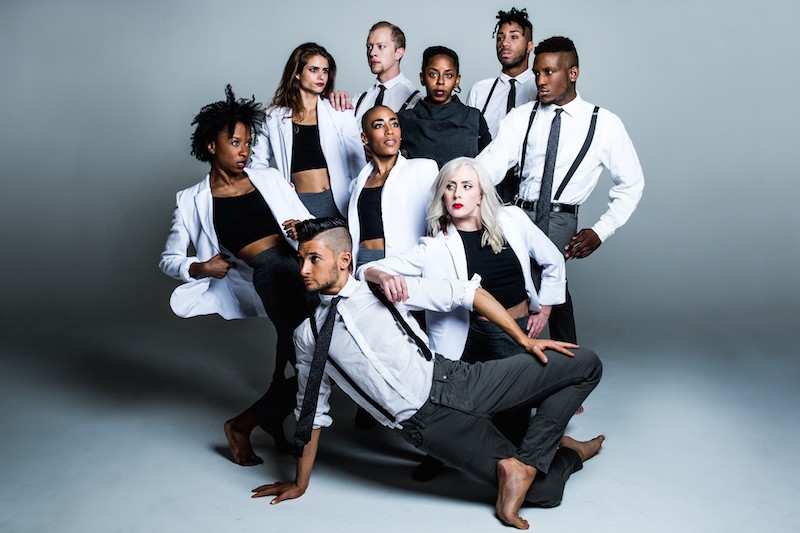 Elisa Monte Dance; Photo courtesy of the company
The PAL Harlem Center, on a gaily painted corner of 119th street and Manhattan Avenue, is EMD's new home. Being in Harlem was a longtime dream for Elisa Monte, the acclaimed white modern dancer and choreographer who started her company thirty-seven years ago. She received considerable support from the black dance community due to her, as Rea-Fisher put it, "grit and physicality. There's something very real about what Elisa brings to the table." The same could be said about Rea-Fisher who danced in EMD for ten years before she assumed the artistic directorship in 2016. These two women, of similar height and build, exude a stirring mix of focus, confidence, and drive.
PAL's website declares that the Harlem Center "is where leaders are born." That institutional ambition mirrors Rea-Fisher's desire to make the rehearsal room a safe place for the dancers to be themselves. "For me to push you (dancers) to push the best parts of yourself, to make you feel good about your capabilities of how you can affect change."
Tiffany Rea-Fisher; Photo courtesy of the company
"I am a strong believer that art can affect change," she said. "There's something fascinating about nonverbal communication. Dance can be a cathartic experience; it has the power to heal wounds, emotional wounds. Good art makes you think and makes you more curious to invest in the world we all share in a new way. It allows for care and consideration of others. My goal is to find how many ways art can affect change."
In the rehearsal of "I Am Somebody," a section from The Best-Self Project, twelve dancers dealt with "micro aggressions and macro aggressions," while still cherishing moments of connection. After being jostled and challenged, two black men jump and slap arms in their recognition of being witnesses to an un-called-for slight. Rea-Fisher said, "There's something nice about making eye contact with a stranger and saying 'you saw that, right?' I like to pull recognizable moments in life and put them on stage, so the audience has multiple entry points into this world that I am creating."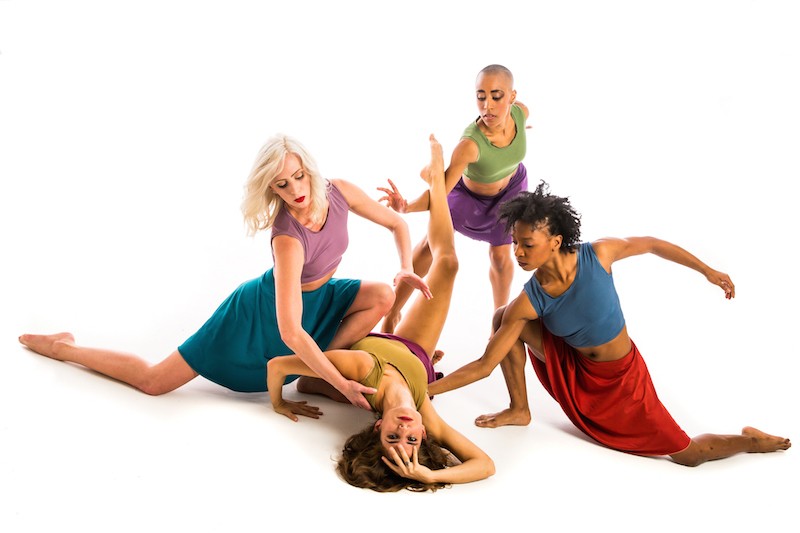 Elisa Monte Dance; Photo courtesy of the company
Responding to the question of how she keeps herself fresh, Rea-Fisher replied, "I'm an art lover. I love German Expressionism. I love Russian Poetry. I like being inspired by artists in other genres. Right now, I am involved with two plays, and I love sitting with the director going line by line with artists. It helps me with my search for best and better practices. I am constantly learning what I don't know. I believe that if you indulge in all your passions and interests, your well — from which you can pull — gets deeper."
The Best-Self Project, Rea-Fisher's timely evening-length work that will premiere at City College's Aaron Davis Hall, March 16, involves an emcee, mimicking a civic discussion with live and recorded music, to engage the audience. On March 17, EMD's program includes a vocal performance of I Won't Cry Anymore by Tony Danza, backed by the ladies of EMD; a restaging of Rea-Fisher's 2012 solo, Identity, set on Clifton Brown; a collaboration with 2017 Hoofer Award winner Ayodele Casel; Heart of Glass, and Tilted Arc. Rea-Fisher will also perform in a new tango-inspired duet with Thomas Varvaro.
Tickets can be purchased here.
---
The Dance Enthusiast Covers What Dancers Are Talking About and Creates Conversation.
For more Behind the Scenes Stories of the NYC Dance World Click on our Day In The Life of Dance Section.