​Tony Bordonaro and Ingrid Kapteyn's "CAMPFIRE" an Immersive Evening at The Tank in New York City
Empathy at The End of the World
CAMPFIRE
at The Tank in New York City January 4th and 5th, 2019, 7 PM
Tickets $20 at thetanknyc.org
---
"If you were the last person left on earth, what would you do?"
We've all been asked this question at some point: in a getting-to-know-you game of hypotheticals, or in a rambling conversation at a cocktail party, perhaps even in the quiet corner of our own minds. What would​ you ​do?
Answers range from flippant and comical (raid a mall, walk around naked, drive as fast as I want) to practical (first, search for shelter, find a water source, then farm something). A Google search reveals innumerable creative strategies.
What's certain is, as the last being on earth, the loneliness would be unfathomable. How strange and unsettling to exist without competition, consensus, or confirmation of your experience.
But, what if there were two of you against the unknown void? Isn't that much better? Or is it worse?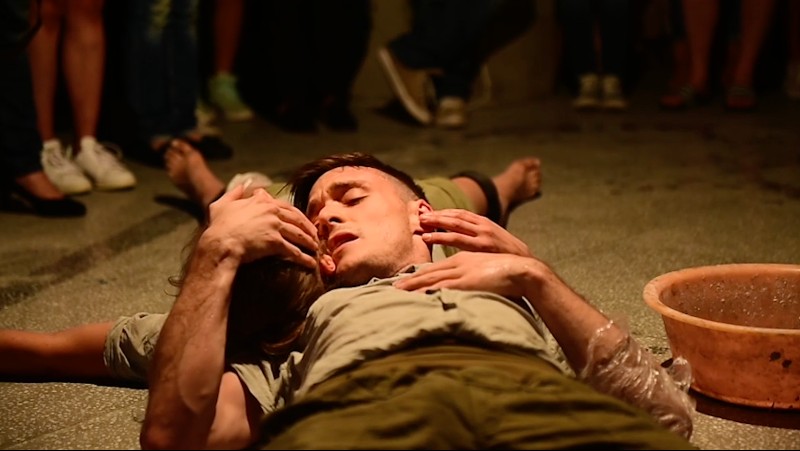 Video Still from CAMPFIRE the video; Courtesy of the Artists
These are the central questions of ​CAMPFIRE, ​Tony Bordonaro and Ingrid Kapteyn's co-created, immersive dance theater production showing at The Tank this January.
Two characters, each convinced they are the last being on Earth, meet in an abandoned space. Unsure of their safety and wary of each other, they are forced to grapple with companionship. "We need to work together whether friend or foe," Kapteyn explains. "Through that, trust is built."
CAMPFIRE​ was conceived in Shanghai, while Bordonaro and Kapteyn were performing in the cast of Punchdrunk's ​Sleep No More.​ Six months into their contracts, they were inspired to choreograph something new.
Video Still from CAMPFIRE the video; Courtesy of the Artists
Both artists share a fascination for technology, artificial intelligence and end-of-the-world survival stories. "We thought the Sci-Fi setting of a post apocalyptic world would be a great place  to tell a tale of compassion and empathy and [question] whether these characteristics are learned behaviors or innate to human beings. What makes us human? Why are we different from Alexa and Siri? Is what makes us human that we can empathize?" says Bordonaro. "When the primary objective is survival, it really puts into question whether you can connect."
At a serendipitous networking event, Kapteyn met an expat curator who offered the artists an unfinished construction site (of which there is no shortage in the rapidly developing city) for the premiere. As is often the case with immersive productions, the environment acts as a crucial scene partner. "The space in China was very much under construction, unfinished, unkempt...It paralleled the idea of human beings getting left behind." Bordonaro says.
"You felt it the moment you walked in," Kapteyn adds.
They have intentionally crafted the intimate physical space of The Tank to replicate the raw environment of their original site. This time, however, they are adding scent to the experience. Collaborator Andrew Everett designed a three-part scent sculpture that will be diffused through the duration of the show. Everett's original scents, both abstract and acutely familiar, are crafted to trigger instinct and memory for the audience, further fueling CAMPFIRE's tale.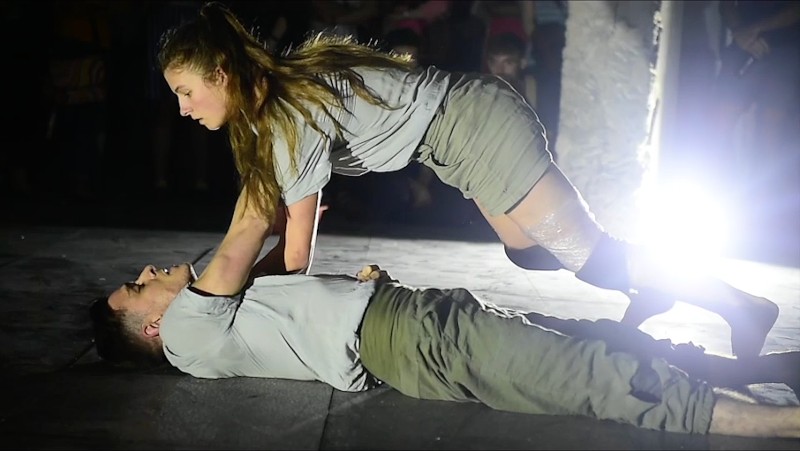 Video Still from CAMPFIRE the video; Courtesy of the Artists
With audience in the round, the performers are able to draw them close. "We loved the idea of the community around our fire, hearing this tale," Bordonaro says. "Fire is so primitive. It's the beginning of time. When our world ends, when time ends, it will all start again with a fire."
An impetus to connect with the audience in real time is central to the ongoing work of both seasoned immersive performers. "I have little interest in building work that divides the audience from the performer, says Kapteyn. "There is an inequality in that -- We are sharing an experience, and the desire to tell a story is at the forefront..."
In ​CAMPFIRE's version of the end of the world, people do not become mere robots. No matter how isolated the characters seem, a reverence for elemental roots and relationships remains. Referring fondly to " the old world" being abandoned, it is clear that Kapteyn and Bordonaro are unwilling to surrender its' expression and connection. Theirs is a story in which we are never alone.
---
The Dance Enthusiast Covers The Stories Behind Dance Performance, Speaking with Artists and Creating Conversation
For more Behind-the-Scenes Stories of the NYC Dance World Click on our Day In The Life of Dance Section.