Dance Up Close to the TRISHA BROWN DANCE COMPANY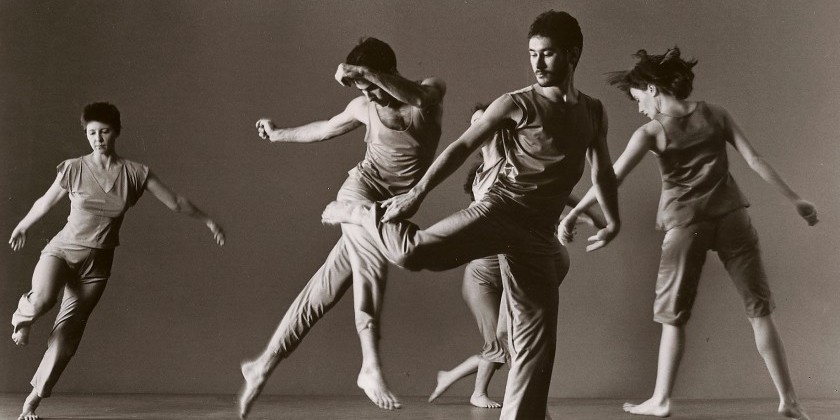 as Diane Madden rehearses the company for NEW YORK LIVE ARTS shows
For tickets and information  Trisha Brown Dance Company at New York Live Arts
Tue. 4/8 - Sun. 4/13, click to visit  New York Live Arts' website
For more information on Trisha Brown Dance Company , click to visit Trisha Brown's website
---
After an exciting Gala Celebration and a vibrant one week residency, Trisha Brown Dance Company is eager to share a range of work spanning from 1976 to 2011 at New York Live Arts. Who better to give The Dance Enthusiast an inside look at Trisha Brown's choreography and legacy than Diane Madden, the company's Associate Artistic Director?
Madden's role as the company's rehearsal director began in 1984, just four years after she'd joined. No one else had ever been rehearsal director, and, outside of some breaks for parenting, Madden has held the position exclusively. It is a role that requires constant on the job learning.
BECOMING REHEARSAL DIRECTOR - LESSONS LEARNED from ROBERT RAUSCHENBERG
---
At New York Live Arts, the company will be sharing four works: Solo Olos (1976), Opal Loop/Cloud Installation #72503 (1980), Son of Gone Fishin' (1981), and Rogues (2011).
Son of Gone Fishin' was one of the first dances created on Madden after she joined the company. She shared her memories of the creative process of this work, including the moment where the dancers thought the tasks given to them in rehearsal were so difficult  that they, according to Madden, "thought Trisha was kidding."
She wasn't.
---
HISTORY OF SON OF GONE FISHIN'
---
Brown's work has had many developmental phases, but she is often remembered for her avid disavowal that dance must come with or serve music. Son of Gone Fishin' was one of the  first works in which she invited a composer to develop the music to be danced to. Robert Ashley, who recently passed away, created an exciting score that left room for the play that Brown enjoys. In fact, the dancers never quite know what music they will hear.
SON OF GONE FISHIN' AND MUSIC
---
So after 44 years, what's next for the Trisha Brown Dance Company?
It is common knowledge, at least among the dance community, that maintaining a company continues to be more and more difficult, and Brown has set impeccable standards for her company even beyond art, such as carrying health insurance for all of her dancers.
Now that Trisha Brown has retired as creator and director, Madden offers us a glimpse of what we can expect from the company − and it's NEW MODEL for the future.  There is indeed much more to come.
THE FUTURE OF THE TRISHA BROWN DANCE COMPANY now that Brown is no longer creating new work.
---