Preview of Triskelion Arts' "Split Bill" series with Joey Loto, Hector Canonge & Veronica Pena, David Appel, and Joya Powell
Preview of Triskelion Arts' "Split Bill" series
Featuring the work of: Joey Loto, Hector Canonge and Veronica Pena, David Appel, and Movement of the People Dance Company
March 16th through 19th at Triskelion Arts
Tickets to Split Bill can be purchased here
Pictured above: Joya Powell's Movement of the People
---
Started in 2011, Triskelion Arts' Split Bill quarterly series allows emerging to mid-career choreographers to present longer and more complex work than the 15-minute standard in "showcases." Each Split Bill presents four artists in total, featuring two artists per night over the four-night series, so at each show, two different works are viewed side by side.
Split Bill commissions are 20-40 minutes in length, which serves as a stepping-stone for choreographers who'd like to eventually create an evening-length work. At least two of these participating artists or companies will be selected for a shared or solo run in the Muriel Schulman Theater as part of Triskelion Arts Presents' 2017-2018 Season.
The upcoming Split Bill, taking place March 16-19, will highlight the never-before-seen work of Joey Loto, Hector Canonge and Veronica Pena, David Appel, and Movement of the People Dance Company. For their participation in Split Bill, these artists were granted (in addition to the two performances), a percentage of the box-office sales, lighting design by a resident designer, ticketing services, box office management, press and marketing support, and postcard and program design and printing.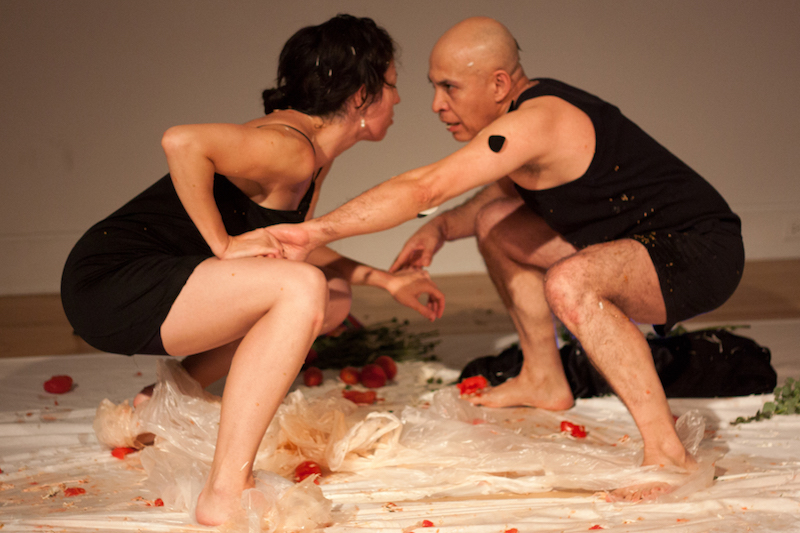 Hector Canonge and Veronica Pena; Photo by Canonge Studio NYC
Movement of The People Dance Company will present Hair Ties, an interdisciplinary piece inspired by the 19th-century Tignon Laws, which forced women of color to cover their hair in public. Choreographer Joya Powell worked with filmmaker Evelyn Greene to video interviews with seven self-identifying women of color about how they see themselves when wearing head wraps.
"I was interested in how woman are perceived when wearing the head wraps," says Powell. "Much of the movement in the piece stems from the patterns and pathways that our bodies take when going through the motion of wrapping our hair."
Powell also collaborated with playwright Amina Henry, who wrote the poetic text that accompanies the piece. Hair Ties celebrates Black creativity, beauty, and resilience in the face of oppression. Though the current political climate was not anticipated at the work's conception, Powell's exploration of institutionalized xenophobia lends new meaning to the work.
Joey Loto presents PLAY KID, a trio that explores the development of identity through investigation and play.
"The title serves as both a command, like advice you would give yourself to play while you're still young, but also as a character," says Loto. "Sometimes the three dancers are three different characters, and sometimes they are three sides of the same character."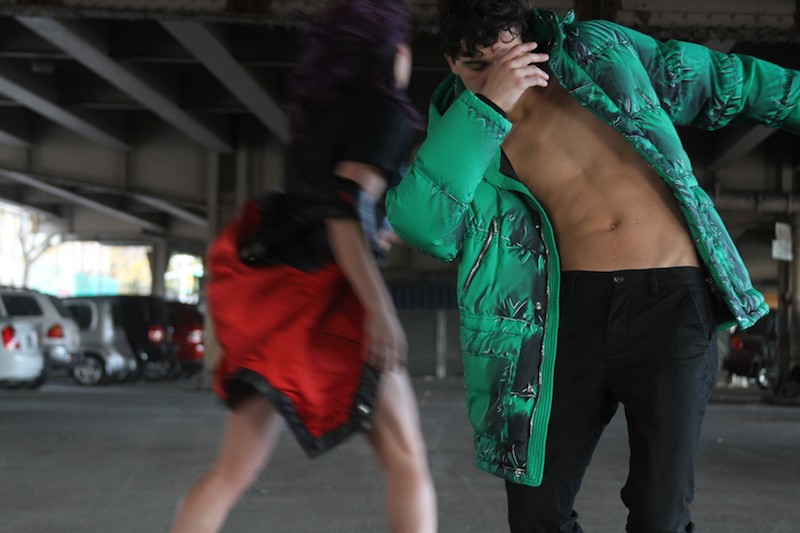 Joey Loto; Photo by Walker Hinerman
Throughout the piece, audiences will rarely see the same movement phrase twice as Loto aims to overwhelm them by the volume of material presented. Similarly, the movement draws from a wide variety of dance vocabulary. "I feel like I was trying to combine every one of my dance backgrounds into one work," Loto explains.
For music, Loto edited and combined two tracks by Arthur Russell, a composer who worked in New York City in the 1980s and was discovered posthumously. "I identified with Russell's work because he never really settled on a genre. I thought it was a good match for this piece," says Loto.
While PLAY KID isn't necessarily autobiographical, Loto hopes his work will speak to the experience of being young in a big city: the constant sensory overload, the overwhelming amount of people and things, and the transience.
Hector Canonge and Veronica Pena present De lo Posible, a movement-based performance-art work informed by Butoh practice and traditional dances from Spain and South America.
"The work is about a coming together of cultures as a product of ethnic incorporation to generate something." Canonge says.
Chronologically, the piece sequences through three major actions. "Encounter" is a coming together. "Rupture" is a crack that exists that breaks open, giving way to individuality. "Harmony" is a resolution.
All of its multimedia elements, from projected text to live electronic sounds and lighting design, are designed by Canonge and Pena to create an immersive environment for the audience. They make all decisions together, often working over Skype since Pena lives in Indiana. De lo Posible is the third in a seven-part series that Canonge and Pena will create together in this same methodology.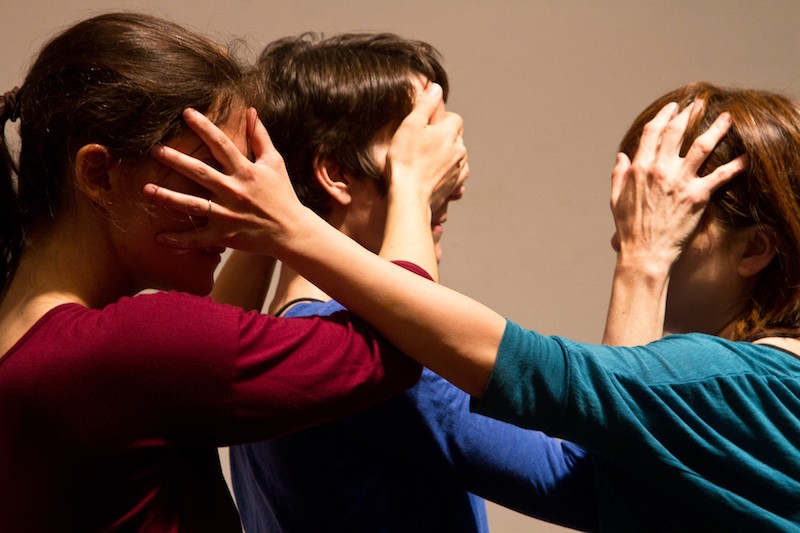 David Appel; Photo by Stephanie Crousillat
David Appel's Little Dances in Uncertain Times is an exploration of human interaction and our responses, both unexpected and preconceived, to our environment. Appel's process mirrors the work's investigation as he puts forward his internal vision while simultaneously listening and responding to external stimuli.
"As a choreographer, I find that the process of composing can be as much about listening as it is driving forward from a particular vantage point," says Appel. "In the course of working, I realized that rather than being rigidly locked into my original focus, it was crucial to take into account (the dancers') responses to the hypotheses I was presenting. Which means playing a balance between what our investigations have revealed and what I intended to do."
The structure of the piece will be set, but within the form, Appel leaves room for nuance and variation: Some choices will happen in the moment of performance.
Says Appel, "What enthralls me about this work is the challenge of creating something that makes use of what we know and what might surprise us. Perhaps a parallel with the disparities we're always dealing with in our lives generally?"
---
The Dance Enthusiast Creating Conversations/ See More Conversation in The Day in the Life section
For more on Day in the Life stories, click here. 
Share your #AudienceReview of this show or others for a chance to win a $75 giftcard to Trader Joe's.