Related Features
Contribute
Your support helps us cover dance in New York City and beyond! Donate now.
The Dance Enthusiast Hits The Streets: Triskelion Arts' Big Move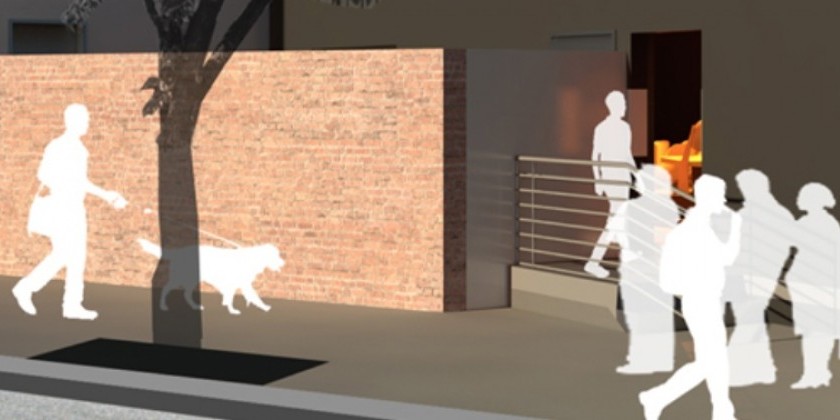 *As of September 1st, 2014, THE BIG MOVE is happening but, as with most construction projects, it's taking longer than expected.
*At the moment Triskelion's CollabFest Performances ( September 11th-September 14th)  will be held in the Aldous Theater at the old 11th and Berry location. Stay-tuned to the latest news/and performance locations at  www.triskelionarts.org and for info about the move triskelionarts.org/thebigmove/
---
In case you have been out of NYC all summer —perhaps touring; taking a well deserved vacation; planning your next magnum opus; or, tuning out of the performing arts world altogether (is that possible?) — you might not know that Triskelion Arts of Williamsburg is moving  to Greenpoint.
Triskelion's new facility is located at 106 Calyer Street in Greenpoint, Brooklyn, at the corner of Banker Street.
                                                           Take the G train to Greenpoint Avenue Nassau Avenue.                                                                       
The former N. 11th and Berry hub for creative venture and adventure (like so many dance spaces in the New York boroughs) will make the shift out after 14 years. The story is familiar one. With expensive condos and swanky hotspots springing up like weeds after a rain spell, arts spaces are departing the very neighborhoods that their unique presence forged.
But never fear, dance enthusiasts, change can be for the better. The Triskelion team, Abby Bender, irrepressible co-founder and artistic director of the organization (and according to Brooklyn Magazine one of the 100 most influential members in Brooklyn Culture); along with her technical directing cousin, Andrew Dickerson; and operations manager, Becky Radway, has found a new home at 106 Calyer Street in Greenpoint.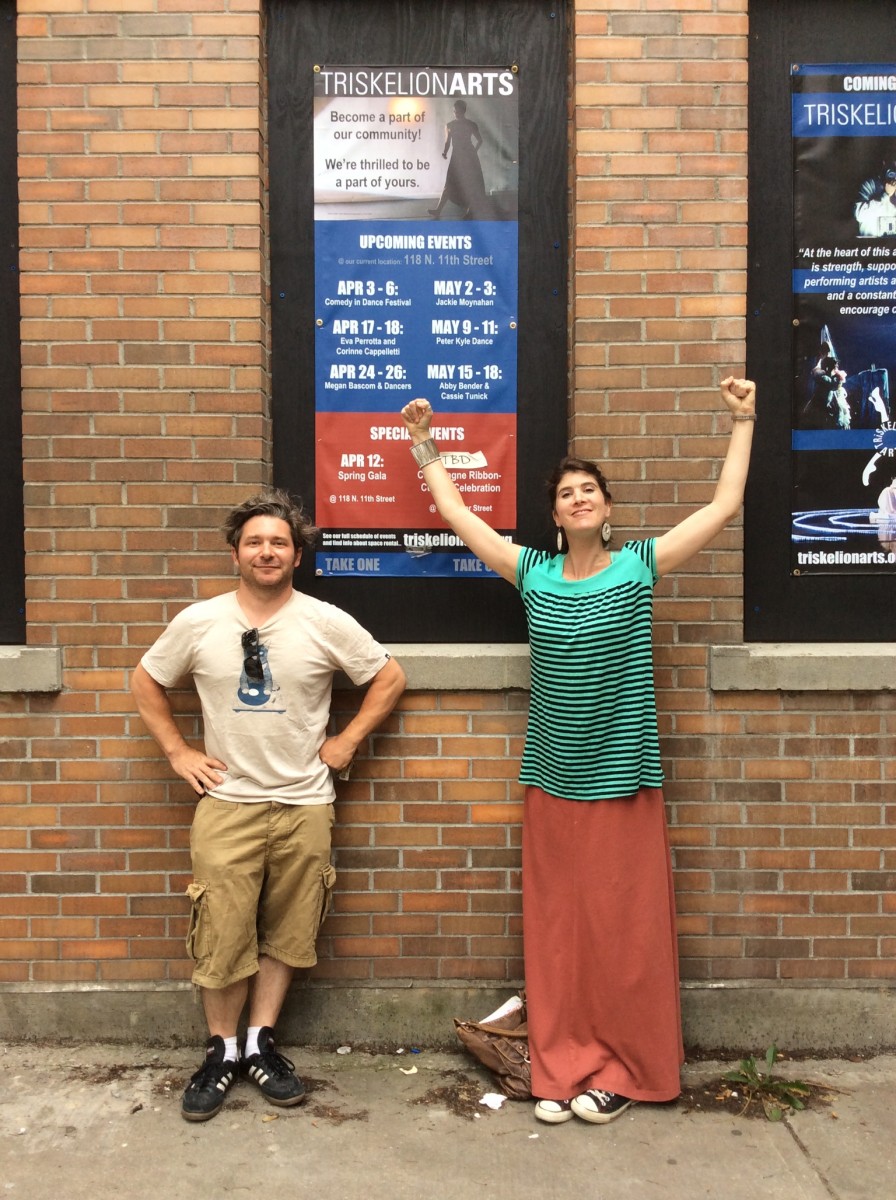 Andrew Dickerson, Technical Director and Lighting Designer, with Abby Bender, Artistic Director in front of The New Triskelion.
Photo by Christine Jowers
Unlike the current locale, where Triskelion is one of many tenants in the landmarked, early 20th century Hecla Iron works factory, (visitors may recall wafting emanations of polish and glue from the nearby shoe repair shop) the new venue, a two-story former contractors garage, will be dedicated solely to Triskelion.
Audiences and artists can expect an enhanced experience. Bold lettering and colorful posters on Triskelion's facade will proudly alert all passersby that there is an arts center in the community. Outdoor space for meetings and social occasions will make working easier and more pleasant. Climate controlled, naturally lit rehearsal spaces and theaters with high ceilings and flexible, state-of- the-art light and sound systems will give creators much needed tools to enhance their productions.  And, an exciting important change, the new building will allow people with disabilities to easily and safely enjoy the facility and will permit the Triskelion team to expand their programming to children and families.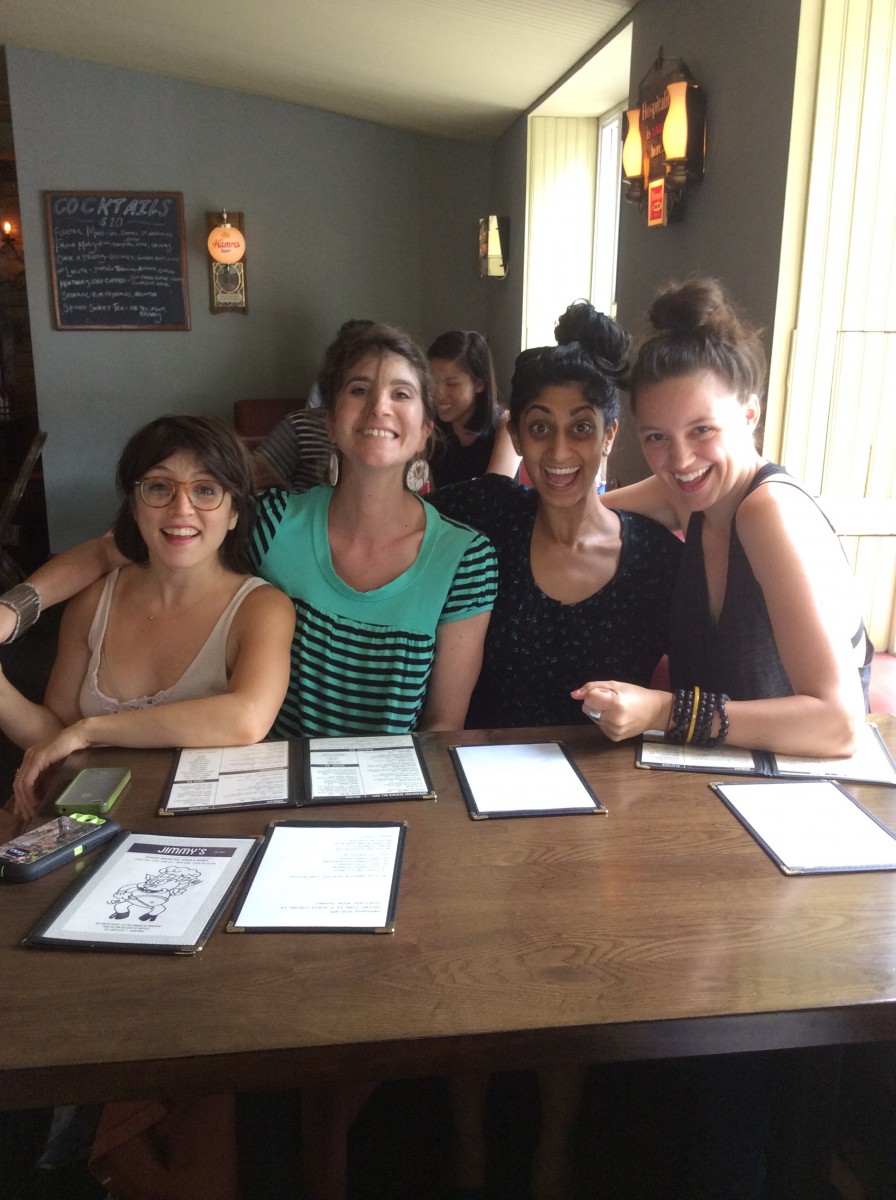 Abby Bender with Cocoon Central Dance Team (one of the many funny performance groups in Triskelion's Six-Year-Old Comedy in Dance Festival) at Jimmy's on Calyer Street, a great nearby hangout.
Photo by Christine Jowers
Already, as of June 2014, in the midst of construction, 45 companies had been booked to perform at the new Triskelion Arts between September and June 2015. "We don't have one particular aesthetic," says Bender, who admits to having 'weak spots' for "babies who have talent and people who have paid their dues." She is looking forward to producing Karen Bernard, the fearless New York City based solo performance artist, and founder of the New Dance Alliance and its 28 year old Performance Mix Festival; as well as veterans Bill Young and Coleen Thomas, in a dual concert with Matthew Westerby. Bender recalls Young's Manhattan studio as one of the first studios she rehearsed in years ago when the band of friends who started Triskelion was a collective known as Kickstand Dance. Westerby, who started his own company in 2009, danced with Jessica Gaynor, one of the many artists who have found an artistic home at Triskelion.
Triskelion doesn't commission but produces work by invitation, usually after Bender gets to know dance makers through Triskelion's open-to- all-artists Split Bill Series productions. The Split Bill Series pairs emerging artists for performances over a long weekend run, giving them a chance to show pieces up to 20 to 40 minutes long. This luxurious amount of time (the norm being 10 minutes or less in most NYC showcases) coupled with production support offered by Triskelion, gives newer artists opportunity to more fully realize projects and show audiences who they are. Some of the artists who've appeared in the Split Bill Series and have gone on to be produced by Triskelion are: Raja Feather Kelly, Chris Masters, Mana Kawamura, Megan Bascom & Dancers, Tough Cookie Dance, Chia-Ying Kao, cakeface, Dante Brown/warehouse dance, lonely goat, and Tami Stronach.
Bender who remembers being the only inhabitant on her block in a "straight up industrial" neighborhood circa 2000, describes herself as "happy to be in the position to take risks" in the new residential community of Greenpoint. This big move is going to be a good one.