A Day in the Life: Valerie Green Prepares For "Succession"
One Woman's Odyssey
Valerie Green/Dance Entropy Presents
"Succession" A One Woman Retrospective Odyssey
March 13 & 14 at 8pm, March 15 at 5pm
Green Space
37-24 24th Street, Suite 301
Long Island City, NY 11101
Choreography and performance by Valerie Green
Presale tickets $17 available at www.GreenSpaceStudio.org.
Tickets at the door $20
---
Wearing many hats is familiar to dance artist Valerie Green. The 42-year-old owns Green Space Studio in Long Island City; directs her company, Dance Entropy; and has created over 30 dances. Her latest, Succession, a one woman retrospective, encapsulates her diverse career. The performance also marks a dramatic shift in Green's life: She will soon retire from performing.
When you witness Green in action, whether she is onstage, teaching company class or running a work-in-progress panel, one is immediately struck by how naturally she takes charge. "From a young age, people saw that I was very organized and [in turn,] they put me in charge of things," she says while icing her knees after a four-hour rehearsal.
One of those 'things' was managing the Broome Corner Studio in Soho for eight years. "There was a sense of pride in helping make possibilities [for artists]," Green remembers.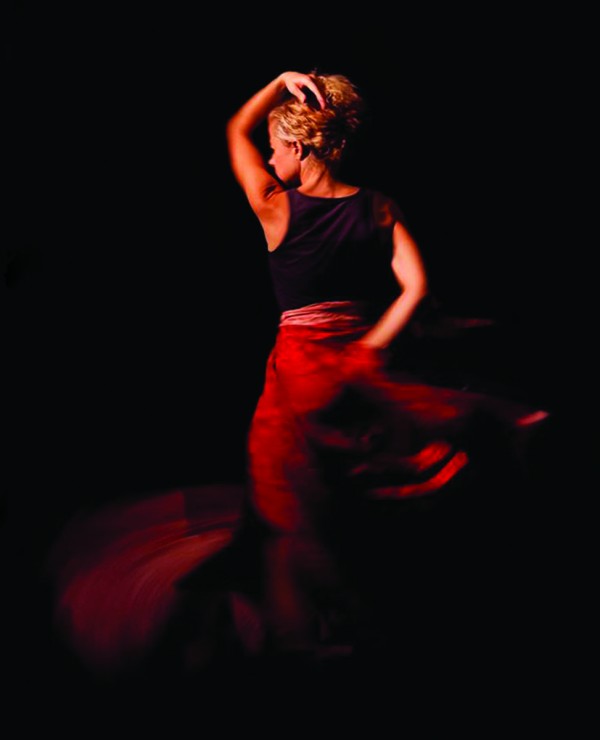 Photo: George Gio

When spaces in Soho began to close, including Broome Corner, Green wished to continue to assist dancers by opening her own studio. She founded Green Space in 2005; her vision was "not to only be a place for my own company but for many artists." In 2014 alone, the organization served over 260 performers through its varied programming.
Green is often approached by younger dancemakers who ask--sometimes incredulously--how she stays focused and motivated, especially while making solo work. Confessing that she always feels inspired, Green reveals she constantly has several ideas simmering on the backburner.
The vision of Succession percolated in the recesses of her mind for a while. "It starts as a seed. Sometimes it's an idea that I don't even fully understand yet... It's as if the concept is in a dream state," Green says, describing how her dances begin to take shape.
 
Photo: George Gio

In fact, the imagery of Secret of the Girl with the Flowers (2012) came to the choreographer in a dream. Part of the work appears in Succession and is one of the most intense sections for Green to perform. Surrounded by hundreds of silk flowers, she assumes the roles of several female archetypes, undergoing an otherworldly experience as she channels different characters.
Secret of the Girl... is one of several repertoire pieces that weave through Succession. Listing dirt, water, and an installation comprised of branches, Green explains that these naturalistic design elements, coupled with her spirited dances, symbolize this new phase of her life. "It was a fascinating and exciting process to see how each of the excerpts had layers that connected to one another," she says. "Even though Succession is related to my life cycle and journey, I feel that it can be anyone's story. I hope that those who will be watching will connect with it... it's bigger than me."
Green's performance career may be concluding but she won't be slowing down. Other aspects of her rich life's work will take on new hues and dimensions. Green will continue to manage Green Space while choreographing and directing Dance Entropy,but she also plans to be listening to the needs of the dance world with fervent attention.