DAY IN THE LIFE OF DANCE: A Beginner's Guide To Dance On Google Arts & Culture
Exploring Dance Via Companies, Categories, Cultural Themes and More
An inexhaustible source of entertainment and education for dance and art enthusiasts, Google Arts & Culture has become one of our favorite ways to pass the time during lockdown. The cultural playground is the perfect place to feed one's curiosity at a time when most of the world's museums, theatres and art institutions aren't able to receive visitors. Best of all, the platform charges not a single cent.
Available on both the Apple App store and Google Play, Google Arts & Culture affords a more seamless experience through the smart phone application, but can just as easily be explored on your browser. We tried both, and found using one's desktop better for drinking in the details of some photos, videos and manuscripts. However, certain interactive features, such as art filters (take a selfie of yourself as Frida Kahlo, complete with a pet monkey around your neck) require a front-facing camera that is easier to manipulate on your mobile phone. The following finds rank among our favorite:
---
Delving into a Visual History of Dance Companies

Martha Graham in Primitive Mysteries (1931). Credit: Ed Moeller

Camille A. Brown. Credit: Whitney Browne

Deer Dance (1974) by Jose Coronado. Courtesy of Ballet Hispánico
Content on Google Arts & Culture is organized by themes, venues, collections, stories, user galleries and more, which can take some getting use to, but don't overthink it. Navigating becomes second nature after some minutes of browsing, and after an hour or so, it's easy to call yourself a near expert.
Key in "dance" in the search bar and you'll be immediately presented with some of our favorite companies' Collections. The Martha Graham Centre of Contemporary Dance collection, for instance, includes six online exhibits touching on several topics, from Martha Graham's technique to an in-depth look at modern masterpiece Primitive Mysteries (1931). The Camille A Brown & Dancers collection, on the other hand, provides a comprehensive overview of the award-winning choreographer's oeuvre. For those unfamiliar with Brown's theater work, this online curation serves as a more than adequate jumping-off point. But what gladdened this writer's heart was being privy to Ballet Hispánico's 50 years of repertory through old photographs from the 1970s and 1980s. While today's fans may be familiar with works such as Club Havana and CARMEN.maquia, very few have heard of Deer Dance, which celebrates the customs of the Mayo and Yaqui people.
Sliding timeline in the Martha Graham Collection on Google Arts & Culture
What we find particularly nifty is being able to sift through archival materials using a sliding timeline.
Adding to the fun is how Google Arts & Culture awards users with badges for small 'achievements' such as zooming into a photograph for the first time or making it all the way to the end of an article.
Start Your 360° Experience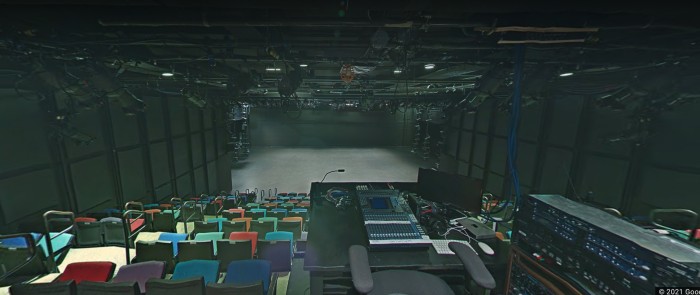 Google Arts & Culture view of New York Live Arts
If like us, you've missed New York Live Arts' roomy ampitheatre with rows upon rows of colorful folding seats or Henry Moore's Reclining Figure in the pool at Lincoln Centre for the Performing Arts, take a gander on Google Arts & Culture. One of the coolest features on the platform is the possibility of taking in art venues and limited performances (more concerts than dance) in 360° view.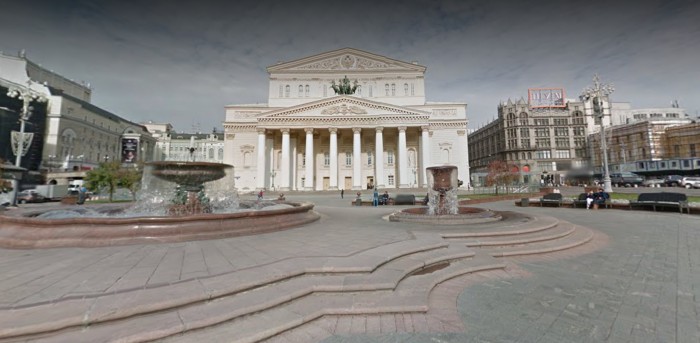 Google Arts & Culture view of The Bolshoi Theatre
Zooming out a level, why not pay a visit to performing arts institutions in other parts of the world? To gaze up at the Bolshoi Theatre in Moscow, Russia, what with its imposing columns and storied past, is nothing short of impressive, even virtually.
User Galleries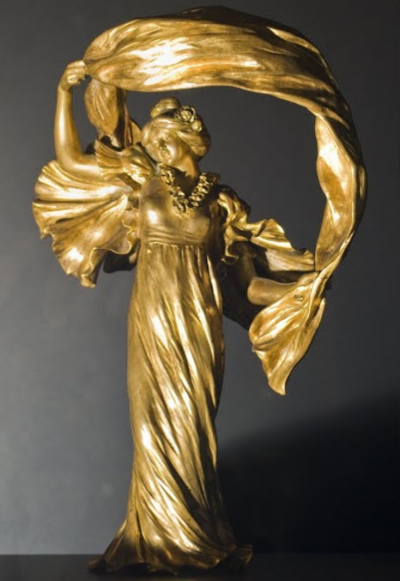 Loie Fuller Lamp or the Scarf Dance, 1875 - 1910, From the collection fo the Museum of Arts & Sciences
Not unlike The Dance Enthusiast's Audience Reviews, Google Arts & Culture's user galleries possess a certain charm, for they reflect an unfettered range of tastes. Uploaded by independent third parties, the content tallies some 130 galleries — so much so that we didn't quite know where to start.
But begin we did, at The Art of Dance: Creating the Illusion of Movement With Line, a gallery celebrating the immortalization of dance through painting and sculpture, before exploring another titled Poder Femenino (Feminine Empowerment), which depicts women of different nationalities dancing through the ages. Whether they're performing sword dances in long skirts or splashing about in choppy watercolours, these moving bodies in fine art were once destined to being in just one place at a time. Causing a seismic shift, digitization has allowed deserving works of art, even in forms as fleeting as dance, to be appreciated by audiences all across the globe. 
---
The Dance Enthusiast's DAY IN THE LIFE covers the stories behind dance/performance and creates conversation. For more behind-the-scenes stories from NYC and beyond, click here.
---
The Dance Enthusiast - News, Reviews, Interviews and an Open Invitation for YOU to join the Dance Conversation.