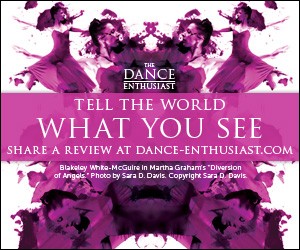 Related Features
Dancing Black History at the White House with FLOTUS, Michelle Obama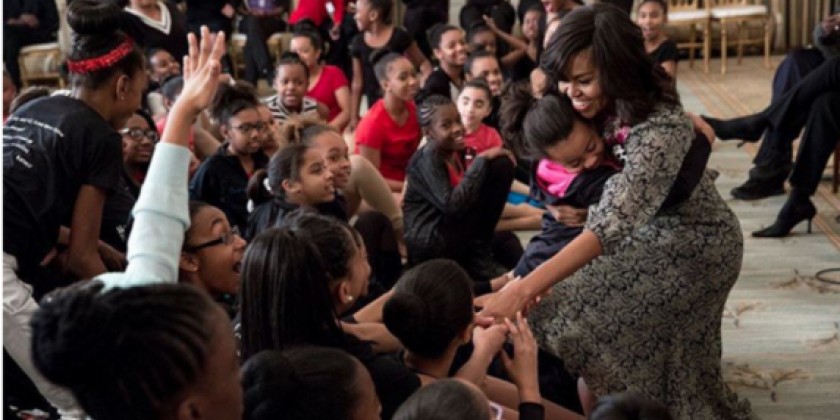 Dance Icons Debbie Allen, Judith Jamison, Virginia Johnson, and Fatima Robinson with 51 Teenage Guests Dance at The White House
On February 8th, First Lady of the United States, Michelle Obama, celebrated Black History Month in a manner dear to dance enthusiast's hearts. She invited four African-American dance stars — Debbie Allen, choreographer, director, and producer of Fame fame; Judith Jamison, artistic director emerita of the Alvin Ailey American Dance Theater; Virginia Johnson, artistic director of The Dance Theatre of Harlem; and Fatima Robinson, Hip-hop innovator and recent choreographer of The Wiz Live! — to the White House to meet 51 black teenage girls for a day filled with discussion, dance classes, and finally, performances especially created to be danced by the teens.
Mrs. Obama opened the ceremony sharing her excitement for this special event in the White House by saying, "I absolutely love dance." She spoke of being an avid Ailey fan and noted that the first piece of art in an early apartment she shared with her husband (before he was President) was a picture of Judith Jamison in Cry.
"Today is a special day for the entire country. For nearly 50 years the women gracing us here have been a driving force in the cultural life of this nation. From tribal rhythms to freedom songs, from modern dance to Hip-hop, they have told the story of who we are, who we were, and who we can be. We celebrate the people who shaped our heritage," she said.
Video of a Day of Celebrating African American Women and Dance
Legacy and heritage were at the forefront as Mrs. Obama spoke directly to her young guests about the struggles the women artists before them had endured: how dancers, like Debbie Allen, were rejected outright from dance schools only because of the color of their skin; how black ballerinas couldn't get hired and were told to wear white pancake makeup to fit into a mold. "Your presence here," she said," is a result of the grinding hard work they put into this. This legacy is your greatest inheritance… My message to the young people here and the young people watching [is to] show that kind of education and discipline in any sphere…We fight for the opportunity to succeed, we prepare for the opportunity to shine."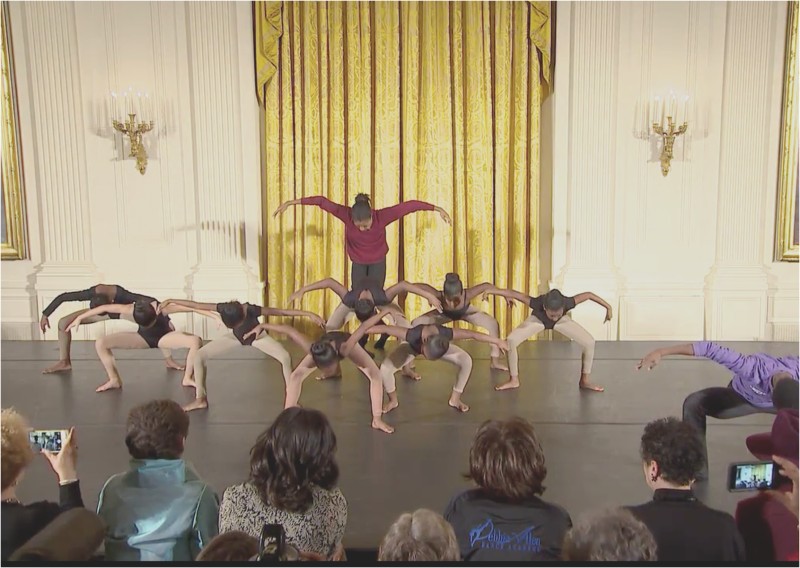 Members of  Alvin Ailey American Dance Theater with D.C. students  performing "I've Been Buked"  from Alvin Ailey's  Revelations (1960) 
Said Judith Jamison, to the young students," Your energy is our energy. You are what makes us feel like we've done something."
"The work isn't over," the First Lady emphasized, commenting that hopefully one day soon it won't be headline news when a black ballerina is made a principal dancer.
Mrs. Obama concluded her remarks by reminding the girls not to be nervous as they lined up to perform in the regal White House room underneath a glittering chandelier and in front of looming portraits of George and Martha Washington (Theodore Roosevelt's picture to the right of George appeared to be looking on at the activity in wonderment), "This is stage is your home, this house is yours."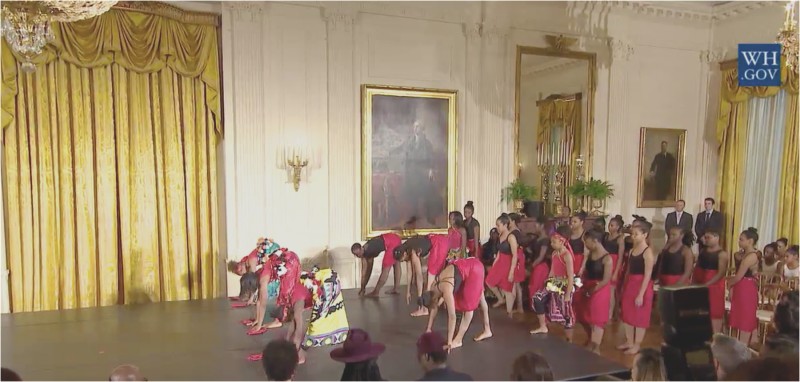 Debbie Allen's Group Celebrating African Dance Under the Watchful Eyes of President's George Washington and Theodore Roosevelt; Photo is a Screen Shot Captured from the video