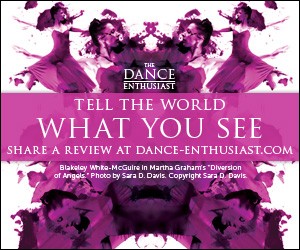 Related Features
Ice Theatre of New York Preparing for Their 2008 Gala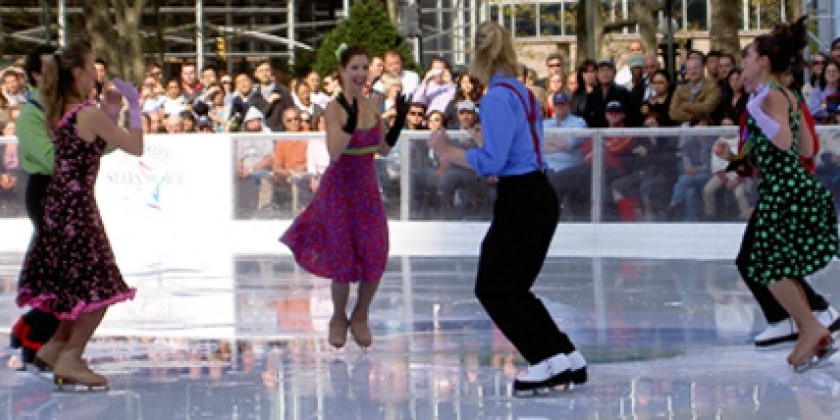 and Continuing to Develop Figure Skating as a Performing Art
---
Recently The Dance Enthusiast was invited to observe members of Ice Theatre of New York as they rehearsed Appalachia Waltz in preparation for the company's upcoming October 27th Gala. This multi-sectioned piece, created collaboratively in 1996 by dance choreographer Jo Anna Mendl Shaw, and ice choreographer Doug Webster, is hauntingly lyrical as well as abundant with fleet- footed exuberance.
Doug Webster on his Work with Ice Theatre of New York and Many of NYC's Top Contemporary Dance Choreographers
"I toured the world with different ice shows, commercial shows, and (during) that time I would meet ... skaters like myself who were "doing it" but not quite "in" it ... There was something missing. If we were going to pursue our skating this wasn't the only form we were looking for...."
- Moira North-Artistic Director/Founder ITNY
Moira North, artistic director and founder of Ice Dance Theatre, remembers both Mendl Shaw and Webster approaching her during the same week, each with the identical piece of music - Yo Yo Ma and Edgar Meyer's "Appalachia Waltz" - and the desire to create a work for the company.
Obviously Appalachia Waltz was meant to be a joint commission.
We were fortunate to speak with Webster about his experiences with ITNY and were also lucky to grab a moment with North whose vision for her almost 25 year old company has been a driving force in the development of figure skating as a performing art.
---
Excerpts from Interview with Moira North, Ice Theatre of New York's Founder/Artistic Director with Christine Jowers of The Dance Enthusiast
Moira North Discusses Ice Theatre's Beginnings
Christine Jowers for The Dance Enthusiast: Can you describe your upcoming 2008-2009 Season?
Moira North: This year we are doing our gala separate from our home season...We will be performing our concert series at Rockefeller Center and Bryant Park as well as developing work throughout the October to March time-period.
Hopefully we will be funded for a residency by the New York State Council on The Arts and at that time we hope to restage a piece by Lar Lubovitch that he'd done for John Curry.
We continue a tradition of re- staging choreographic works created for John Curry's Company along with inviting in new choreographers. This year I wrote in a commission for Elizabeth Streb to work with the company. Last year it was Susan Marshall and the re-creation of a piece that Twyla Tharp created for John Curry's Company.
TDE: Can you tell me a bit about your educational outreach programming?
MN: It is certainly one of my favorite programs because of the kids... The program started about 15 years ago at Riverbank State Park Rink in Harlem, (also on the water like Chelsea Piers).Part of the impetus of this program was to give company members the opportunity to choreograph. We also wanted to give young performers who were students opportunities to perform outside of competition and testing.
There is a combination of ensemble work, new works by new choreographers in the company, and young artists. We give a short performance to public school children from Harlem and Washington Heights. They come into Riverbank State Park afterwards and get to experience a free skating clinic. So it is sort of like a field trip.
Last year we went to the schools ahead of time to show the students what to expect, what to wear, etc. It is a wonderful program and we are expanding it [this year] to Queens, the new ice arena in Flushing Meadow and in the Bronx for Kips Boys and Girls Club.
TDE: What is a working day like for a member of Ice Dance Theatre?
MN: Skaters usually work 4 to 5 hours on ice and they do off-ice in a ballet room (most rinks have a ballet room). They work 5 to 6 hours a day 6 days a week leading up to the Gala and the home show.

Last fall, when we were training, we worked out at the Long Beach Arena because we were given free ice. One of our challenges is that ice time, exclusive ice, is very expensive. It would probably be a minimum of $50 - $100 an hour whereas most dance companies pay between $20 and $40 for rehearsal space. We do a lot of off ice work, and when we are on ice, it has to be very efficiently organized because of the cost.
---
As we concluded the interview North told me of the humble beginnings of Ice Theatre of New York. Even in 1984, ITNY's first year, the cost of ice time was prohibitive. The only point during the day when it was totally cost free was from 12 midnight to 5 am, so that is when the dancing skaters would rehearse.
"We used to joke", mused North, "that we wouldn't recognize each other by the light of day."

Now almost 25 years later, Ice Theatre of New York continues to light the way for the development of a new genre of skating performance.
Footnotes:
On Monday October 27th from 7pm -10pm the Ice Theatre of New York will hold its 2008 Annual Gala at Chelsea Piers -23rd Street and Hudson River, Pier 61. The event will benefit the company's Education and Outreach Programming as well as the Upcoming 2008-2009 Ice Theatre of New York Performance Season. Gala honorees are Olympic Skater Nancy Kerrigan and Ice Theatre's Board Member Joan Erdheim. Tickets for the short 7pm performance at Pier 61's Sky Rink are 5.00 and 5.00 for students/seniors. Gala Tickets are 50.00. For more information contact
www.icetheatre.org
Upcoming Dates for ICNY:
October 27, 2008 - Annual Benefit Gala and Performance, Sky Rink, Chelsea Piers, New York City - 7pm Honoring Nancy Kerrigan and Ice Angel Award to Joan Erdheim
October 27, 2008 - Opening of The Pond at Bryant Park - 11 am
October - April 2009 - Annual Ice Concert Series at The Pond at Bryant Park and at The Rink at Rockefeller Center (more dates will be added as they become available)
October 29, 2008 - Ice Concert at Bryant Park - 1pm
aNovember - April 2009 - New Works and Young Artists Series at Riverbank State Park in Manhattan and at the World Ice Arena in Queens (schools must make reservations to participate)
December 6, 2008 - Tree Lighting at Riverbank State Park - 4pma
January 29-31, 2009 - Performances in Courchevel, Grenoble and Lyon, France
May, 2009 - Home Show, Sky Rink, Chelsea Piers, New York City