Catching Up With Tanztheater Wuppertal Pina Bausch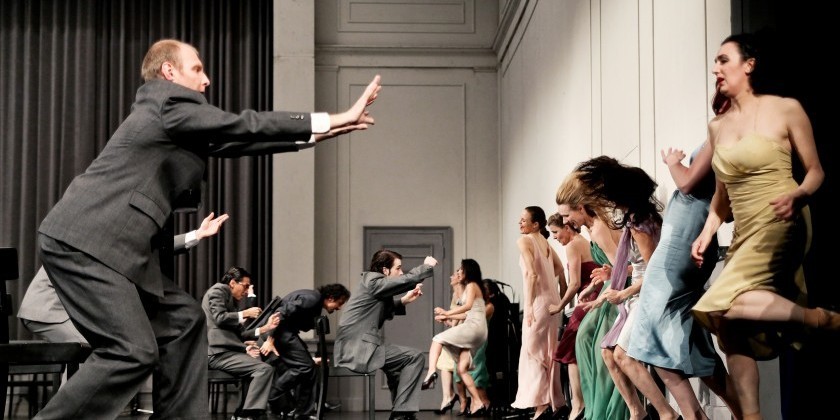 An American in Wuppertal, Breanna O'Mara, Describes Dancing in the Work of Pina Bausch
BAM presents Tanztheater Wuppertal Pina Bausch with Kontakthof
Oct 23—Nov 2
Directed and choreographed by Pina Bausch
Set and costume design by Rolf Borzik
Collaboration by Rolf Borzik, Marion Cito, and Hans Pop
Music by Charlie Chaplin, Anton Karas, Nino Rota, Jean Sibelius, and others
BAM Howard Gilman Opera House (30 Lafayette Ave)
Oct 23—25, 28, 29, 31, & Nov 1 at 7:30pm; Oct 26 & Nov 2 at 3pm
Tickets start at $25, click for more information.
---
Tanztheater Wuppertal Pina Bausch remains one of the most polarizing yet evocative international dance theater companies. When Pina Bausch was appointed the director of dance of the Wuppertal Opera House in 1973, she nixed the theater's traditional ballet, replacing it with her surreal, nonlinear dance theater. Reviews of her work were mixed, finding audiences both mystified and enthralled by her international cast of eccentric characters. In the past forty years, the company has developed a loyal fanbase who travel from around the globe to the industrial city of Wuppertal to take in Bausch's poeticism and vivid aesthetic firsthand.
Though Bausch passed away in 2009, veteran company members continue her legacy by guiding a new generation of performers through their rich choreographies. One of those young artists is Michigan native and Juilliard graduate, Breanna O'Mara who joined the company this August after an extensive international audition process. Before the ensemble returns to New York at the end of this month, the Dance Enthusiast had the opportunity to Skype with O'Mara about her life in Germany.
---
"I saw Bamboo Blues at BAM in 2008,"  Breanna O'Mara recalls of seeing Pina Bausch's work live for the first time. "That actually changed a lot for me in terms of what I thought dance or performance could be. O'Mara, who stands at 5'10", often felt awkwardly tall as a Juilliard student, sometimes towering over the men in class, so it was inspiring to see this company, as she remembers, "I saw these people who were physical and powerful and all so different. I was immediately attracted to that."
Breanna O'Mara. Photo: Nir Arieli.
Shortly thereafter after her aha moment at BAM, O'Mara decided she wanted to dance in Europe. Besides being drawn to several international companies, she longed to experience everyday life in a foreign country. Auditioning for a handful of theaters throughout the continent, she finally landed in Germany taking a post with the Dance Theater Company of Staatheater Kassel under the direction of Johannes Wiedland. There, in the small town of Kassel, she encountered a bout of culture shock. "The language was and is still a big hurdle," admits the dancer who has lived in Germany for almost three years. "I'm getting much better with German. But there are instances where it is hard-- like paperwork-- especially official paperwork," she laughs.
Last February, two hundred invited female dancers travelled from all over the world, to Wuppertal to audition for the famed company. O'Mara was one of the selected women, but never imagined she would be offered a contract. In fact, she believed her time in Wuppertal would be cut short for sure. During the call-back, in the Limón-based class led by one of the company's teachers, Giorgia Maddamma, she claims, "I was so lost." She was positive, "it was the end."
Despite O'Mara's doubts about her performance, the company's current artistic director, Lutz Förster, saw potential and invited the young artist to join the company. "None of us were perfect when we came here,"  Förster told O'Mara, reminding her that dancing is a process and it takes time to grasp the work.
O'Mara looks back on  these memorable words often as she rehearses for her inaugural season with Tanztheater Wuppertal Pina Bausch. Making her debut in Sweet Mambo (one of Bausch's final works before her death) on the Wuppertal Opera House stage in September, O'Mara concedes that she was exceptionally nervous. "I kept getting this note to be more open, more elegant." she recalls. Fretting about not getting it right, she found herself being reminded, yet again, of the lifelong journey that is Bausch's work. Company member, Daphnis Kokkinos, told her playfully, "Come on, it took some people ten years. you've been here only ten hours."
Although her role in Sweet Mambo is small, it is memorable. "I don't think there was a time I ever felt more beautiful," O'Mara recounts, describing the first time she put on her silk gown for the piece, the sumptuous fabric swishing around her hips as she took each step in her lofty heels.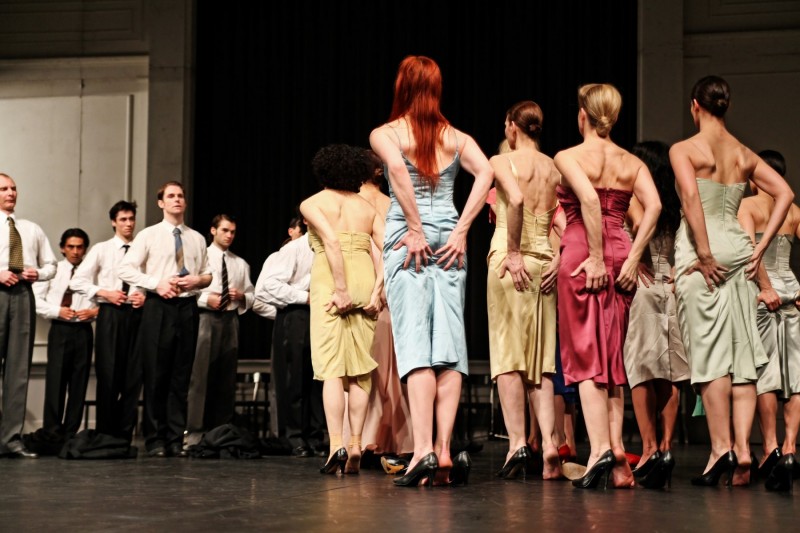 Tanztheater Wuppertal, Photo Credit: Oliver Look
Now, with a few performances under her belt, O'Mara looks forward to what is coming up next. Tanztheater Wuppertal Pina Bausch returns to BAM this week with their seminal work Kontakthof.  She speaks of the artistic questioning that occurs while rehearsing and performing a three-hour Tanztheater work.  "Do I give it the right flavor or tone? " she often wonders. Most of Pina's pieces are filled with the dancers' individual personalities. "There is a template and rules, but there are characters and you (the dancer) create much of that."
At the moment, O'Mara is relishing her experiences with the company. She is immersed in rehearsing six works for this season, including the droll Palermo, Palermo with its impressive crumbling cinder block set, which the company will perform in Taipei. Striving to stay present in each moment, she confesses with a sheepish grin, "It still is surreal, but then I remember, life is just like that sometimes."