Dance Up Close to Colleen Thomas, Matthew Westerby and Bill Young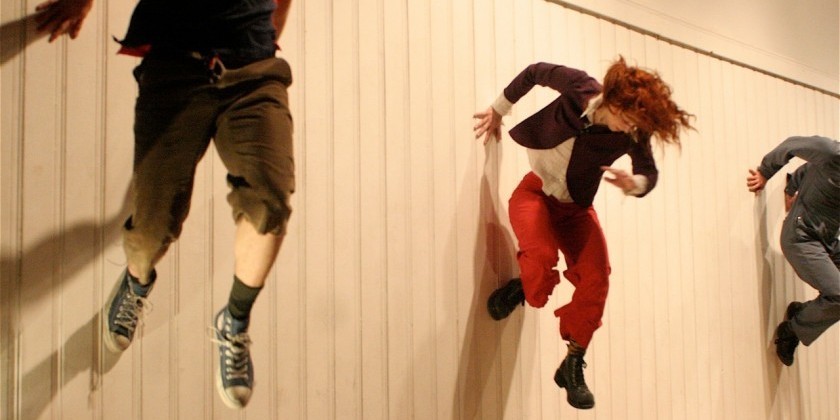 Three Distinct Choreographers Take On Triskelion Arts for a Shared Evening.
Thurs, October 16 and Sat, October 18; 8PM
Triskelion Arts (118 N. 11th St, 3rd Floor, Brooklyn, NY 11249)
Tickets: $16
---
Husband, wife, and frequent collaborators, Bill Young and Colleen Thomas, present their individual dances alongside UK native, Matthew Westerby's, Westerby Dance Company,  at Triskelion Arts next week. The shared program includes premieres by Thomas and Westerby while Young presents a solo, originally created for  Priscilla Newell, and a suite of works.
---
A Minute of Rhythm with Bill Young and Lindsey Jones
Shortly after having a dream about John Cage, Young was reminded of a series of dances he made in the mid 1990s, accompanied by Cage's music. The choreographer -- who normally can't stand to view his early creations -- watched a recording of his Cage inspired pieces on video. Surprised by their craftsmanship and deep relationship to the score, Young set out to revisit and reshape them into a solo -- danced originally by Brenda Daniels in 1994 and now performed by Lindsey Jones -- and a trio with Jones, Melissa Toogood and Dylan Crossman.
---
In contrast to Young's suite and solo, Thomas presents a brand new, twenty-minute dance,
Her(e) Repetitive Blueprint (work-in-progress)
. The premiere, inspired by Thomas' growing curiosity with feminist theory artists such as
Valie Export
and
Clarice Lispector
, is accompanied by composer John McGrew's score. The music, embodying ethereal sounds with moments of power and strength, reflects Thomas's perception of of womanhood. She has plans to expand
Her(e) Repetitive Blueprint
in the near future.
Though Young and Thomas aren't creating in tandem for the upcoming show, they both play integral parts in their partner's process. "It's fun to be supportive of one another while taking a less symmetrical role in the other's work," remarks Young. "You do assume a complementary role."
Thomas adds, "It's a necessity for me to explore my individual voice, even though I strongly believe in collaboration."
---
Matthew Westerby on Remembering
At this juncture in his dance making career, Westerby finds collaborative investigation pertinent, especially for this new project which examines, "the critical link between memory and physicality." Westerby is attracted to revealing how people who share the same experience have distinctly different recollections.  "I feel like this is the most thoughtful piece I've created so far." he remarks.
Despite being awestruck of Thomas and Young, Westerby is flattered to be in their esteemed company. He hopes the diverse evening will expose new audiences to each artist's unique body of work. "It's daunting, but also exciting," he admits, "to be paired with two people who've made amazing work and have such a rich history."
Karen Bernard is also presenting work the same weekend on October 17 and 19, 2014 at Triskelion Arts. For more information, go to
Triskelion Arts website
.